Spotlight On: Goodnight Maxine
By Paul E. Gerard
I'll get right to the point. After seeing Louisville's Goodnight Maxine recently at both Dutch's Tavern and Phoenix Hill, I can say, if you haven't seen Goodnight Maxine yet, you're missing out.
Ironically, while it seems Goodnight Maxine is just lately becoming more popular here in their hometown, the band has already developed a following in cities in both Tennessee and Indiana.
It's hard to put Goodnight Maxine into any one category of music — as so many people like to do with bands. But first let me say Goodnight Maxine offers an exciting and welcome change to the standard, predictable tunes of so many bands I've seen at clubs around town.
"What do they play?," you're probably still wondering. On one hand I'd answer, "alternative or college rock," because you're bound to hear them playing songs by REM, The Cult, U2 and The Call. But wait. In the midst of it all they're playing classic rockers by The Stones, Pink Floyd, Zeppelin and The Doors. Yet Goodnight Maxine performs even these classics with a more rockin' and boppin' style than most other bands.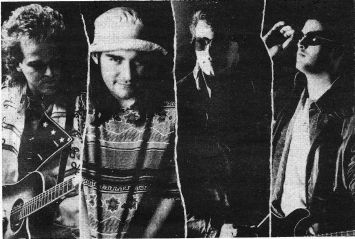 GOODNIGHT MAXINE: L r r, Billy Sutherland, guitira, Ray Rizzo, vocals, harmonicas; Paul Culligan, drums, John Zangari, bass
And just when the band had brought me to the edge wondering what would come next they broke into a rousing rendition of Johnny Cash's "Ring of Fire" that sounded more like Social Distortion with its intense driving feel.
Next they performed a Goodnight Maxine original that I found as likable and unique as what you'd get if Jimi Hendrix joined REM.
With all this variety, I can only wonder, "What's a booking agent to do?"
Well, it's the '90s now and it seems to me that today folks have come to enjoy bands that span a wide range of musical styles or categories. Take, for example, Fishbone, Living Color, REM and Jane's Addiction, to name a few. Based on the enthusiastic patrons I saw at Dutch's 7 9 and Phoenix Hill, I'd say there s no problem accepting the uniqueness of Goodnight Maxine.
In fact, I found it downright refreshing! If you'd like one more category to try to put this band into, consider "musician's musicians." From what I saw and heard, the members of Goodnight Maxine have got to be about the best in town. No wonder I noticed other musicians taking in these Goodnight Maxine gigs.
When I spoke with the members of Goodnight Maxine, it was easy to see they had credentials to back up their chops. On guitar — and there's only one guitar in this band — is Billy Sutherland. With a custom-built guitar (or two) and a rack of electronic gear that he's been acquiring for nearly five years, Sutherland single-handedly covers rhythm and lead guitar parts and ... then some.
The electronic rack that Sutherland uses for what he calls "sound enhancement" is another story in itself. Let me just say that if you're into guitar, the playing techniques and electronic wizardry Sutherland demonstrates are worth the price of admission alone.
Nextl spoke to Goodnight Maxine's John Zangari. With Steinberger bass in hand, Zangari tells me he's relatively new on the Louisville music scene. Yet on stage, as he strikes some big bass chords, or plays tastefully in the pocket, I would have never guessed.
In addition to having one of the cleanest bass sounds I've heard in a club band in a long time, Zangari is featured on several songs with a big, raspy, rock 'n' roll voice. It's a great touch and just one more little detail of versatility that I believe helps this band stand out from other club bands.
As of just a few months ago, Goodnight Maxine added lead vocalist and "entertainer," Ray Rizzo. It seems Rizzo eats his Wheaties. If he's not jumping about like a chili pepper, or crawling across the stage floor a la Jim Morrison, he's having fun with the other members of the band.
Just for the record, I had seen Goodnight Maxine before they asked Rizzo to join the group. After seeing several performances with Rizzo in action, I say adding a front man was a good move. Now with four members, I found the band to be even more entertaining.
Toward the back of the stage, behind an array of drums and cymbals I could see two flailing arms that belonged to drummer Paul Culligan. I had to ask myself, "Is this the same Paul Culligan known among Louisville's jazz community for his drumming with the Scott Henderson group, traditional jazz gigs, or the fusion of the Courtney Culligan Quartet?" It sure is.
It sure is.
I could hear Culligan's degree in jazz percussion come through in graceful yet complex fills and an excellent solo that brought much applause. With all this talk of jazz, don't let me mislead you. Culligan knows how to rock. I could definitely hear a John Bonham influence within Culligan's heavy hitting and big drum sound. (I spoke with him later and was able to confirm this rocker side to Culligan.)
What really impressed me is that while he's got chops, Culligan isn't one to flaunt them all night long. You can count on him to provide a big, solid beat with a unique jazz-influenced feel underneath.
When you put the members of Goodnight Maxine all together on stage, they are tight. They execute smooth changes and precise endings. But don't let well-played cover tunes fool you. Behind this front of a club band lies Goodnight Maxine's original music.
Early into the second set, the band had a request for one. of their originals: "I Dream In Stereo." With the rush of excitement that ran through the audience, I could tell it was just the song they had in mind.
Goodnight Maxine has one CD available and is currently working on a second project to be released on CD in late spring of '92. I have yet to hear any recordings of their originals, but I, along with the rest of the audience, really enjoyed the originals the band performed live. The band tells me their first cassette, Midnight At Noon, is available at ear X-tacy and Better Days.
After recent gigs at Dutch's Tavern and Phoenix Hill, I asked the band where they'd be next. I should have known. "Indianapolis, then Bloomington, then Lexington and then again in Indiana at Fort Wayne," came the reply from Zangari.
Not to worry. Goodnight Maxine tells me they will certainly be back in Louisville again. After all, it is home. Watch for them to return to Dutch's Tavern and Phoenix Hill, or the Butchertown Pub on Wednesday, December 11.
While I see Goodnight Maxine is quickly building a local following, there's still a good chance you can be the first on your block to say, "I saw 'em first."