Solid as A Rock: Louisville Jazz Advocate Jeff Sherman
By Bob Bahr
Nearly every day, somewhere in Louisville, somebody is telling a friend about a hot new player they heard last week. "You've got to hear this guy," they'll say. "S/He's got tremendous technique and away with a melody." The budding star seems to have popped out of nowhere, dropped to earth by angels. Or at least migrated from Chicago or New York.
But behind every new talent is a teacher, someone passing on priceless knowledge about music and the life of a musician. These wise elders influence the young star in untold ways and their contribution to the music scene is essential.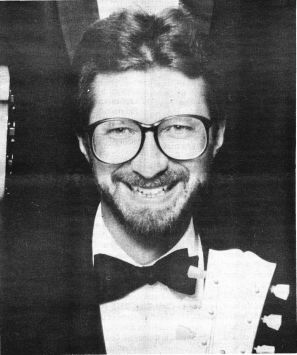 Jeff Sherman. Photo by Don Krekel
Jeff Sherman is one of Louisville's strongest music advocates, a teacher, organizer, mentor and motivator to tomorrow's batch of young lions. Sherman is deeply involved in Louisville jazz, serving on the board of directors for the Louisville Jazz Society and for the Louisville Federation of Musicians Local 11-637. A guitar teacher for over 25 years, Sherman has touched the lives and nurtured the careers of dozens of successful musicians. Week after week, Sherman bolsters the Louisville music community with guitar and bass lessons and jazz ensembles at Bellarmine College.
For the past five years, that endeavor has also included Bellarmine College's jazz guitar clinic, an annual summer workshop that allows music students to come into close contact with jazz greats. It's clear that these guitar clinics, which he directs, are something special to the serene 43-year-old.
"The idea of the clinic is it allows people to come into contact with the really greats of the jazz world," Sherman said in a recent interview. "People who know their instruments. All along, I thought it would be a great thing for people to have a chance to come in contact with these people, not only to study with them, but to be able to talk to them and hear how they think and see what they wear and what they eat for lunch. What their influences were. It' s one of those things you lose when all you do is read about people in books or magazines, or hear them on records."
The list of past teachers at Bellarmine's guitar clinics reads like a virtual Who's Who in the history of jazz guitar. Howard Roberts. Attila Zoeller. Cal Collins. Gene Bertoncini. And perennial favorite Jimmy Raney. If not all the students are familiar with their temporary professors at the start of the clinic, by the end they are avid fans. Some participants come away changed forever.
"It's amazing, because a lot of people who come to these clinics don't even know who these people are," Sherman said. "They don't even realize the benefit that they're getting from being able to study with these legends of jazz guitar. But they come away with a recognition of this and dig up their old records."
"When Howard Roberts was first here, [guitarist] Chris Tolbert attended the clinic. And after that Chris came to me and said, 'You know, I've got to come back to school and get this stuff figured out.' And Chris came back, got his degree and his guitar playing dramatically improved, maybe 500%. [Now] he's a really fine guitar player."
Sherman modestly downplayed his larger impact on Tolbert's playing. Under Sherman's four-year tutelage, Tolbert rose in the ranks of BC's guitar students, ending up in the Bellarmine Jazz Trio, a sort of finishing school for Bellarmine's jazz students. Tolbert is now heard around town playing professional gigs and he is presently pursuing a masters degree in music history at UofL.
Tolbert benefited from the Sherman approach to music teaching, a combination of discipline, theory and very subtle arm-twisting. Sherman is gentle in his prodding and for many students, that approach proves more fruitful. "Jeff is a lot more laid back than some other teachers I've had," said Tolbert. "He doesn't force you. He pushes you to work at the pace you want to work at. With Jeff, I could take a couple of weeks to work out a tune. Other teachers get furious if you don't have a tune worked out according to their schedule," Tolbert explained.
Sherman also brings to every lesson his extensive in-the-trenches knowledge of playing musically professionally. His gigs with Luciano Pavarotti, Marvin Gaye, Liza Minelli and others stamp an unneeded mark of approval on Sherman 's resume. But without a doubt, Sherman's biggest teaching strength is his incredibly high threshold of tolerance. Sherman has a mammoth reservoir of patience. I put the question to him, "Where does it come from?"
"Gosh, I don't know," he laughed. "I think patience you just get, after 12 hours a day for 25 years. About once a year or so, I get really, really frustrated. More often, it's with seeing somebody waste a certain amount of natural ability or talent. It's not on an individual one-week or two-week basis, but when somebody does it consistently. Sometimes it really gets frustrating. That's why I have this little sign that says, 'Tell It to the Audience.' People come in with certain excuses about why they can't do things. At some point it's personal accountability, I try to explain to them. It doesn't matter to the audience if there was a good TV show on last night or if you really had a valid excuse — somebody died in your family and you couldn't practice.
The outcome is the same when you go out to play on a stage in front of people," ' said Sherman.
"But I do lose my patience. I've gotten to the point of throwing pencils and pens and kicking over chairs," he laughed.
While they're here having their lesson, or after they leave?
"While they're here! No reason for me to suffer. Let them feel a little bit of it," he said laughing. "But generally that's a rare thing. If people make an effort, that's the main thing. That doesn't require much patience, really."
Sherman takes teaching music personally. That's perhaps a dangerous path to follow, but it ultimately endows his teaching with a fervent undercurrent of determination. Sherman believes it is partially his responsibility that his students succeed.
"I went into teaching for the same reason a lot of other people do: I decided that if I was going to make a living with music, I needed that income," he explained. "I didn't think I'd be a particularly good teacher. I didn't even know if I would like it. Actually, I started teaching in high school. I had as many as ten or twelve students by the time I was a senior in high school. That's how I got through Latin, I taught the Latin teacher's son guitar." Sherman didn't elaborate; he only grinned mischievously.
"When I started teaching full time, I realized was a lot of responsibility," Sherman went on. "Music was really important to my life and my teacher imparted some of that to me. And it's funny, if somebody comes to you and [afterward] they are really unsuccessful in music, it's not going to have the same place in their life that it's going to if they do well and really love it. So at some point I sort of take a personal accountability for the people who come in to take lessons.
That changes the whole ballgame. It's not just a matter of making al iving. It's a matter of changing people's lives," he said.
Music has certainly changed Sherman's life. The Louisville native grew up playing guitar, studying with C. C. Conners and Jimmy Raney. His entire professional life has been spent in music and he proudly states that on his resume.
"Music is real important to me. Wes Montgomery once said in an interview that if he had to give up playing guitar tomorrow, it wouldn't bother him that much, because he's a fulfilled type human being. I'm sure if I didn't have music, I'd get by.
But it's always been a part of my life. A very important part of my life," Sherman nodded; "I started playing guitar when I was 13 or l4. I went to college — I went to engineering school with the idea in mind that you couldn't make a living playing music. Somewhere along the line, it was just too strong a call. I decided that I had to play music and I wasn't going to be an engineer. So when I graduated early with a math degree, I just kept on what I was doing, playing six nights a week and teaching. So it's always been a real strong factor. There were times when I tried to deny it, early on. But I realized that music was something that was more important to me as a profession than anything else."
A musical calling can be almost a curse. It's an irresistible, addictive career with a bad image to the general public. Here's where Sherman is notable. Without compromising his artistic strivings, Sherman has made quite a respectable living playing music. He shatters the public image of a musician as wild bohemian whose dominating trait is irresponsibility.
"One theory I have is that there's no reason why you shouldn't be able to have a fairly normal family life and be a musician," he said. "There's kind of this sense that musicians are very strange, arty people. That they have a lot of bad habits — drinking and drugs and late hours. Those are things that show up in the profession, but there's no reason why you have to succumb to those things. You can have a decent family life. It's always been an important priority to me to have that.
"Early on, my family had [those misconceptions]. I came from a typical, I guess upper-middle-class family. My father was an engineer; there was no musical influence in my family. My father and mother both wanted me to get into a profession. At the time when I was ready for college, I wanted to go to a music school. And the only place you could go and study guitar was Berklee College of Music in Boston and they were unaccredited. And that was unacceptable to my parents. By the time I was a senior, they had realized, I think by that point, that it was important to me and that I could make a good living. Consequently, now they are very proud of what I do. They are not ashamed of me socially or anything else at this stage of the game.
"But early on, they had concerns. It's sort of a natural concern among parents. It's something that you have to deal with with students here. When you come out of here, if you have been a student in the program, you should be able to make a living playing music, or we haven't been fair. In order to be able to make a living, you have to be a very competent musician in a variety of styles. You have to be able to read well and play all kinds of music. You have to be prompt and wear the right clothes. There's a lot of things involved if you want to make a living [playing music]. That's important for me to pass on to students, too," Sherman said.
Sherman's own professionalism made him first call guitarist in Louisville, putting him in the company of some of music's all-time greats when they visited our fair city. A Louisville gig would often introduce a touring act to Sherman's precise way of playing and sometimes that would culminate in stint on the road. One notable Sherman road trip was with soul singer Marvin Gaye on his 1971 comeback tour.
Sherman recalled, "That was kind of a bittersweet experience, because I always loved Marvin's music and I thought it would be really fun to do, but it wound up being like factory work. We'd go out four days at a time. Get on the bus early in the morning, ride eight hours on the bus, check in a hotel, eat real fast. There'd be an opening act, usually it was the Ohio Players. The band would come out and do one tune. It was the only thing that we really got to play. It was a sixteen-piece band and would just play some tune..
"Then Marvin Gaye would come out and we would play ten tunes. And it was the same thing the next day. Up early, on the bus, drive ten hours, play the same ten tunes. And it was the same thing the next day. Same ten tunes. Same ten tunes. Same ten tunes. We probably weren't on stage more than an hour every day. It was really, really boring. It was kind of a different thing for Marvin, because he was the star of the show. He was really into the music. He's out front, he's gotta really make things work. What goes on in the backup band is fairly inconsequential, as long as everybody is a competent musician," Sherman explained.
"It was actually a real sociological type of thing, too, besides the music," he continued. "Women would just scream and yell. The biggest halls were full. People would just be crawling up on stage. Usually they had to ring the stage with police and the police would just haul off whatever woman would come up on stage. Then they would fill in the ranks. So I don't think he was bored," Sherman said wryly. Gaye's mode of transportation also made the tour a bit tastier for the singer than for the band, according to Sherman.
"He traveled differently than we did. He flew everywhere. They would drive him up to the backstage door in a limousine. He'd get out, come on stage, sing his ten nines, get back in the limo and he was gone, back on the airplane."
Sherman is still the guitarist that national acts call when they need local talent. That has recently meant performing some very prominent solo guitar parts in the world premiere of Philip Glass' opera "The Fall of the House of Usher" and being a featured orchestra member in Luciano Pavarotti's triumphant appearance at Cardinal Stadium.
"In terms of the whole glamour, the entire Fairgrounds sold out, the prices, it was a phenomenal event," Sherman recounted. "The director came in; he had just come in from conducting an opera at La Scala, Italy. Pavarotti was a really great guy to work with, too. When he first came in to rehearsal, we were already in the middle of rehearsing something. He has a little bitty stool that he rehearses on and he acted like he was driving a car [gesturing like the stool was a steering wheel]. He came from the back of the orchestra making car sounds, making his way through the orchestra. When he got to the front of the orchestra, he put his little stool down and, took the baton from the conductor and continued conducting the orchestra in whatever we were doing. And he conducted surprisingly well."
Pavarotti is notorious for being difficult to work with, but Sherman said he found the celebrated Italian tenor to be consummately professional.
"There was one piece that was just guitar and voice and he told me exactly what he wanted. Where he wanted long notes and things like that. He was very articulate about what he wanted. But he wasn't overly demanding," Sherman said.
Sherman's had his share of glamour jobs, having performed with Gaye, Pavarotti, Liza Minelli and Joel Grey, among others. But his idea of the perfect gig is not necessarily one that is star-studded. Sherman puts a high value on connecting with the audience.
"It's fun when all the musicians are great players and the music seems like it's really happening — and the audience likes it, too. A lot of times in jazz gigs, the band's having a great time and the audience isn't; It's really fun when everything comes together. And that happens occasionally around town in various clubs or dances. They asked Wes [Montgomery] what he would do if tie hadn't become a big star and he always said that he'd still be playing in a little bar in Indianapolis. Playing music because he loved it. For musicians, that's the important thing, actually playing music. Most people want to become stars primarily because it allows them to do that better and more. There are some people who are really in awe in an egotistical way about stars and big jobs.
"But I enjoyed playing the show "Annie." The great thing about "Annie" was that everybody came out of there ecstatic. It was a kind of a craftsmanship-style show; it wasn't much creatively. It was a matter of playing the parts and following the conductor and making it work. But the music was demanding, so there was a great sense of accomplishment for me, but also, seeing the audience reaction to what the production is, was very gratifying," Sherman said.
When assessing Jeff Sherman, a common theme emerges: unselfishness. In performing, that means enjoying every worthwhile gig rather than merely the glamorous ones and playing for the audience's enjoyment. In teaching, that means putting on a natty tie and dress pants everyday and setting an example for his students even as he explains the nuances of the Lydian mode. Sherman instructs his students in how to be a musician, not just how to play it. And he does it all for the love of music.
"One of the things Harold Roberts said four or five years ago, is that he sometimes feels like a primitive being sitting around a campfire on his haunches passing down the word, the history, to the other people," said Sherman. "That's kind of what I am, too, trying to do that same thing, passing along that information to other people."