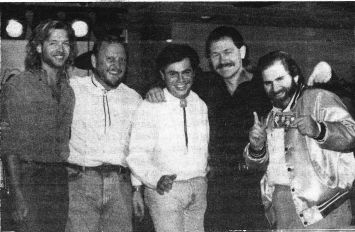 'A NEW NUMBER ONE' HIT ALBUM?: Members of the John Allen band pose with album producer Charlie Walls. From L to R, they are John Taylor, John Wigginton, Duane Montgomery, Allen Peavler and Walls. Photo by Jean Metcalfe
John Allen Releases First Album
By Tim Ballard,
Bardstown, Ky. — Fans of John and Allen, a popular duo on the local music scene, now have twice as much to look forward to.
John Wigginton and Allen Peavler have teamed up with John Taylor and Duane Montgomery to form John Allen.
The band has just released its first album, A New Number 0ne, featuring mostly locally written songs.
The band introduced the album Saturday night [October 12] at Inspirations Lounge in the Bardstown Holiday Inn.
Wigginton said the duo got back together with Taylor and Montgomery -— the four men had a band in the early '80s — to make a serious run at Nashville fame.
"We're trying to step up a little bit, trying to do a little bit more," he said.
The album, produced by Charlie Walls of Music Man Records in Springfield, is part of that effort, as is a 45 rpm version of the title song and a second number, "Saturday Night in Dixie."
'Charlie's got several contacts in Nashville," Peavler said. "The album is a chance to show them what we're doing musically'
Together since early this year, the band plays mostly in the Bardstown, Elizabethtown, and Louisville areas.
They plan to expand that to Lexington soon.
Most of the members have played both rock 'n' roll and country. After their band broke up in '84, Montgomery, the drummer, played in a rock band for about a year and a half.
"After that I quit," he said. "I kind of got burned out on the whole business."
Taylor also went the rock 'n' roll route, playing for The Syde, Nobody Knowz and the Boyz. All hold down full-time jobs.
Wigginton is an auctioneer, while Peavler is getting ready to open Bootleg Bar-B-Q near the old Fairmount Gardens liquor store between Mount Washington and Fern Creek. They're from Mount Washington.
Taylor works for United Parcel Service, while Montgomery works on a surveying crew. They're from Shepherdsville.
Songs
The six songs on the album includes one, "I'll Miss You," written by Wigginton and Peavler.
Walls wrote "Saturday Night in Dixie" anhd co-wrote the title song with Sam Reid and Gardner Barger.
He and Reid co-wrote "The Proof's Here In My Hands," while Walls, Paul Moffett and Jean Metcalfe wrote "Upright Lady."
Metcalfe, the former Jean Geoghegan, daughter of Edward and Melvina Dones Geoghegan, formerly of Bardstown, said Moffett was the principal writer."
Metcalfe is also the editor of Louisville Music News.
The sixth song is a medley, "Tumblin' Tumbleweeds/Rawhide."
A New Number One is available locally at Bards and Ballads, Walls said. It can also be found in several Bullitt County stores, or it can be ordered from Music Man Productions, P.0. Box 303, Springfield, KY 40069. The phone number is (606) 336-9839.
The cassette tape costs $5.
(Tim Ballard is Editor of The Kentucky iltandard, Bardstown, Ky. Reprinted by permission