Michael On Fire
By William Brents
I've noticed a recent trend in my show selections lately and that trend reveals my appetite for loud, energetic guitar rock music. So, in an effort to prevent my own hearing loss, I decided to slow down a bit and attend a relaxing, easy-on-the-ears folk show at Uncle Pleasant's.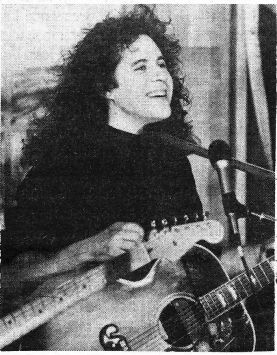 Michael On Fire
Based out of L.A., Michael On Fire provided that much-needed peaceful, easy evening on October 3. Michael On Fire consists of singer-guitarist Michael, percussionist Tobias and, on this night, playing the electric guitar was Terry Farmer. I got a chance to speak with both Michael and Tobias and, even though the show itself was enjoyable, it was equally, if not more, enjoyable listening to their sincere, well-articulated opinions. One of the first things Michael cited was his admiration for Uncle Pleasant's. "I'm not blowing smoke up your a-— when I say that this place is a diamond in the rough; we travel throughout the country and there aren't many listening rooms like this left."
Michael is absolutely right. With a superior sound system, friendly comfortable atmosphere and reasonable covers, Uncle Pleasant's is considered a musical showcase haven by many, including yours truly.
Michael's wants and needs are pretty simple: "I see myself as an oral historian who feels compelled to try and communicate with people through my songs on a spiritual and emotional level." And from my own experience Michael On Fire succeeded; my emotional elevator ran non-stop during songs like "Beautiful Soul," "Intelligence Ain't What It Used to Be," and "I Will Make You a Drum," a song I that Michael wrote after he and A Tobias visited an Indian reservation in search of an authentic tribal drum I for Tobias.
Their influences are a virtual Who's Who in the department of living legends. Bob Dylan, John Prine, Robbie Robertson and Van Morrison can be traced in their music. Another legend, Stephen Stills, produced their first record, Pre-Dawn Chronicles and is scheduled to produce their next record early next year.
While Michael and Tobias continued to chat with me, the second set began with Terry Farmer playing several lovely solo acoustic songs. I believe it was during Terry's third number that Michael took the stage strapping on Terry's electn'c guitar (a first in many, many months) and the conga drums must have been calling for Tobias because he soon followed. The three proceeded to display a remarkably fun spontaneous set that Michael dubbed "The Terry Farmer Show." Keeping in mind that Terry isn't a member of the band and rarely plays with Michael and Tobias; made the second set that much more impressive. They just kept grinding out song after song, especially Michael, who didn't want any of the tunes to end. Michael was on a wave, he was feeling it; there was no doubt in my mind that he could have played till sunup.
Before I left, Michael 'handed me a Michael On Fire CD entitled Comanche Moon which Tobias signed on the inside: "Thank you for sharing my heart." That, my friends, is what it's all about.