Midori
By Patricia E. Finger
The world has been astounded by violinist Midori since her surprise debut at the age of nine with Zubin Mehta and the New York Philharmonic on New Year's Eve, 1982 and the music lovers of Louisville were no less impressed during her visit here in late September. Poised beyond her nineteen years, "Midori expressively played three concerts with Lawrence Leighton-Smith and the Louisville Orchestra. Although the visit was short, Midori also managed to visit the young University of Louisville Suzuki string students in a group class to graciously answer their questions.
Midori encouraged them to ask anything at all, personal or professional, about her life. These questions flowed freely from the young musicians to this beautiful young Japanese-American girl. For example:
How much does she practice every day?
When she was younger, Midori practiced eight to ten hours per day! Now that she performs professionally, her time is limited and therefore she usually can manage only two or three hours per day.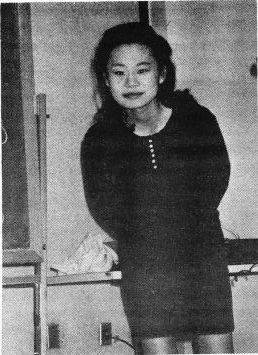 Violinist Midori listens closely to a question asked by a Suzuki student. Photo by Patricia E. Finger
How many violins does she have and what kinds are they?
She has only the small violins she played as a child and one full-size on which she performs, a 1735 Guarnerius del Gesu, "ex-David."
Does she get nervous before she performs?
Not really, she says, because she has performed professionally many times since her debut with the New York Philharmonic.
Who taught Midori to play the violin and when did she start?
When Midori was around the age of four, her mother, Setsu Goto, a concert violinist in Japan, began to teach her. Upon hearing Midori play at the Aspen Music Festival at the age of nine, teacher Dorothy DeLay invited her to come to New York to study with her at the Juilliard School.
Did she ever resent playing the violin or her mother's involvement?
Not at all, because her mother never made her practice or pushed her to play the violin in any way. In fact, her mother often had to pry the violin from her hands to get her to play outside in the fresh air and sunshine. Her mother, she says, is her very best friend, like a sister as well as a mother. Her parents were divorced before her move to the United States and she has always felt that her mother was her only parent.
What are your hobbies?
The violin, she said, is her hobby as well as her profession. She never played the violin to become famous, but fame was the result of her love for this instrument. People were especially curious, she explained, because of her proficiency on it at such a young age. She doesn't recommend for anyone to play music in order to become famous. Her other hobbies include reading and shopping the malls!
Does she live alone?
She lives in New York with her mother, step-father, half-brother and her two spoiled dogs, Franz (named after Franz Schubert) and Willa (named after Willa Cather).
What is it like being around people like Zubin Mehta, Pinchas Zukerman and Isaac Stern?
They are very protective of her and often they still treat her like a little girl, even though she is now nineteen. For example, they ask her, "What did you eat today?" and "Are they treating you right?" But they are really wonderful friends to her.
What is it like being famous?
"It is strange sometimes," she said, "because people tend to think that because you are famous that you are nasty somehow. This is not true. I am just a normal person who just happens to play the violin."
When listening to her sensitive performance of Berg's Concerto for Violin and Orchestra during her concert with the Louisville Orchestra, the word "normal" never comes to mind. Midori seemed to dance with her violin as she played and the orchestra exquisitely interpreted with her the twelve-tone technique used to convey the melancholy of the piece. This music was meant by Berg to be a memorial to the daughter of Alma Mahler, who died at the age of eighteen of infantile paralysis. Watching and listening to Midori perform with ability and maturity far beyond her years, one cannot help but wonder how can she possibly become better with age?
(Happy Birthday to Midori, who turned 20 on October 25. — Editor.)