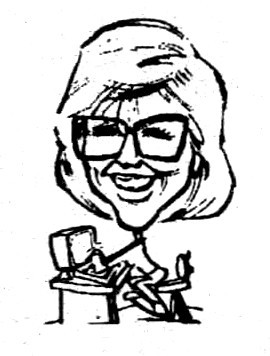 Newsical Notes
In last month's issue I congratulated members of LASC who had placed songs in the Top 10 of one or more of the categories in our Songwriting Competition '91. I inadvertently left several names off the list: Larry Ledford, Jack Roberts and Tonee Smith. My apologies and congratulations!
Our sympathy is extended to Janine and Pen Bogert on the death of Janine's mother on September 30 in Ft. Lauderdale, Fla.
Song Stylist Marie Augustine performed at the first Washington Street Festival on September 26. The festival, which ran from 11:30 a.m. until 2 p.m., was sponsored by the Presbyterian Headquarters, Humana and first National Bank. Pen Bogert, who was responsible for lining up the entertainment, which also included a Dixieland band, found a little time to jam with Marie.
Sorry I had to miss it. Sounded like a fun way to spend a long lunch hour away from the office, but had to make a run to the newspaper printer. Well, maybe next yeah
Honorary Member Debbie Hupp ("You Decorated My Life") has high hopes that country singer John Anderson will turn her song, "Straight Tequila Night," into a hit. Anderson is trying to make a comeback after a long dry spell and Debbie hopes her song is the one that he sings to the top of the charts. According to Debbie, the video is not as strong as the song, so she's hoping that a single of "Tequila" will soon be released.
Had a special treat on October 12 and again on October 17. Seems Music Man recording artists John Allen were the stars of an album release party on the 12th at the Holiday Inn in Bardstown, Ky. The six-song cassette album, produced by Charlie Walls on his Music Man label, is titled A New Number One and contains songs written and co-written by one or more of these LASC members: Gardner Barger, Jean Metcalfe, Paul Moffett, Sammy Reid and Charlie.
And then … and then ,,, on the 17th John Allen opened for The Bama Band at Jim Porter's. What a kick! (Check out a review of the two John Allen performances elsewhere in this newspaper.)
Grandma Ocilla Lawson ... er greatgrandma Ocilla Lawson (Congratulations!) just keeps on selling her cassette album of children's songs, Imagine With Me. Maybe Ocilla isn't particularly impressed with album sales of over 600 copies (the total of the first run), but I know a lot of songwriters who would be. Ocilla has ordered an additional 200 copies and hopes to sell enough to allow her to record a second album. She has already written the songs.