October Showcase
By Wally Stewart. Photos by Jean Metcalfe
Homecomings create feelings of nostalgia, excitement love and many others, as old friends gather to celebrate the past and enjoy the present October 5th's LASC Songwriter Showcase was not billed as an official "homecoming" but the emotions of one were certainly at The Rudyard Kipling this night. Three of the Co-op's four founders were involved in the show and also present were musicians and friends who had known each other before the group was ever formed.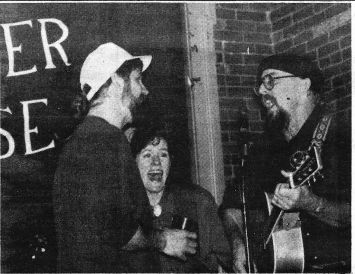 L to r, Dave Eans, Marie Augustine and Paul Moffett
Jean Metcalfe has worn several "hats" since being a Co-op founder in 1986 with Dave Evans, Paul Moffett and Debi Knight. As tonight's emcee she started the program by calling for Borden, Ind.'s Ray Major to strap on his banjo and share his original instrumentals Ray is a very active player in the Metro area with Der Vision, and Tim Sears came along from that group to add percussion sounds. Major goes back to the days of the jam sessions that evolved into the Rud's Monday open stage and spoke to me about his love of playing This was obvious on tunes "Fly City," "Dry Fork," "November 1990" and John Goodin's "Mandolin Piece #5." Ray mentioned playing Italian restaurants with Goodin and closed with a tarantella. The velocity of his picking kept accelerating, then "stopped on a dime," bringing a lot of applause.
This opening act remained to assist LASC President Paul Moffett with his compositions. The "Prez" picked up his guitar and talked of the time when he and Major were roommates at the "Post-Nuclear Spanish Opera House" in New Albany, Ind. He then sang about a harmonica player from that era in "I've Got My Doubts About You Boy." "Upright Lady" was written with Jean Metcalfe and Charlie Walls and has been cut by John Allen on Walls' Music Man Records label. (Congratulations!) Moffett commented that "Swans On the Run" came before he knew about songwriting groups and that it was too poetic. I enjoyed it anyway, especially after Beth Moffett commented that it was performed when she and Paul were married. Another collaboration with Metcalfe came near the end of this act, as Ray switched to harmonica for "Lucky In Love." It described a man who thinks he's "lucky in love one night at a time. He's a wolf in wolf's clothing, got a howl of a line."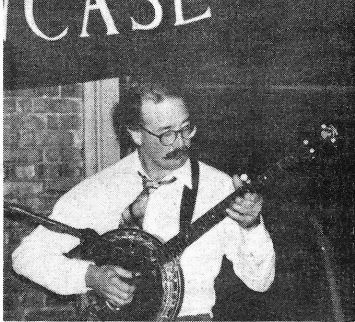 The intense Ray Major
When intermission came the music took a break but the fun continued with several hugs and grins being seen. This was most prominent when Dave Evans walked in, causing several eyes to light up. As the sizable crowd regained their seats Marie Augustine brought her guitar and instrumentalists John Paul Wright and John Thornberry to begin the second round. Marie was a very busy performer with Louisville's SummerScene this year and has been called "The Song Sampler" due to the variety of styles she is able to cover. Augustine was noted as being the very first showcase performer and called tonight's group Marie and the John Boys.
This classy brunette is not only a great vocalist (especially on jazz numbers) she is a fine lyricist as well. This shone on "Kiss 'N' Tell," "I've Been Selling My Soul to the Devil," "One Dish From Your Smorgasbord Is Gone" and my favorite "SS" tune, "Piper's Call." "Call" is about continuing to follow your dreams, but its stature with me may be challenged by a song that was dedicated to Umar Williams. The powerful "Earth's Cry" portrayed the urgency of taking care of our planet with "l hear a memory where birds used to fly, I hear tomorrow where children cry. Who shall dry their eyes? I hear a mother cry out a mother's love."
I was glad that I had changed my schedule and was here tonight. The "Homecoming" was given a strong dose of "Co-op past" when Dave Evans stepped forth to conclude the second round. Emcee Metcalfe described the enthusiasm and hard work Dave gave the LASC when it was first trying to spread its wings and though I had not met Evans before tonight I easily sensed the love that many in the house felt for him and their joy at his being on the Co-op stage again. The "eye-lighting" referred to earlier happened when Dave arrived from playing at Becky Bennett's wedding and as he got ready he introduced lead guitarist Rex Newlan. This founder interspersed his thoughts from the last few years between his "Fishing Hole," "Shadow," "Here You Are and Here I Am" and 'Welcome Home," while adding how glad he was to be on a showcase.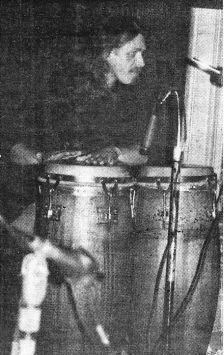 Tim Sears accompanies Ray Major.
"Fishing" was born of sadness after the death of a friend and recounted the friend's love of the sport. Dave's harmonica gave it an appropriate blues 'touch. "Here" showed a pleasing voice and strong emotions in "I'm hiding from the truth no more, thank God I'm not alone here you are and here I am." "Home" was intended as a fitting set closer but, after hearing "No one understands me any more than family hello family," the "family" demanded and received an encore.
After intermission each artist took part in an informal round with sounds ranging from Irish hornpipe to blues to inspirational. Several combinations were formed with a highlight coming when some audience members joined Augustine for the medley of "Will the Circle Be Unbroken?' and "Amazing Grace." This drew harmonies from many parts of the room and "Prez Paul" summed up the evening "Tonight's performers were the spirit of the Co-op; most of them were around when it started."
Due to the annual LASC Songwriting Seminar on November 8 and 9 the next regular Showcase at the Rud will take place on December 7. I'll see you there.