Something's Afoot
By Paul Moffett
Mr. Mustard, in the kitchen, with a knife
No, maybe Lionel Twain, on the stairs with a bomb.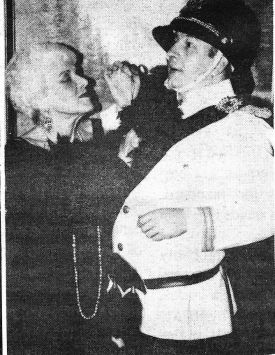 Mary Ann Johnson as Lady Grace Manly-Prowe & J. R. Stuart as Col. Gillweather.
Maybe it was just Ten Little Indians.
The Derby Dinner Playhouse's production of Something's Afoot, The Musical Whodunit has many virtues, but mysteriousness is not one of them, at least it's not if you have even a passing acquaintance with the genre of English drawing room murder mystery That deficiency is irrelevant, of course. The production is a musical send-up of the style and allows the cast of Derby Dinner regulars to relax and camp it up just a little. As a consequence, it's grand fun, if not grand theater.
Rita Thomas, as Miss Marple clone Miss Tweed, effectively orchestrates the action with her errors of deduction (Miss Marple would never make that many mistakes, of course), pointing the finger at the wrong person several times, usually the next to fall victim.
Lee Buckholz, who usually has the male romantic lead at the Derby, gets to play the villainous and dissolute nephew Nigel Rancour. Nigel lusts after Uncle's fortune as well as the saucy Cockney maid Leme played by Greylyn Gregory. Buckholz's character evokes all the subtlety of Snidely Whiplash.
J. R. Stuart's Col. Gillweather, the old Army man, has the look and feel of an Arte Johnson character, while Bill Hanna as Flint the caretaker is the most watchable, even as he carries out his duties as stretcher-bearer for all the bodies Hanna's experience as a clown pays off in this one.
As usual with the Derby regulars, the singing and dancing is solidly professional, even when dealing with essentially vapid material. Something's Afoot doesn't have any songs which you are likely to remember, except the explanatory "I Owe It All (to Agatha Christie)," wherein we find out what we already know about the source of the plot, the characters and denouement.
Still, it's fun fluff and enjoyable to watch. Besides, any dinner theater that has a chef who can produce perfect southern-style fried okra in the gluttonous quantities that 1Derby Dinner dished up has my allegiance. Pass me some more okra, please.
Something's Afoot runs through November 17 Call 812-288-8281 for ticket information.