ARS FEMINA By Henry C. Mayer
ARS FEMINA Ensemble, with six core personnel, is perhaps Louisville's latest musical achievement. But who are they?
In the summer of 1985, ARS FEMINA became alive. Three talented Louisville residents, Susan Reigler, Jim Oxyer, and William Bauer, were putting together a concert of 18th century chamber music. They wanted to include a number by a woman composer. But alas, there was none to be found.
So, what do you think they did? What would you do?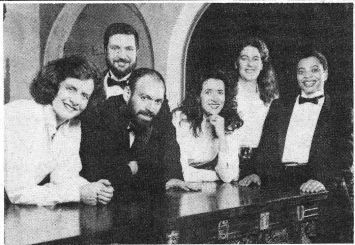 L to R: Suan Reigler, Bill Bauer, Jim Oxyer, Linda De Rungs, Kathie Whiteside, Lyna Hurd
In Europe for other reasons, Bauer and Oxyer went on a musical treasure hunt, meticulously exhausting the timeworn storage places and archives of major music publishers on the continent. It took almost a month before they yelled "EUREKA!" But it was worth it, locating a set of beautiful harpsichord pieces by the 18th century French composer, Elizabeth Claude Jacquet de la Guerre.
But that was only the beginning.
Mme. de la Guerre turned out to be a prolific composer of works of true genius and the favorite musician at the dazzling court of the Sun King, Louis XIV. One of a family who distinguished themselves in both making music and crafting quality musical instruments, her personality and genius so pleased both Louis and his successor, Louis XV, that the French Government struck off a gold medal with her likeness.
Not long after this first discovery, ARS FEMINA uncovered some 50 other sparkling pieces by women composers of the 17th and 18th centuries. But, as Susan Reigler told Louisville Music News, "there's lots of work here; being a persevering music detective is only the beginning. No piece when we find it is performance ready. It takes an average of 100 hours for that to happen."
Since that beginning, Reigler continued, "in six years, we have located over 250 pieces which women wrote between 1587 and 1813 but only 32 have been performed. What makes this task rewarding is that each discovery brings with it a clue leading us to the next find. And another thing, we play all our music on original instruments.
The importance of the women composers can be indicated both by the quality of their works and the fact that Grove's (the multivolume Encyclopedia of Music) lists a number of them in its biographies of leaders in music. Moreover, women have written quality works in almost every musical genre. As a writer about opera, this writer noted that though Mme. de la Guerre completed a five-act opera in 1694, Francesca Caccini (1587-1630) penned the first opera performed outside Italy. Her opus was performed in Warsaw in 1628 -- slightly more than a generation after the first opera reached the stage.
A very interesting volume complete with score excerpts has been published, another sign of musical leadership by Indiana University's School of Music. Professor James Briscoe has edited "Historical Anthology of Music By Women." Thirty-four composers from more than half a dozen countries are representing a span of 12 centuries. They include such names as Hildegarde of Bingen, whom the contributor calls "a model for the century in which we live"; Kassia who wrote in the Byzantine idiom; Anne Boleyn; Maria Grimani; Mme. de la Guerre; the first renowned Polish pianist, Maria Agata Szymanowska; Fanny Mendelssohn Hensel; Clara Weick Schuhmann; Anna Amalia, the sister of Prussia's composer-king, Frederick II; Alma, the widow of Gustave Mahler; and 1983 Pulitzer Prize winner Ellen Zwilich.
A tax-exempt entity, ARS FEMINA can tell you more about its work and opportunities for you to share in it. Write ARS FEMINA, Box 7692, Louisville, Ky. 40257.