An Evening in Camelot
By Eric N. Shrewsberry
King Arthur and his Knights of the Round Table brought "Camelot" to theater in the round recently for a brief shining stay at Derby Dinner Playhouse in Southern Indiana.
Lerner and Loewe's musical version of T.H. White's novel "The Once and Future King" tells of King Arthur's creation of "Camelot," a kingdom where the ideas of fairness and justice, not violence and vengeance, are the rule; might for right instead of might makes right.
This Middle-Ages kingdom under the new rule might have been perfect were it not for one fatal flaw: Lancelot, Arthur's best friend and best knight, has fallen in love with Arthur's wife, Queen Guenevere. The walls then begin to cave in on Camelot.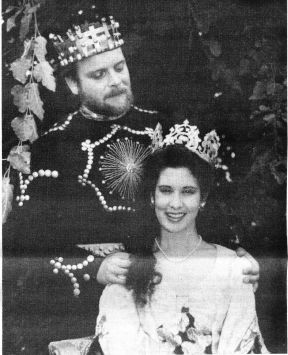 Jon Huffman is Arthur and Culette Delany is Gwenevere in 'Cambelot'
First performed during the early Sixties, "Camelot" portrays a mythical kingdom which became closely identified with the late President John F. Kennedy's administration in its representation of idealism and hope.
The performance I attended could be compared to the baking of a chocolate chip cookie: at first it's a little bit doughy, too soft; but after it stays in the oven just a little bit longer, it's a delicious treat.
With the exception of Ewel Cornett (Merlin), the principal players, Jon Huffman (Arthur), Colette Delaney (Guenevere) and Lee Buckolz (Lancelot), were just a little bit slow getting started in the first few scenes of the first act. But only in the first few scenes.
The second act really took off. As the passion between Lancelot and Guenevere intensified, Arthur's dilemma became increasingly problematic. Mordred's treachery (played with evil charm by Jim Hesselman), added to the excitement.
The climax was quite breathtaking, but since I can't tell you any more of the plot without giving away the ending, you'll just have to see it for yourself!
The musical numbers were well done, with a good ensemble and fine musical accompaniment.
"Camelot" is a show that the whole family will enjoy, especially when it's performed at a theater in the round (the stage being in the center of the theater) as it is at Derby Dinner.
The food was good, too!
You'll have to act fast if you want to catch that "shining moment that was known as Camelot." It'll be at Derby Dinner just a brief while longer -- through October 6. To find out if reservations are still available, call (812) 288-8281.
"Something's Afoot" at Derby Dinner Playhouse starting on October 8. That's the name of the next production, and it runs through November 17. To get a head start on "Something's Afoot," make reservations for this upcoming musical mystery at the same time you check on "Camelot," same phone number.