Bluegrass Beat
September has been quite a month for us. On the fourteenth we went to Rosine, Ky., to the festival down there -- a good festival in spite of the fact that there was a shortage of audience to what it should have been. I think there were several combining factors to account for this.
It was certainly not for the lack of a good lineup of entertainers. Bill Harrell, Charlie Sizemore, Ralph Stanley, Bluegrass Cardinals and other fine acts were there throughout the weekend.
Hot weather, spelled HEAT, was certainly one. A lot of folks around were getting in tobacco. And then Bean Blossom was in full swing, celebrating Bill Monroe's birthday, Friday the 13th. His 80th birthday, five weeks after double bypass heart surgery, and word is that he put on one heck of a show. Even did a little dance for the folks.
Our trip to Rosine proved to be most interesting. C.R. Wilson, one of our dedicated listeners and supporters, is from the Rosine area. C.R. introduced us to some of the local folks who provided the proverbial icing on the cake for the day.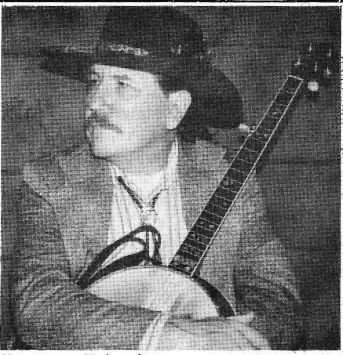 Raymond Fairchild
Billy Logsdon very graciously and enthusiastically took us in his truck to Bill's old homeplace -- the homeplace where Bill was born and lived the early years of his life. This is up on Jerusalem Ridge. Next stop was the cemetery where Bill's parents and family, including Birch and Charlie Monroe, are buried. We also visited the grave of Uncle Pen. Pendleton Vandiver, old-time Kentucky fiddler known the world over because a loving and devoted nephew told the world about him in song.
"High on the hill above the town" was the next stop at Uncle Pen's cabin. Not much to see, really, but just knowing what it's all about and what has followed over the years makes it all worthwhile and special for a bluegrass fan. The name Pendleton has a little extra meaning for me also. I have only heard or known of that name one other time. My grandfather on my mother's side. His middle name was Pendleton.
Back to the festival and, a little later in the afternoon, Delmer Sexton, leader of the Roan County Boys, asked if we would like to meet Aunt Bertha. Aunt Bertha Monroe is Bill's sister. A very dear, pleasant, sweet little lady who seems to genuinely like the people she meets. We chatted for a while and when we left everybody got a hug and a smile. It was a great day in Rosine for me.
What are we looking forward to in the days ahead? Well I'm glad you asked.
The Osborne Bros. are returning to Shepherdsville Country Music Place on October 4.
Bill Stewart will be starting, with the Stewart Family, the Fruithill Jamboree at Fruithill, nine miles north of Hopkinsville, on October 5.
The Kentucky Bluegrass Band will entertain at Shepherdsville on October 18.
On down the line a bit I am looking forward to seeing the Bluegrass Cardinals, Del McCoury, Paul Adkins and my good friend Randall Hylton at Shepherdsville.
Also in October, 9-13 to be exact, the 12th annual Tennessee Fall Homecoming will be in full swing at the Museum of Appalachia, Norris, Tennessee. There is so much to see, so much to hear, so many demonstrations of the old ways, and so much great bluegrass and old-time music to hear. There is so much, it is too much to tell all here. Some samplers, however, will be the Bill Stewart Family of Louisville, John Hartford, Mac Wiseman, and the gentleman who plays the theme for my Sunday Bluegrass show on WFPL, Raymond Fairchild, just to name a few. Alex Haley, author of "Roots," will be there, and there will be a great quantity of truly reasonable good things to eat, like some of the best country ham biscuits ever cut off a hog. One mile off of Interstate 75, eighteen miles north of Knoxville. One of the finest and most interesting outings you can attend with the family.
Rumor department, and mind you this is rumor: Art Stamper, Shepherdsville fiddle player, and one of the best, will be joining Ralph Stanley's Clinch Mountain Boys. Curly Ray Cline's health is taking him off the road.
Rumor No. 2 says that Ricky Skaggs has purchased, or is going to purchase, Bean Blossom.
An item off the news machine this month tells us that Bill Monroe's Bluegrass Hall of Fame and Country Star Museum will move to Bean Blossom. There are a lot of plans and developments in the works for Bean Blossom.
If you are not listening to Sunday Bluegrass, Sundays, 8-10 p.m., start this week. If you do listen, tell someone who doesn't to start. Along with the old-time and older records, etc., I've got a lot of new CDs to play for you. One new one in this month is from Copper Creek. It is called Going Up Copper Creek and is a mixture of several different artists. One of those artists included is Gary Brewer. Actually, it's Gary and Jim Brewer, Gary's dad. Unless I miscounted, there are four numbers on here by the Brewers. These are from a recording of theirs called Two of A Kind. Some very good, basic, simple, old-time type numbers easy to relate to. Listen. I'll be playing these more. Could easily be one of Gary's best efforts.
I guess this is about all the space we can take up this time. Don't let the fall get away without attending a festival of your choice. They are where all the good times are. Good times, good friends, and good music.