Central City's Famous Sons Return for Homecoming IV
By Jean Metcalfe
"Kentucky, you are the dearest thing outside of heaven to me."
Phil and Don Everly sang it to their huge audience as if they meant every word of it. It was a very moving moment in Central City, Ky., the duo's hometown, on that August 31 evening.
The talented and lovely gospel singer Alma Randolph had set the mood with her stirring rendition of "America the Beautiful," "God Bless the U.S.A." and the national anthem, while John Prine tuned his guitar in preparation for his turn on stage.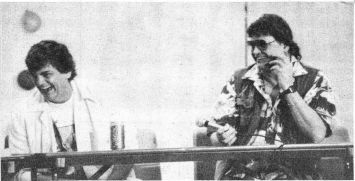 Phild and Don Everly respond to a question at their news conference. Photo by Jean Metcalfe
Prine did such oldies as "Fish and Whistle," "Angel From Montgomery," "Grandpa Was A Carpenter," *****(eat a lot of peaches) *****(memories can't be boughten). And of course, Prine took his audience back to Muhlenberg County where his parents were born. By their cheers, whistles and applause the fans named that tune "Paradise" in one word.
And there was the new number which was apparently titled "You've Got Gold Inside of You." Although many of the lyrics eluded me, I think it is safe to say that it was about the coal in Kentucky's hills.
Jamie Hartford joined his famous father, John, to open their set with "Roll On Buddy" (Is that the correct name?). They followed up with "Gentle On My Mind," the oft-recorded product of John's own pen, which didn't hurt his or Glen Campbell's career.
Jamie took the lead on Ernest Tubb's trademark "I'm Walking the Floor Over You," with John joining in on the verses and providing a fiddle solo spot.
The Hartford men then played and sang -- yes, sang -- "Orange Blossom Special," and invited the audience to sing on the repeats.
Donning a portable microphone, John strode into the audience and delighted several of the ladies with "Hey, Babe, Won't You Boogie, Boogie Woogie Woogie With Me."
Returning to the stage, the Hartford duo finished up with "Rolling In My Sweet Baby's Arms," insisting with success that the audience do most of the singing.
A set by Phil and Don started off with "Bowling Green," *****"(So sad to watch her love go bad)" and "I'll Do My Crying In the Rain" Phil looked skyward as he expressed reservations about singing the latter song because it had the word "rain" in it. But no umbrellas were needed for Homecoming IV, except possibly for protection from the sun earlier in the day.
The Rock and Roll Hall of Fame brothers continued to please with their classics "When Will I Be Loved," "Bird Dog," "Bye Bye Love" and "All I Have to Do Is Dream." The abundance of emotion the pair put into "Dream" brought many high-pitched squeals from the audience, and earned the attention of the usually inattentive backstage bunch.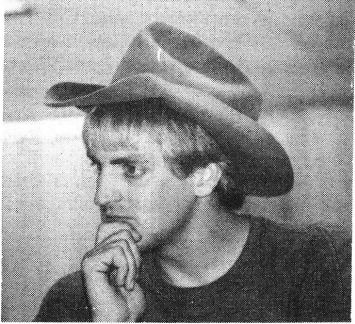 Maceo's Marty Brown. Photo by Jean Metcalfe
In a tribute to their late musician father, Ike Everly, they sang "Long Time Gone," a "little blues number" he taught them. They followed up with "Blues Stay Away From Me," which Don introduced as the first song he remembers his dad teaching him.
The hits just kept on coming: "Till I Kissed You," "Kathy's Clown" and "Wake Up Little Susie." I was once again impressed, as I had been at the 1989 homecoming, with the energy the famous fiftysomething siblings put into each song. Multiply that times two for "Susie." (I'm sure they exhibited the same level of energy for the 1990 event; unfortunately, I was unable to be there.)
Four guitarists -- two were the Everlys -- formed a single line across the front of the stage to introduce "Lucille." The smoke machine really poured it out, at times almost obscuring the performers in the ever-changing light-dyed fog.
"This is just for you ... each and every one of you," the famous brothers said.
"I bless the day I found you, I want to stay around you ...," they sang. It is hard to imagine anyone not enjoying "Let It Be Me" as sung by Don and Phil Everly.
The Everly Brothers next participated in a brief ceremony to introduce the recipients of scholarships made possible by proceeds from the homecoming festivals.
Thom Bresh, a talented guitar player and singer followed the Everlys, and got off to a rousing start with some flashy guitar picking on "Duelin' Banjos (Guitar?)." During his first number the sound was less than adequate for his guitar, and Bresh requested that the volume be turned up. It didn't happen.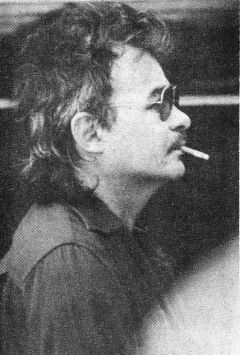 John Prine awaits his turn on stage. Photo by Jean Metcalfe
"My father was a man from Muhlenberg County by the name of Merle Travis," Bresh said, adding with a laugh, "He had a hard time getting them to turn his guitar up too."
Bresh sang a song which I believe he wrote about his "father from Kentucky." A line in the song said that he "gave up his last dollar just so he could play the blues." I believe "Guitar in the Window" was the title.
A medley that included "Sweet Georgia Brown" and "I'll See You In My Dreams" really showcased Bresh's considerable talent as a guitar picker.
A large screen projected the on-stage happenings, enabling larger-than-life close-ups of Brody's fingers and guitar neck; it was possible to determine what time it was by checking Brody's watch.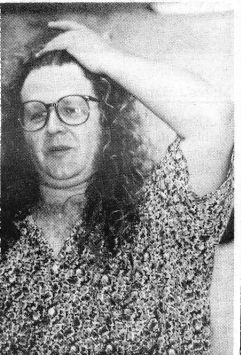 Kentukcy Headhunter Richard Young
Following "That's All" ("You'd better change your way of living before the Good Lord say 'That's all.'"), Lane Brody joined Bresh for several numbers, including her originals "There Isn't Any Limit to My Love," "Better With You," and "Threading Needles in the Dark."
Before singing "Yellow Rose of Texas," Lane Brody said of the song, "I've had one No. 1 record and it's not gonna be my last." Bresh filled in for Johnny Lee on this version of the hit song.
A very touching moment came when Ms. Brody sang "Amazing Grace."
"This is for you Daddy," she said, referring to her father who had passed away just a few hours earlier. (In an earlier press conference Ms. Brody said that the news had come to her via a police officer's car radio while she was at a ceremony to dedicate the Everly Brothers monument in downtown Central City.)
Ms. Brody and Bresh followed up with "Somewhere Over the Rainbow," before yielding the stage to hot newcomer Marty Brown, from Maceo, Ky.
Brown came on stage to absolutely thunderous applause from an audience that included many who wore T-shirts with the country singer's name boldly displayed on them.
Brown got the attention of the backstage bunch as he began his first song, "Your Sugar Daddy's Long Gone," a cut on his first and new album High and Dry.
It was obvious that the listeners weren't the only ones who were having a great time.
"Wheee-ew. God bless you. Thank you," the young country star shouted. The fans seated (and by now probably standing) on the distant hillside probably could've heard him even without a microphone.
After a cover of "Don't Blame It On Dixie" and a couple of whoops, Brown let loose with the title cut from his High and Dry album.
It was a joy to watch his performance and that of his band. Although his Buddha-like bass player managed to play it cool, the two youthful musicians on drums and fiddle positively beamed with pride. A cartoonist's drawing would have shown buttons popping off their shirts.
"Ole King Kong," which Brown had sung on the CBS network program 48 Hours, was introduced as one he had written when he was 16 years old.
For several days post-Homecoming '91, I sang the hook line from Brown's "Wildest Dreams." How many syllables does it take for a Marty Brown to sing the word "wildest"? A lot. And I liked it. A lot.
There is a pure, Hank Williams-country quality to Marty Brown's voice. Let's hope there are more albums from this talented singer-songwriter-musician.
"Every Now and Then," a close second on my Marty Brown favorites list, came next, followed by "I Always Get Lucky In Kentucky." Whoa!!
Shouts of "Marr-tee, Marr-tee, Marr-tee," continued long after young Marty Brown had left the stage.
The Kentucky HeadHunters! Those bad boys of the barnyard hit the Homecoming IV stage with their assortment highjinks of a Metcalfe County High School,