Chickasaw Mudd Puppies
Flat Duo Jets
Live at Tewligans
By William Brents
If it were a crime for a supporting band to outclass and overshadow the headliner, then the Chickasaw Mudd Puppies deserve the death penalty.
The Mudd Pups prevailed on this August 23 evening with a mixture of foot-stomping blues, country and rockabilly that created a festive, rural front-porch setting. As for the Flat Duo Jets they were flat out disappointing.
The night of hot-and-cold music began with an unannounced performance by a Floridian group known as the Beggarweeds. I must admit I was not happy when another band was added to the bill, mainly because it was approaching midnight and not a single performer had taken the stage, but after the Beggarweeds second song all was forgiven. This three-man band almost stole the show with their rocking countrified songs that showcased a love of hooks and harmony. A pleasant surprise indeed.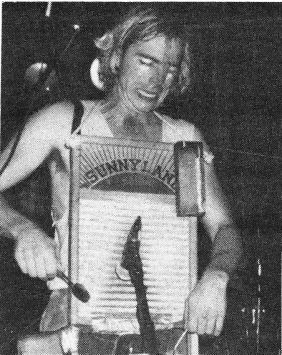 THIS IS THE WAY WE WASH OUT CLOTHES? If it ain't in their repertoire, it oughta be: Brank Slat of the Chickasaw Mudd Puppies on the washbord. Photo by John Wright
It is said when it comes to the Chickasaw Mudd Puppies, people either love 'em or hate 'em. In this case it's a lock to say the crowd willingly embraced the two native Georgians.
Versatile vocalist Brant Slay and guitarist Ben Reynolds incorporate many instruments in their songs which, by the way, are about "mamas, papas, cousins and yard dogs," Slay said. Slay basically played anything he could get his hands on, including a washboard, a cowbell, cans and man could he play the harmonica.
Occasionally, Slay would deliver this exhibition from his favorite rocking chair, but mostly he was too busy with what looked like a demented square dance ritual. Reynolds played some great licks during the show but none more memorable than the ones he displayed on "Do You Remember" and "Wasp," two songs that appeared on their last LP 8-Track Stomp.
Both Slay and Reynolds seemed to enjoy chatting with fans between songs and even did a request for a lady who was quickly becoming a nuisance. Slay made a startling announcement when he mentioned that their label, PolyGram Records, had recently dumped them. "We weren't selling like Bon Jovi, so they slit our throats." With that they decided to spew some venom by playing a new song, appropriately about "fat, cigar-smoking record executives.
Last and least, the Flat Duo Jets, which consists of singer-guitarist Dexter Romweber and drummer Crow, took the stage about the same time Saturday morning cartoons start to run. I may be stretching the truth a bit, but believe me it was very late or very early -- you decide.
Anyway, before their set I noticed Dexter roaming around looking rather dismal and bored, so I pointed him out to my friends and they thought I was kidding. They were about to make odds and take bets against Dexter ever finding the stage, much less perform. Well, marking the beginning of the end, ole Dex found the stage and, along with Crow, embarked on an unpleasant tedious journey.
The first two songs had an awful vocal mix, pure gibberish. And it didn't improve, which is too bad because, depending on the song, Dexter has the ability to sing well. Go Go Harlem Baby, their second album proves this. (Check out my review of Go Go Harlem Baby elsewhere in this issue.)
Dexter spent the majority of the show with his back to the crowd, playing furious, almost-demonic solos against Crow's excessive rhythms, which translated into an uneven, care-free jam session.