Homefront's Season Opener
By Paul Moffett
There were a couple of dinosaurs tramping around in a hot and humid environment at the season-opening Homefront show on September 14.
And a colorful pair of reptiles, they were, full of snorts, howls and growls.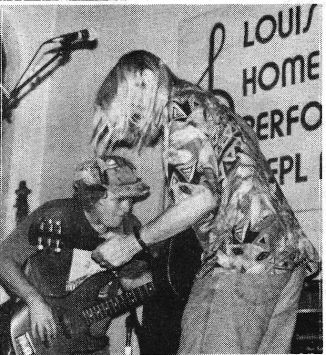 Keith Grimwood and Ezra Idlet are Trout Fishing In America. Photo by Jean Metcalfe
Unfortunately, though the dinosaurs were transmogrified back into Trout Fishing in America, the heat and humidity remained, making the role of the audience an exercise in stoicism.
Competitive quacking was on the exercise card. In Five Little Ducks, everyone was threatened with the extension of the song into a quacking version of A Hundred Bottles of Beer on the Wall if sufficient volume and vigor were not exhibited on the audience participation section. The choice was not difficult and the room reverberated with the requisite four quacks per chorus.
Keith Grimwood and Ezra Idlet are Trout Fishing in America, named after the Richard Brautigan character. The Houston-based duo are a curious pair, indeed, as Keith is but five feet, five-and-a-half inches tall, while Ezra is six foot nine. Their dress accentuates their height differences while sketching an image of constant multi-colored movement on the stage. Grimwood handles the bass chores and Idlet plays a twelve-string acoustic, so that the overall sound of the pair is more that of a small band than a duo.
Their material just adds to their overall weirdness. Friendly weird, yes, rather warm and cuddly, in fact, like Maurice Sendak on a good day, but weird nonetheless.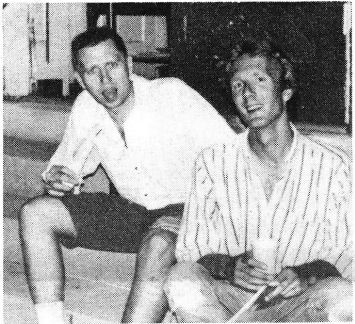 Dan Gediman and Nick Reifsteck take a cool air break on the front steps. Photo by Jean Metcalfe
"Big Trouble" is the lament of a small child who realizes he is in big trouble because "today is the day the monsters came over to my house to play," and caused, of course, all the kinds of damage most likely to be blamed on a child. "The Day Bass Players Took Over the World" details the positive changes that would result should the event described in the title come to be. "Pico de Gallo" is an amusing exercise in ending with "oh" rhymes.
Not all of their stuff was child-oriented, but even their straight material was greeted with tentative chuckles.
Trout Fishing has a couple of recordings out, Truth is Stranger Than Fiction, and Big Trouble, as well as an award-winning children's video. In addition to their original material, they cover the Buddy Holly tune, "Not Fade Away," Dana Cooper's "Lucky Guy" and John Gorka's "Prom Night in Pigtown."
Meanwhile, back at the show, the stultifying heat was ever-present. As good as Trout Fishing was, it was just barely possible to think about hearing them in a cooler situation.
For those sufficiently dedicated, however, the evening was informative as well, for the Homefront show featured the performance of a set of songs from a work by Dan Gediman, whose current band is Large Marge, and Peter Searcy of Big Wheel. Out of the Darkness, commissioned by the Kentucky Arts Council, concerns recovery from childhood sexual abuse. Gediman was backed by Nick Reifsteck, guitarist for One Red Romeo and the Holidays. A substantial portion of the audience had obviously come to hear the material and rewarded them with goodly applause.
The completed suite of songs will be performed in the Kentucky Center for the Arts and then taken to venues around the state. Gediman is optimistic that an album of the material will be recorded and released. Profits will go to a local organization that treats sexually abused children.
Watch for both acts to perform in the Louisville area again.
In a cooler setting.