KFTC Benefit at Iroquois Amphitheater
By Patrick Fitzgerald
On tap at the Kentuckians for the Commonwealth Benefit on September 8 were a beautiful summery afternoon, a large amphitheater, a group of people wanting to prevent the building of a new incinerator, and six innovative local music acts ranging from folk-gospel-funk-rock to bluegrass-hard-driving-soul. Several hours of tremendous local and predominantly original music rang throughout Iroquois Park from five p.m. till midnight.
The first act up was acoustic folk style music provided by Susie Wood. She played a mixture of songs written by herself, Bill Ede and other local songwriters. Her simplistic approach to performing was a great way to start out this show as her songs really moved the audience.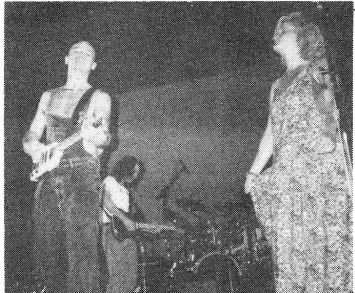 danny flanigan and Kelly Wilkinsoln at Iroquois Amphitheater. Photo by Karen Le Van
Next up was Ginseng Sullivan featuring Woody Mauldin on guitar, John Thornberry on upright bass, and Todd Osbourne on mandolin and banjo. The band played a variety of traditional American bluegrass style tunes as well as
Irish folk music type tunes. The mandolin and banjo work was very well done by Mr. Osbourne, and the group had a fun acoustic feel. The band lack cohesiveness at times, but overall was very enjoyable. The band finished off its set with what is probably the Gatewood Galbraith theme song, "This Herb Was Made for You and Me."
Serpent Wisdom is back. This multicultural music experience featured Jak Son Renfro on vocals, Ken Lucchese on twelve-string guitar, Musa Uthman on some of the best looking and sounding drums anywhere, and Mark Englert on steel drums and percussion. The band's sound is found wh where else in Louisville as Musa's powerful African drums set down rhythms that grab your innermost repressed inclinations to move your body and shake your head and you find yourself involuntarily moving with the gorgeous sound of real drums. Jak Son's haunting vocals define the tone of the music somewhere in between celebrating life and protesting its injustices. Ken's rhythmic chorussy guitar work adds to the full sound in a band with only one string instrument. The extra percussion and steel drums gave Serpent Wisdom an even more multicultural sound, and the polyrhythms taking place between Musa and Mark was at time very striking. The only reggae band in Louisville is Serpent Wisdom.
The Hammerheads are Jimmie Vallandingham on lead vocals, Erik Kephart on bass, Greg Foresman on guitar, and Matt Thompson on drums. The Hammerheads are a loud rock/funk/blues band with more energy than a lot of local bands. Jimmy Vallandingham is one of the more physical lead singers you'll ever see. He booms, jumps and hops through their songs with the energy of a five-year-old. The band played their original tunes loud and hard to the delight of their fan club in the grass in front of the stage. Jimmy even went out and danced among them as the Hammerheads showed why it is that they play out so much.
The Rain Chorus has for the past year been one of the more innovative local bands, with songwriter Danny Flanigan playing guitar and singing, Cary Shields on drums, Mike Baker on bass, Reid Jahn on saxophone and assorted percussion oddities, and Todd Johnson sitting in on lead guitar. The Rain Chorus's sound was enhanced by more harmonies than ever before, but not too much. Kelly Wilkinson joined the group for a few tunes that sounded great. One of the best things about the Rain Chorus is that all the people on stage seem to be having a great time, and it really gets conveyed to the audience. I overheard one person who said, "His songs just make me happy." The Rain Chorus really includes the audience in the show.
This is, of course, also true of Domani. Domani is Todd Johnson on guitar and lead vocals, Sam Anderson on bass and high vocal trumpet, Todd Smith on keyboards, mandolin and vocals, mischievous Stuart Johnson on drums and vocals, and John Bohandas on acoustic guitar. Rick Debow has been sitting in lately on flute and saxophone, and John ***** has been playing organ.
Domani is made up of all performers, and all take the front whey they are called upon to do so. The outdoor setting and the lack of the small, smokey room atmosphere really enhanced the sound of this band. The band has a full sound in the five original members, and the sound of seven people can get a bit "busy" sounding in the wrong setting. But the full amphitheater sound gave equal value to all the sounds on stage. The band hams it up a lot, and Sam Anderson is the only person who could ever sing unamplified in front of a band in that space.
A great deal of credit goes to Tim Hermes, who organized the event for KFTC. He did most of the legwork in getting the bands to donate their time, and someone really ought to buy him dinner. The show was very professionally put together, and all the sound and light people did a tremendous job. It was one of the best local music events in a long time.