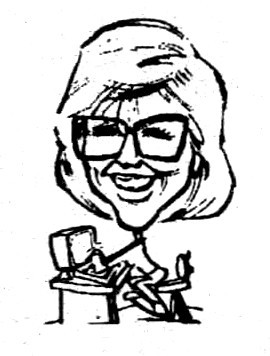 Newsical Notes
Joyce Trammell recently had several wins in songwriting and writing contests sponsored by an international organization of which she is a member. Joyce is a modest sort, so she's not apt to rush up to you and tell you all about herself and her accomplishments. Maybe if you twisted her arm ....
Congratulations, Joyce!
Once again, on September 18, Karen Le Van put together a songwriter showcase at Diamond in the Ruff in Nashville, Tenn. Although it was not an LASC-sponsored event, several of our members performed original tunes on the showcase: Marc Hardin, Tim Lynch, Cheryl Lynn, Alan Morris, Larry Standiford and Susanne Wood.
Doc Dockery's band, which included his wife Mary, filled the guest-band slot after the showcase.
Hope something good comes from the Music City exposure.
Meanwhile, that same night several Co-opers were in Old Louisville to enjoy Bill Ede's guest set with Jay Bolotin, who was in concert at The Rudyard Kipling. Bill performed four classic Ede-penned songs, including my favorite, "First Time I've Played In A While." Thanks for the dedication, "Lord Bill."
I recently received from member Donald Ray McGrew a tape containing a portion of the April 25, 1989, edition of WQMF's "Uncle Ron's Asylum" that included a song written and sung by Donald Ray. He also sent along a note containing a touching tribute to the show's star, Ron Clay, who died on September 7. I'd like to share Donald Ray's note with our other members:
"Ron Clay was my friend for nearly 15 years. He shared my material with the public and with those within the broadcast business that mattered.
"He encouraged and critiqued my art form and its delivery to the general public, and reminded me often that I had a place in music history.
"We writers in Louisville have truly lost a champion for our cause 'to have our material heard on Louisville radio.' With his passing my heart cries!"
Thank you, Donald Ray. I am sure that many people share your sentiments.
Congratulations to the LASC members who made the first cut (a song or songs in the top ten in one or more of the ten categories) in our Songwriting Competition '91. Here are their names: Ron Allgood, Joe Diamond, Larry H. Easton, Chris Hale, Eric Johnson, Mike Layman, Karen Le Van, Marian Maxwell, Earl Meyers, Donna Beck Michael, Bob Panther, David Pitt, and Wally Stewart.
Congratulations!