September Showcase By Ronnie Dee
Eclectic is a word often confused and misused, but it certainly describes the September Showcase. We had country, contemporary Christian, English handbells and an impromptu "Music Stand Wrestling Match."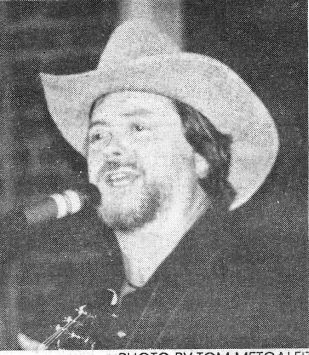 Dan McGrew. Photo by Tom Metcalfe
The evening began with emcee Jean Metcalfe introducing a brand new Showcase performer, Dan McGrew, who did a fine job despite suffering the indignity of having his name misspelled on the front of the program. (I didn't think you spelled "Dan" that way).
As if his cowboy hat and black guitar didn't tip us off, Dan let us know what kind of music he favored right away by opening up with "Love That Country Music," which was all about singin', pickin' and playing all night long.
Eddie Burch. Photo by Tom Metcalfe
Among subsequent selections, Dan optimistically sang about "My First Cadillac" and lamented the fact that "She Don't Love Me Anymore," a good, old-fashioned drinkin' song in which the guy got so polluted that he couldn't even find the door to leave, Boy, I'm glad that never happened to me.
Dan then did a song written after he was divorced, about things not being what they're cracked up to be. In true country fashion, he did a 360 by immediately launching into "Sweet Little Woman of Mine," dedicated to his fiancee, who happened to be in attendance.
Dan ended this nicely done country set with a nostalgic number entitled "When We Were Young," which my wife particularly liked.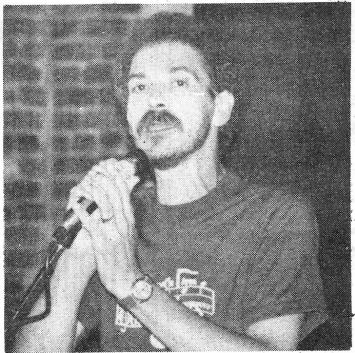 Ron Allgood, Photo by Tom Metcalfe
Our musical journey abruptly changed direction from beer drinking and woman chasing to Christian musing when Wally Stewart made his first appearance in front of the mic to do two of his own inspirational tunes. Wally often reviews the showcases for the LASC Letter, but since he was singing, I took up the slack.
The melodic "Make Me Like You" was his plea in the first number and since the sound man had a little trouble cueing his tape, Wally threatened to regale us with some Kentucky jokes, which, of course, no one finds funny anyway. Hoosier jokes, on the other hand, are a laugh riot, but the sound man got things straightened out just in time and we were mercifully spared Wally's offbeat sense of humor.
He then donned a cowboy hat, which someone said made him look more Amish than Western, to sing his other number, "We're Still Here," an appeal for all Christians to love one another. Good job, Wally, here's hoping.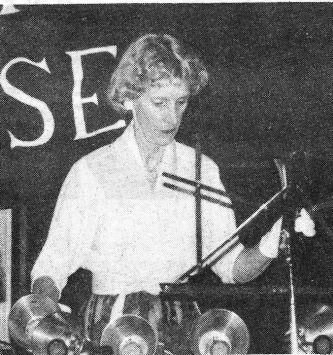 Marian Maxwell, Photo by Tom Metcalfe
A long table full of English handbells awaited Marian Maxwell and her friends, but Bill Matz's balky music stand thwarted any efforts to begin. Paul Moffett tried to lend a hand: "Ka-ching!" Then Jean Metcalfe tried to lend a hand: "Pa-chong!" Then Joyce Trammell tried to lend a hand: "Cha-chang!" You'd have thought it was a chromium Rubik's Cube. It was like one of those old-timey wooden-framed beach chairs that kept collapsing no matter what you did with them. In the end, the music stand won and Jean had to join the act as Bill's music holder.
Besides Bill on guitar and Jean as music stand, the ensemble was led by Marian, who was ably assisted by Debbie Zimmerman in the actual ringing of the numerous bells. Excellent coordination and intense concentration are necessary to play these instruments, I'll tell you. They enthralled the audience with "Morning Has Broken" and Marian's own "Serenade for Handbell and Guitar," after which the crowd enthusiastically lauded their efforts.
Bill Matz then took the stand with his guitar to do two numbers on his own. "Please Keep the Light On" was inspired by the Gulf War returnees and "Big Al" was a trucker song that I think he said was scratched out while "driving down the highway dodging cars." Hmm, it was a good song, Bill, but the next time you're going to write a song while tooling down the interstate, please let me know and I'll just hang around the house that day.
Ron Allgood was up next for his initial appearance on the Showcase stage. He led off with "Your Memory," which he will be doing on the November Showcase, and followed that with a good, old toe-tapping gospel song, "God's Glory Day." Remember that name, Ron, because you might have to sing it again sometime.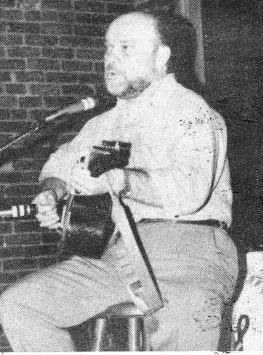 Bill Matz. Photo by Michael Eggenspiller
I told Ron the following at the show, but I don't think he believed me: the only thing wrong with his set was that he only did two songs. We hope he will do more in the future.
Eddie Burch, who often performs with his brothers, did a solo stint and took the evening's sartorial prize as he performed in a black cowboy hat and a jacket which had me wondering whether it was salt and pepper or sequined. I think it was a little of both.
Eddie is one of the Showcase favorites and always does a good show. He has a pleasing vocal style, reminiscent of Bill Staines, and plays smooth guitar. I particularly liked his lead-off song that declared "I've been around, I should know better," and his cowboy song, the titles of which I don't know, and one I do know, called "Castaway." Among the other numbers he performed were "I'll Make It Up to You," "One Way In," "It Ain't Love," and "Georgia Girl." You remember that one, don't you? "Hey-y-y there, Georgia girl-l-l!" No, no, just kidding.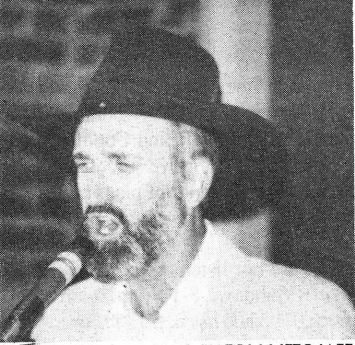 Wally Stewart. Photo by Tom Metcalfe
Dan, Marian, Bill and Eddie came back to do a song or two for the late set, with Eddie ending a pleasant September musicale by honoring a request for one of his more popular numbers," Cortez."
I'll finish off with a big tip of the ol' cowboy hat to the audience, which was one of the 'ruliest' crowds I've seen lately. They were appreciative and you could hear every gentle note of Eddie's guitar and event the tiniest of Marian's bells. But it's a rather shameful sign of the times when one feels obligated to complement an audience for listening to the performers, isn't it?