Trout Fishing in America,
"Truth Is Stranger Than Fishin'," "Big Trouble"
Trout Records
by Bob Bahr
I thank my lucky stars that I heard Trout Fishing in America before I saw their press kit. The faintly gimmicky packaging and PR of the group might have turned me off, or at least distracted me from the sparkling folk music the duo has recorded on these two efforts,Truth Is Stranger Than Fishin' andBig Trouble.
Trout Fishing in America is vocalist and bassist Keith Grimwood and vocalist and guitarist Ezra Idlet. The music they produce is well done and uniformly odd. The duo's take on Buddy Holly's classic "Not Fade Away" features a passage from "Tequila." I don't think these two can do anything straight.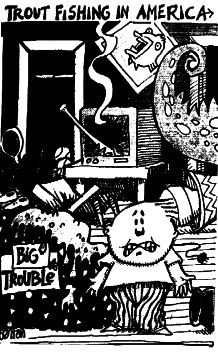 Trout Fishing In America
Thank god. If Trout Fishing in America were strict traditionalists, I wouldn't own a copy of "Prom Night in Pig Town," a melancholy and humorous look at the politics of prom in a small town. Nor would I be listening to "The Day the Bass Players Took Over the World," "What I Want Is a Proper Cup of Coffee," or "Day Care Blues."
Trout Fishing is not a novelty band. They're just a band that likes novel songs. Okay, okay, Grimwood has been known to play the acoustic bass upside down. Alright, alright, the publicity photos emphasize the height difference of the two (Grimwood is 5' 5", Idlet is 6' 9"). But they are not a novelty band.
The proof lies in "Cracked Up," the most moving folk song I've heard in months. From the energetic strumming that engages the ears immediately to the wise lyrics that blend easy images with complex issues, "Cracked Up" is a song that you can't get enough of.
"Trouble Let Me Rest in Peace," another cut on "Truth is Stranger Than Fishin'," offers further proof of the duo's valid musical merit. Grimwood's unique, upper register singing delivers the bluesy soul necessary to put this song over the edge. And the walking bass line is as crisp and professional as you would expect from a former member of the Houston Symphony.
Idlet sounds a heckuva lot like Gordon Lightfoot, and on Lightfoot's "Ode to Big Blue," he does nothing to hide it. What happens? Hey, I like Gordon Lightfoot. The eerily gloomy song lives comfortably in Idlet's and Grimwood's competent hands.
Song after song,Truth Is Stranger Than Fishin' offers innovative music straddling folk, bluegrass, blues and rock. My only problem, and it is entirely subjective and personal, is with Idlet's choice of effects pedal. I grow bored with the guitar chorus he uses consistently on the album. A small point.To this moment, I can't say for sure if Trout Fishing in America's newest album,Big Trouble, is for adults or kids. If it is for kids, it's for adult kids. If it's for adults, it must be for child-like adults. Does that make sense?
I can say for sure thatBig Trouble is big fun. The title track is absolutely precious, with its marching beat and hilarious lyrics. If toddlers like this stuff as much as I do, Grimwood and Idlet have a good chance of being millionaires. Dinosaurs figure prominently in two songs onBig Trouble. That should be good for a couple thousand copies sold.
Trout Fishing in America strolls through the oldie "The Cat Came Back," and gets back to business with "I Think I'll Need a Bandaid." Blessedly, the duo's originals shine brighter than their covers. But it's all good, and it is all incredible fun. BothBig Trouble andTruth Is Stranger Than Fishin' outdistance most of the music out there by miles. "Truth Is Stranger Than Fishin'" is worth the purchase solely for the stellar "Cracked Up," and "Big Trouble" boasts Seussian allure for kids and adults alike.