August Showcase
By Wally Stewart
August is known for heat and a period of stagnant weather called "The Dog Days." On August third the Rudyard Kipling's temperature soared from the hot sounds of Mr. Nice Guy and Charlie Walls, as the LASC Songwriter Showcase quickly chased away any thoughts of "DD." The show provided a partial sampling of the variety that is encouraged and available within the Co-op. it was billed as "A Rocking Showcase" and easily lived up to it, but several "guest appearances" and a climaxing "open stage" added other styles to the menu.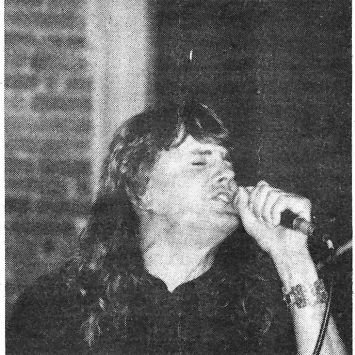 Tonee Smith, of No More Mr. Nice Guy. Photo by Jean Metcalfe
Emcee Jean Metcalfe opened the program with an old cliche that was very appropriate, "After tonight, no more Mr. Nice Guy," for the show marked the final curtain call from this talented local group. Reporter Holly Rudolph was there to capture "Guy's" swan song for WAVE 3's late news, so the metalists' impressive front man, Tonee Smith, led them through the high … Joining his lead vocals were bassist Mike Hester, guitarist Jimmy McFarland and drummer Donald Lentz, while Ray Hatter alternated between guitar and keyboard and handled most of the harmonies. LASC President Paul Moffett was interviewed by Ms. Rudolph and the Rud's small TV received a lot of attention between 11:00 and 11:30 p.m.
Atterthe camera went off, the very popular Charlie "Music Man" Walls brought his guitar and "Silicon Valley Boys" to the stage, complimenting "Guy" with, "That was a rockin' start. I don't know if my "Boys" can kick like that. The "SVB" are an assortment of electronic sound equipment that Walls has sequenced a large number of cover tunes and Co-op originals into, which enabled the fun-filled "open stage" to take place later.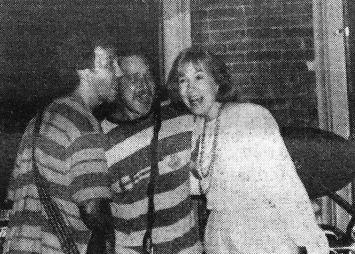 The vocal choir onstage: L to R:, Alan Morris, Tim Lynch, Jean Metcalfe. Photo by Tom Metcalfe
"MM" played a set of originals with a mostly country flavor, some of which were his, while others were co-written with Co-opers Sammy Reid and Gardner Barger. The trio's "New Number One" may be released by a local group in the near future and cleverly compares a sweetheart's affections to a song chart: "She's got a new number one and I've fallen from her heart." Charlie's good-natured teasing is part of his performances and Tim Lynch became the first "victim" as Walls spoke of Tim's wife authorizing his phone calls. (She was in the audience and having a good time.) The Walls-Reid collaboration "The Proof's Here In My Hands" brought the program to intermission with "One holds my future, the other holds my past." It has given them some attention, as it will be sung by Larry Rollins in John Mellencamp's movie "Falling From Grace."
Mr. Nice Guy returned from intermission for its finale and went out kicking, thoroughly entertaining the mostly full room. They went through tunes composed primarily by Smith and Hatter and had the crowd partying on "Middle of Nowhere" and "Wasting Time." After the ballad "Geri," Charlie Walls remarked, "Tonee has a real strong voice; you don't find a voice like that just anywhere. They have good harmonies and Tonee reminds me of. Steve Perry." (Perry is Journey's lead singer.)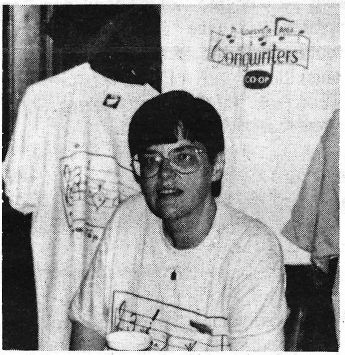 Beth Moffett sells T-shirts at the show. Photo by Tom Metcalfe
Their last originals were reprisals of Smith and Hatter's "Magic" and Mike Hester's "Goodbye," two laments of love not lasting. The first offered "I did my best with you to make it shine, but I'm running out of time," while the latter cried a common emotion, "What made your heart suddenly die?"
Smith and Hester consummated the band's three-year off-and-on run with a guitar and vocal cover of Extreme's gorgeous "More Than Words." The song has some rather high passages that require a lot of vocal tenderness and Smith deftly ascended to them. As "Guy" left the stage the audience roared its appreciation.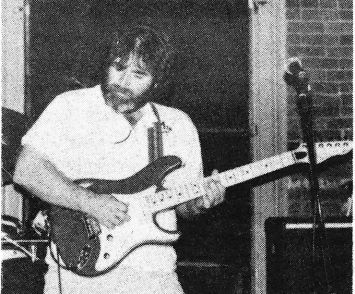 Charlie Walls trades likcs with the 'boys in the band'. Photo by Jean Metcalfe
After intermission the WAVE 3 News dominated the Rud's restaurant, while the "open stage" started in the back room. Coopers Alan Morris and Tim Lynch shared some of their tunes, then "MM" and the "SVB" jumped into overdrive with the previously mentioned Co-op and cover tunes. Morris added guitar and vocals as Charlie repeatedly called people to join the stage party. The "extras" finally responded, changing with almost every song and a long-awaited "vocal triumph!" even came forth from LASC Vice President Jean Metcalfe. When she hit the stage the crowd rose with one voice: "Somebody get a camera!"
It was a great party and the next one will be at the Rudyard Kipling on September 7 at nine. See you there.