Kentucky Music Weekend
By Jean Metcalfe
Parking spots were mighty scarce at Iroquois Park near the Amphitheater on Sunday, July 28. It was the final day of the sixteen-year-old Kentucky Music Weekend, and it was sweet.
Later, as the weekend activities wound down and I stood watching the perspiring street dancers whirl and the exhibitors pack up their wares, I reflected on the quality entertainment I had soaked up earlier in the day and on the previous evening:
On this Sunday afternoon, members of the Louisville Area Songwriters' Cooperative presented their original songs to a small audience in the shelter house up on the hill while hostess Anne McFie munched on an ear of corn roasted in the shuck.
A short jog away Dan Crary sat on a tree-shaded platform to entertain an audience of all ages who sat in lawn chairs and on tree stumps and bare grass. Efficient members of Louisville Homefront Performances, including emcee John Gage, moved swiftly to assist the taping of the procession of talented musicians for airing later by WFPL 89.3 FM.
Crary included references to the years he played music in Louisville (he was a member of Bluegrass Alliance) in the patter he freely sprinkled among his fine solo numbers.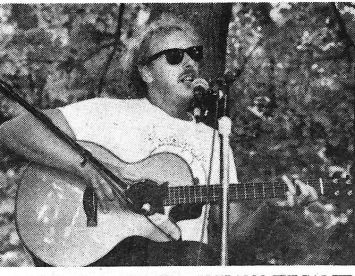 Duck Baker performs at Kentucky Music Weekend. Photo by Jean Metcalfe
He proved his skill with a wonderful rendition of Earl Scruggs' "Foggy Mountain Special" and a sampling of tunes from his current album, an all-instrumental collection titled Thunderation. In a low-key sales pitch for the album Crary promised: "You can enjoy more guitar music than you can stand."
And Crary puckishly described the small piece of equipment that he had placed nearby:
"A few thousand dollars worth of electronic equipment just to get back to the old-time sound."
Later, while packing up his gear, Crary attempted a simple explanation of the equipment for this writer: "I have a box that adds a little bit of effects so it's more like people hear on my records."
Skilled guitarist Duck Baker, a familiar face at KMW activities, joined Crary for several numbers, and their playing blended even better than on the previous evening's concert. Crary frequently twitted Baker, once saying, "He actually strikes steel strings with his bare fingers."
I recalled the lovely evening of Saturday, July 27:
The line-up of talented musicians who entertained in the Iroquois Amphitheater had included Tim Britton and Carol Ann Hunter, Alan Rhody, Maddie MacNeil, Ramona Jones (wife of Grandpa) with her daughter Alisa Jones Wall and Larry Sledge. Each act was enjoyable, but Ms. MacNeil's voice was especially lovely, and Ms. Jones' enthusiasm and lively, toe-tapping old-time selections made one feel good on that lazy summer night.
Crary had the final spot that evening, and displayed his considerable talent at flat picking.
Following Crary's final solo number, Baker joined him for some excellent guitar work, each of the talented gentlemen showing off their style of choice and expertise: Crary flat picking and Baker finger picking.
The two impressive guitarists played and kibitzed, each defending his own style and poking good-natured fun at the other's, until it was time to end the evening.
For a finale KMW organizer and founder Nancy Johnson Barker brought onstage all the evening's performers who were on hand, some eleven in all, for an enjoyable impromptu number.
And then ... and then ... she invited everyone who had thus far participated in the weekend to join them in concluding the enchanted evening with "Amazing Grace." Baker speeded up the hesitant helpers by threatening to tell jokes until they arrived onstage.
As the full moon shone above the amphitheater stage, a warm glow seemed to permeate the crowd. Was I the only one who was reminded of evenings around a campfire?
Returning to the present Sunday afternoon, my thoughts next turned to Monday. It would be the first day of a bustling Kentucky Music Week at Bellarmine College. Dulcimer lessons, anyone?
It is hoped that the good folks at Brown & Williamson Tobacco Corporation will once again join with Nancy Johnson Barker and other supporters to bring to Iroquois Amphitheater another summer weekend of enjoyable, free music.