Kathy Mattea, July 25
By Jean Metcalfe
"You gotta sing like you don't need the money."
Kathy Mattea did and she probably doesn't.
The sold-out Bomhard Theater at the Kentucky Center for the Arts on July 25 provided proof of Ms. Mattea's popularity, not to mention the numerous awards that she has garnered in the past couple of years (Female Vocalist of the Year and Song of the Year awards from the Country Music Association, two years in a row).
Ms. Mattea (may I call her Kathy?) has a very listenable and likable voice. She brought laughter with Don Henry's "Harley" and tears with "Where've You Been" co-written by Henry and Kathy's husband Jon Vezner. The audience was as quiet as the proverbial mouse.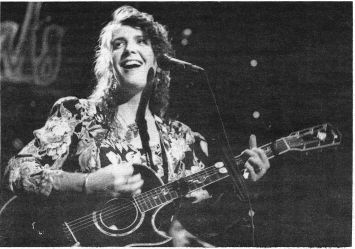 Kathy Mattea sings at her sold-out Lonesome Pine Performance
Referring to her talented fiddle and mandolin player Jon Yudkin, Kathy said, "I never thought I'd ever have a band member who would wear penny loafers on stage." Yudkin showcased his fine bass voice in a bit of scat-like business on Kathy's next number, which called for the audience to clap along. At song's end, Kathy quipped, "It's really interesting to watch people try to clap to that song with tissues in their hands."
Guess I'm not the only one who reacts emotionally to the award-winning "Where've You Been."
"Got A Whole Lotta Holes In My Life," Kathy's latest hit, brought good crowd response, as she sang examples: "A hole in my chest where my heart used to be," et al.
Kathy brought along Dougie MacLean, considered by many to be one of today's leading Scottish singers and instrumentalists and the country's finest young traditional fiddler.
MacLean beautifully played and sang "Caledonia," which he introduced by saying "I think every songwriter should be allowed to write one homesick song."
Five television cameras recorded the performance (as they did all ten of the Summer Festival 1991 performances) and during the pauses, Kathy exhibited quite a sense of humor.
"That's the trouble with TV," she said.
"It gets so quiet. Nobody yelling in the back, 'Boogie till you puke."' Ms. Mattea answered the audience' s call for an encore with Julie Gold's award- winning "From A Distance."
A technical glitch in the taping process necessitated MacLean's performing "Caledonia" once again, with several false starts.
"I don't know if I can be homesick two times in one night," he teased. Kathy joined in the patter to help ease the tension and MacLean performed beautifully. Most of the audience remained for the repeats (Kathy also did one number over because she said she had messed it up earlier.)
A stop at the Bristol for an amaretto almondine ice cream treat capped off a most enjoyable and uplifting evening at Louisville's fine KCA.
Ray Brown, Edgar Meyer, and Victor Wooten & Friends, July 30
By Patrick Fitzgerald
The lineup alone suggested greatness. It demanded greatness and commanded greatness. Ray Brown, the walking history book of Jazz in the 20th Century, Edgar Meyer, one of the premier arco bass players in contemporary music and Victor Wooten, bass mutant and wizard of unimaginable things on the electric bass.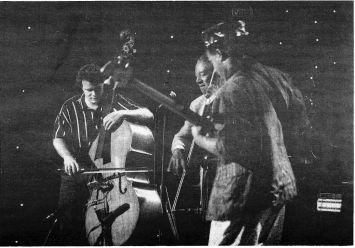 Bass summit: L to R Edgar Meyer, Ray Brown and Victor Wooten
Ray Brown demonstrated why he was the preferred choice of some of jazz's biggest names, including Duke Ellington and Dizzy Gillespie. The man defines the word smooth. He walks, hops and skips bass lines with the ease of an artist who lives his craft. His medley of Duke Ellington tunes delighted the crowd with precise gliding melodies.
Edgar Meyer demonstrated the only true classical influence with beautiful bow technique and style. Edgar also premiered a quartet piece written for bass, cello, viola, and violin. One of the nicest moments occurred when he performed some of his original pieces with his piano accompanist. One of the pieces he described as "a little new agey, but not completely spineless." Edgar and Ray performed a doublebass duo of "My Funny Valentine" that was especially nice.
Victor Wooten wowed the crowd as expected with his precise and insightful look into everything you always wanted to do on the bass, but were afraid to try. Victor's ten finger approach to the electric bass create sounds and two part inventions one wouldn't normally associate with a bass. Victor's pieces with his percussionist were especially fresh and just jammed.
The show closed with Edgar Meyer challenging Victor to try and play a double bass. Victor responded with remarkable skill as he and Edgar wrestled over the bass they both played at the same time. The piece ended with both on the ground on top of the bass.
Though the younger Edgar and Victor proved that they are techno-geniuses of their instruments, Ray Brown showed why he is the master of the bass as Victor and Edgar both looked to Ray periodically as if to say, "what next, Ray?" And Ray just smiled and kept on playing. You just gotta feel it.
Mark O'Connor, July 31
By Jean Metcalfe
"Mark is a very tough act to follow. He's the greatest young musician I've ever known and one of the few I've paid to see." — Chet Atkins.
Atkins' quote appears on Mark O'Connor's album Stone From Which the Arch Was Made and O'Connor lived up to that compliment in his Lonesome Pine Specials performance at the Kentucky Center for the Arts on July 31.
Although his introduction of songs was almost agonizingly slow (was he trying to give his fingers a rest?), the former session player's excellent musicianship downgraded that fault to minor-irritation status.
Opening with an original instrumental that he had composed for a quartet in which he played violin, O'Connor went on to play dazzling solos of several other original compositions, including a piece that he wrote for Eugene Fodor in response to the famed violinist's request for "something difficult to p1ay."
Each member of The New Nashville Cats, who joined O'Connor after the one intermission, was top-notch, eliciting bursts of applause from the audience for their instrumental solos.
One should not expect to hear a more outstanding version of "Orange Blossom Special" than that performed for the full house in the Bomhard Theater this evening. Two spontaneous standing ovations underscored the audience's already obvious enjoyment of the evening's performances.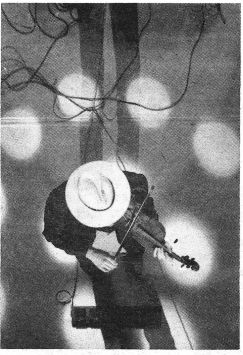 Mark O'Connor in top form.
O'Connor, having already demonstrated his dazzling talent in the first half, the audience rewarded the Cats with thunderous applause as each was featured.
Terry McMillian's outstanding harmonica blowing, especially on "Orange Blossom Special," generated profuse perspiration that turned the color of his shirt from red to black, leaving but a narrow dry strip in the center. Steve Wariner, himself an excellent guitarist, came onstage for a touching performance of a song about the handing down of a cherished fiddle from father to son to grandson. Naturally, O'Connor' accompanied on fiddle. Wariner would return the following night for a full evening's performance with his band.
And did I mention the antics of premier bass player Edgar Meyer as he left his double bass behind for the final number and shared the piano bench and the keyboard with John Jarvis? In a zany bit reminiscent of Jerry Lee Lewis and Victor Borge, Jarvis lay stomach-down on the grand piano and played it, with Meyer's help (?), from a keys-backward position.
It was a night best described as one in which extremely talented musicians proved their talent in spades.
Bela Fleck and Branford Marsalis, August 2
By Patrick Fitzgerald
The Lonesome Pine stage is accustomed to acts that would be seen nowhere else, and this night was absolutely no exception, as two innovative jazzy classy acts hit head on with the Flecktones meeting Branford Marsalis. The Lonesome Pine stage was the birth of the Flecktones a few short years ago, and they have been local favorites ever since. Bela Fleck's innovative style takes the banjo where no banjo has gone before.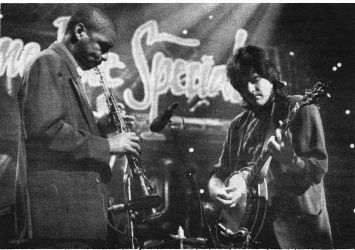 Bela and Branford, in one of Lonesome Pine's unique collaborations.
The "supporting cast" of the Flecktones run a serious risk of becoming front men, as all the musicians are virtuosos on their respective axes. Victor Wooten made his third appearance on the Lonesome Pine stage after playing Tuesday and Wednesday with other acts. The Victones? Maybe. The Levtones? Howard Levy makes a run for the top man with his amazing versatility as a jazz pianist, harmonica player, pennywhistler, and a dozen or so other smaller instrument player. And Roy Wooten plays the Synthaxe drummitar better than anyone. Even if he weren't the only Synthaxe drummitar player, he'd still be near the top.
And when the mighty Flecktones ran into Branford head on, it was no wonder why Roy Wooten described Branford as the baddest man alive. His saxophone work was as smooth as it comes. His high solos on the soprano and breathy tenor solos show why the saxophone has such tremendous range and versatility. His tenor sax sound is as sensual as any human voice ever could be.
The Flecktones asked Branford at one point, "what are you doing for the rest of the year?" That is, of course, wishful thinking to think this was anything but a one-time gig, but hats off to Dick Van Kleeck for coming up with another super lineup for dream shows to occur. Once again, only at the Lonesome Pine.