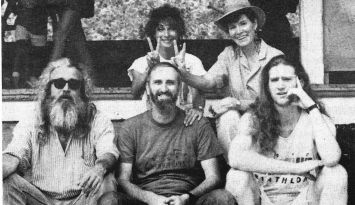 LASC members sang their original tunes on Kentucky Music Weekend's gazebo stage in Iroquois Park on Sunday, July 28. Pictured on the gazebo steps following the performance are, clockwise, KMW songwriter stage hostess Ann McFie at center back, Marie Augustine in hat, Patrick Fitzgerald, LASC emcee Wallv Stewart. and 'cool' Donald Ray McGrew.
MEMBER NEWS
WELCOME, NEW MEMBERS!
By Diana Black
An even dozen new members this month! They have received member numbers 369 through 380, respectively.
Patricia Allman makes her home in Brownstown, Indiana. (Fellow Hoosier!)
Having written for about ten years, Patricia would like to really get into it seriously. She says she feels very fortunate to have a supportive family who would like to see her pursue this dream.
Her favorite music is country which she writes accompanying herself on guitar. She hopes to meet up with a collaborator at one of our meetings.
"Willing to help any way ( she) can," Patricia says just let her know.
Thanks! We'll be calling soon.
I don't have any current information on our next member, Phillip Brown., except that he lives here in Louisville.
Hope to meet you at a meeting soon, Phillip!
Michael Boehnlein (pronounced Bainline) is another Hoosier. While living in Jeffersonville with his family, Michael is not currently writing but would like to begin again and is looking for a collaborator.
He has been in a few Gospel groups and has performed in many churches. Also a big fan of country music, he would be willing to write either. Michael plays rhythm guitar plus a little mandolin and harmonica.
Glad you're getting back into writing, Michael!
I have no information on Joe Ford other than he lives in Louisville. (Additions from the Prez. Brother Ford has had a fairly long history in the music scene in Louisville. Some folks may remember the band Middle Earth, whose lead singer was Ralph Tumas. Ford was in that band. He moved out of state for a while then returend. These days, you can often see him at Uncle P's Wednesday shindig.)
Sure hope to talk with you soon, Joe.
Dan McGrew wrote his first song when he was thirty after having spent most his life playing in bands of one kind or another. (The song was about country music and the impact it has had on his life)
He formed a country-rock band back in 1985 called "Southern Blend." Today when he plays gigs that require a band he still uses that name. However, he prefers to perform as a solo act. He feels that way he can better promote his songs.
Dan writes on his application,"I'm glad Paul Moffett and Jean Metcalfe formed this organization to help people such as myself to try to attain their life's dreams."
I think you speak for a lot of us, Dan.
I'm looking forward to meeting Gerald Cobb. He joins us from Sanders, Kentucky.
Andrew Jackson Donelson, from here in Louisville, was referred to the co-op by Ron Gambrell. (Thanks, Ron!)
A member of SGA, Andrew writes easy-listening music and pop ballads. Mostly writing melodies, he would welcome collaboration.
The past two years Andrew has played drums in a university marching band. He also plays keyboard and sax.
Thanks for the long list of areas you would like to help the co-op, Andrew: advertising, bookkeeping, word processing, typing, filing, telemarketing, forming a co-op band!
James Stealman comes to us from Covington, Kentucky. Welcome!
The next two members you may have seen on the August 5 showcase. They are Tonee Smith and Ray Hatter. Look for the review of the showcase elsewhere in the Letter.
Welcome, guys!
Last, but definitely not least, is Linda Grower.
Great to have you on board!
Very often new members have questions concerning the organization or the music industry in general; please feel free to call me at 502-893-0693 and I will be happy to help in any way I can.
Anyone interested in joining the LASC or just wanting more information about the organization is welcome to call me at the above number and I will be glad to answer any questions and/or forward a membership application.
PLEASE NOTE: The Co-op would like to encourage new members to include with their completed application an attached page with biographical information.
Our welcome column is the perfect place to "let yourself be known!"
RE-MEMBERS
We don't want to forget to thank those members who signed on for another year: Cindy Allison, Lee Cable, Karen LeVan, Paul McGee, Tom Van Meter, Charlie Walls, Harry Wills and Lucille Wills.