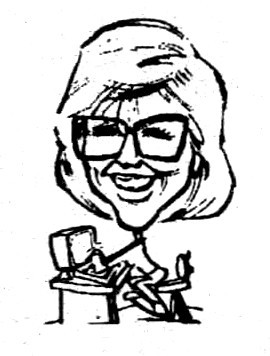 Newsical Notes
A get well wish goes out to member Harry Wills who recently had a very serious heart attack that kept him in the hospital for 15 days. His wife of more than 50 years, Lucille Wills, also an LASC member, stayed by his side throughout his long ordeal.
Lucille recently renewed her and Harry's memberships, and even though lately they have been unable to participate in LASC functions, they have long been avid supporters of our Co-op.
Referring to Harry, Lucille wrote, "He said if we couldn't be there we could still help."
Our thoughts are with Harry and Lucille.
A great big pat on the back to LASC members Diana Black and Earl Meyers, coordinators of the Louisville Workshop of NSAI, for their swift and excellent job of putting together a seminar and showcase at the Holiday Inn South on Saturday, August 17. The event marked the tenth anniversary of the local songwriting workshop, and the turnout was very gratifying.
It was good to see friends from the past, including former NSAI coordinators Tony Lindauer, Dot Elper and Randy Davidson, and former member Reba Ashcraft.
Many LASC members participated in the seminar and sang on the evening showcase. I personally learned several useful songwriting aids from hit songwriter Rick Beresford, and enjoyed his performance very much.
Member Debra Tuggle performed at the July 30 opening ceremonies for the Louisville visit of the barge exhibit "Always A River: The Ohio River and the American Experience."
Debra composed the theme song "Always A River," which she also performed at the launching of the barge in Pittsburgh, Pa., on May 22.
On September 21 Debra will present her original musical works and stories in "Lifesongs," a concert for all ages, in the auditorium of Jefferson Community College Southwest. The event is being sponsored by the Valley Woman's Club and all proceeds will benefit the club's scholarship fund for deserving high school seniors in the Valley Station area.
Information regarding ticket prices, etc. can be had by phoning the Valley Woman's Club at (502) 448-1810, or the office of Light Productions, (502) 933-3564.
(If you have any "Newsical Notes," please let us hear from you. Seems more people should be represented in this column. Did we forget something? Or did you tell us something and we forgot to include it?)