The Heart and Soul of The Lonesome Pine Specials: Van Kleeck
By Bob Bahr
Last month, the Lonesome Pine Specials series down at the Kentucky Center for the Arts ran a star-studded musical marathon, ten shows in twelve days. Within that stretch of shows, Mark O'Connor and the Nashville Cats wowed acoustic fans, Bela Fleck and the Flecktones wowed cosmic hippo fans, Kathy Mattea wowed country fans, and the time- and space-traveling EDLOS wowed just about everyone. Three of music's most talented bassists met in a summit called "Bass Instincts." The best one-man bands from across the nation jammed in another show. And Finjan kicked out some klezmer music at the Bomhard Theater.
This diversity was orchestrated by one man, a gentle, spectacled producer named Richard Van Kleeck. The Lonesome Pine Specials series is Van Kleeck's baby, and what a proud parent he is. The series was created by him in 1984, and has been consistently unique and of high quality. Classical music's young star Nigel Kennedy graced the LPS stage, as did Lyle Lovett, his tall hair and large band, the scintillating African singer Youssou N'Dour, and the crowd pleasing New Grass Revival.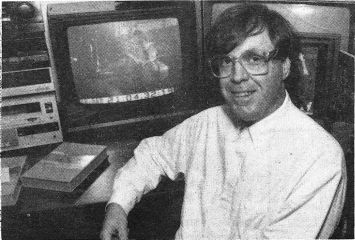 Richard Van Kleeck in his element, in this office. Photo by Nicolas Bonura
Big names and huge talents have performed alongside shows way left of the signpost signaling the bizarre. One show was entirely percussion, with the finale of the piece featuring two professional wrestlers wrestling to African drumming. The sax summit episode had the great Phil Woods -– and the world's largest saxophone. The seven-foot monstrosity honked off stage throughout the show before coming onstage for the finale.
The Lonesome Pine Specials series is unique and imaginative because those are the prerequisites Van Kleeck sets for the series. Possessing the artist's hatred of the cliched, Van Kleeck seems like a man on a mission. His daunting task: to get the American public exposed to a variety of music, to foster an appreciation of every musical style of merit, to broaden America's musical taste.
Van Kleeck has two powerful tools to help him with his efforts. WFPL and KET produce, broadcast and distribute recordings of the LPS shows nationwide. Over 150 public television stations carry the Lonesome Pine series. It's been an uphill battle, however. With considerable exasperation, Van Kleeck said the #1 rated show on public television is currently "Lawrence Welk Show" reruns.
Champagne music is a far cry from what Van Kleeck asks of the listener/viewer.
"We've thrown a lot of curve balls at people," he said. "When Lyle Lovett came in, people said, 'what in the world?' We try to present people who are new, upcoming, and different. Obviously, we had to build up a confidence in the audience -- that you may not know about this group, you may not even like them, but they are going to be good. There are not going to be any dogs on the stage. That doesn't mean that everybody who comes, walks away saying, 'wow, that was the best experience in my life,' but I think we have reached a state of confidence with audience. It's worth taking a chance with a lot of stuff," he said.
A newborn Kentucky Center for the Arts took the chance on Van Kleeck in 1983, giving him carte blanche in his position. His only limitations were a small budget and the 620 seats of the Bomhard Theater.
"It was a chance to create something, rather than follow certain pre-ordained things that had to be done," said Van Kleeck. "I was given the freedom to do that, which is very important. You can want to do something, but you have to have the support of the administration. Up to this point, the support has been there."
What Van Kleeck has done is put together the most eclectic and unique performance program in the nation. Van Kleeck talked excitedly about the Lonesome Pine Specials' philosophy.
"There are really three strains that make up what we are trying to do with this series," he said. "One is to present new artists or styles of music to this region. We've had a lot of success with that. Another is we try to bring in older artists who have been around a while, but have never received the recognition or have been sort of passed over."
"What we like to do best of all, is to collaborate on original concerts, which are original collaborations, or concerts who put two different groups together or artists who have never been together before. Sort of chemical experiments, and most of the time, they don't blow up," Van Kleeck said with a grin.
Have you ever had one blow up?
"After 175 concerts in eight years, there are always concerts that don't reach what I hope for, but I wouldn't trade our batting average with anybody," he replied.
"The bass show -- that sort of encompasses everything I just talked about," he went on. "Up and coming artists, Edgar Meyer and Victor Wooten, brilliant new young [players] with a legendary player, Ray Brown, who a lot of people have heard on records but have never been exposed to, certainly never in a solo situation, and then putting them all together in an original program that you won't see anywhere else. I take the fact that this series is on national radio and national television very seriously. This is a real opportunity to expose people to things they are not going to see anywhere else," said Van Kleeck.
Richard Van Kleeck was born in Buffalo, New York, and went to college at the New England Conservatory of Music. While in school, he played the french horn professionally, including performances with the Pops and other orchestras around Boston. At the Conservatory, Van Kleeck studied under Gunther Schuller, one of the premier composers of this century. Schuller's love for diverse music struck a chord. Van Kleeck was already considered odd among his fellow Conservatory students for his interest in traditional music.
At Dartmouth, the noted musicologist Charles Hamm gave him the confidence to pursue his belief that there were equally great artists in other music besides classical. Van Kleeck found the notion that one could only love one music absurd. Break down the barriers, he thought.
Van Kleeck likes to watch the ripples he causes. He has seen a Nashville mandolin orchestra form after Nashville area players were excited by his Lonesome Pine Special featuring a mandolin orchestra. He has received letters from far off places where an old show finally gets around to being aired. He envisions music groups landing recording contracts partly due to the exposure they get from the Lonesome Pine Specials. It thrills him. Spread the word. Break down the barriers.
"It's unfortunate that a lot of people are going through their whole lives and not getting an opportunity [to hear different types of music]," he said. "If there is one consistent thing that we get in letters and phone calls it's, 'I've never heard that music before. I've never heard anything like that before. But where can I get a record of that?' You asked the kind of things that make me feel good, that's the kind of thing that makes me feel really good. It means it's working."
Van Kleeck quite obviously loves his job, and is proud of the success of the program. But there is one thing that bothers him. Bill # 1417-91, the Immigration Act of 1991. The document, passed last year and in effect starting this October, puts severe restrictions on visits from foreign artists.
"The bill has been brewing since at least 1986," Van Kleeck explained. "The main impetus behind the restriction on artists coming in is unions, particularly some of the actors' unions and people in Hollywood. But it got expanded to entertainment in the biggest sense."
"The restrictions got extremely severe in between testimony and when the bill got written and voted in. Things that make it impossible for an arts center to even do its job. There were some restrictions -- you couldn't get a visa for a foreign touring group until 90 days before they come in. Well, orchestras and a lot of groups are booked three and four years in advance. It's just patently absurd. Also, last year, 78,000 foreign artists came into the country. That number was going to be cut down to 25,000. Why? Totally arbitrary. They just tried to get the smallest number possible. And orchestras, which used to travel under one visa, they were going to count every member of the orchestra as a visa. The joke going around here was, if they are cutting it down to one third, are we just going to get the viola section of the London Symphony in to play a concert? That's the sort of logic we're working on here," he said.
"The whole point was to restrict access," Van Kleeck said. "It wasn't to be fair. Another rule was that [an artist] had to be in a group for at least a year in order to travel with an ensemble. Well, I don't know of any orchestra, actors' group or dance company that hasn't had any personnel changes in the last year. Obviously, they are not trying to make it easy to get in."
"It has nothing whatsoever to do with the economic welfare of this country. Another side of it is -- it's a Catch-22. In order to be a true celebrated international artist, you have to be successful in the United States. But of course, if you can't get in to do that.. It will favor very well-known artists, and it will be much to the detriment of lot of traditional music groups, unless they are the official government group. I mean, for heaven's sakes, what it boils down to, is that government bureaucrats in Washington -- tin-eared bureaucrats -- are going to be making decisions like 'well, should we have this artist in, or should we have this artist in?' When you get away from megastars like Pavarotti or Sting, how in the world are they going to judge who can come in? They are taking the decision out of our hands."
"The other down side to this whole thing is that it's going to be reciprocal. If we start stopping important artists from coming into this country, they're going to do the same thing. It's going to hurt American artists as well. We just signed a free trade agreement with Canada in the past year or so, and they're going to fall into the same boat. I mean, what about the free trade agreement? I had a group that did a show this summer, Finjan, a wonderful klezmer group. I'm not sure they could get in to the country after October. They probably couldn't, based on the rules if they stand the way they are. Again, we're talking about politicians delving into areas that they don't really understand.
"It ignores the fact that those of us who hire artists from outside the country do it with a very specific reason. We know exactly what we're doing. If it wasn't important to do that (hire foreign artists), then we wouldn't go to the extra expense, the extra time, the extra trouble, the extra paperwork to do that."
"Luckily, Ron Mazzoli, our congressman from this area, is doing an incredible job to try to change these rules, to try to hold them in abeyance and hopefully get them changed so they don't restrict the free flow of information and arts," he said.
What are the measuring sticks they'll use to choose the artists who will get a visa?
"The measuring sticks are, number of awards, number of recordings, that sort of thing," Van Kleeck answered. "It has to be the kind of information that is going to impress a bureaucrat who doesn't know anything about music or the arts. It doesn't make any sense. We're talking about temporary visas to share information and communicate. The world gets smaller every year. At a time when we hear reports of college students not being able to label the five continents, let alone the countries inside them, at a time when education is so weak in the understanding of different cultures, it is just absurd to me to be banning the access of arts groups. It is easily one of the best ways to understand different cultures, to be exposed to their arts," Van Kleeck said passionately.
Van Kleeck urges anyone who thinks this bill is wrong to write to Congressman Ron Mazzoli. Have people across the country write to their congressmen in their areas. Tell them to support the changes to the legislation, namely, Amendment H4 3048.
In seven years of producing one of the most eclectic performance series ever presented, Van Kleeck has stockpiled some wonderful anecdotes. For instance..
"We had two gentlemen here doing a show, wonderful old string band players. The show went fine, and at the end of the show, people came up to the edge of the stage and asked one of the artists if he had any records. Susan Watkins, my assistant, said, 'I'll go back and get them. You don't have to go back to the dressing room.' So she went back to the dressing room. He said they were in his suitcase. [She] came back about three minutes later with this very funny look on her face, and sort of signaled for me to sort of step over and talk to her privately. She said, 'Well, I couldn't find any records, but his suitcase is filled with lingerie. Women's lingerie.' I said, 'Oookay,'" he laughed.
"So she said to this artist, 'I can't find them. Maybe you can come back and help me look in your suitcase.' He followed her back and opened up his suitcase. He picked up some panties, and put them over here. Then a bra. Then a couple slips and stuff. This goes on for like four minutes, and he piles them up, and finally gets to the bottom of his suitcase. He has them all on the other side of his suitcase. Then he goes, 'This isn't my suitcase!' Five minutes later. She just thought he was moving them out of the way, because he wasn't particularly surprised.
"It turns out that a woman [who was on the same flight] with a suitcase just like his got to her hotel room and opened up and found all these records and men's clothing in her suitcase. We all got a good laugh about that one," Van Kleeck said.