The Summer Ends But the Music Doesn't
By Bob Bahr
The Independence Day fireworks are long gone, but the rash of fall concerts won't hit for another month or so. Perhaps the best way to take advantage of this summer lull in musical activity is to take advantage of the bountiful harvest of local acts. September is rich and ripe with local music, pick from the cream of Louisville crop. They are at the usual locations.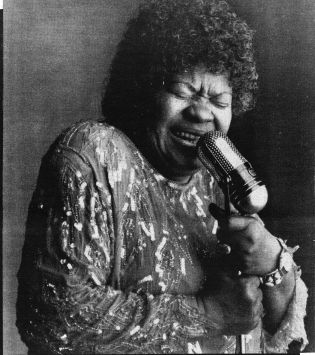 Koko Taylor will be at Jim Porter's September 19
In particular, da Mudcats continue their steady gig at Barry's, Another Mule extends their reunion series at Baxter Jack's, and Brother Stephen and His Midwest Creole Ensemble light up Air Devil's Inn. Also recommended are Government Cheese (Uncle Pleasant's), danny flanigan (Anthony's By the Bridge), and R.U.O.K. (Yogi's). There's more, just check it out on the Music Calendar on pages 14 and 15.
Some notable out-of-towners will help carry the load in September also. Koko Taylor will stir those aching blues deep in your chest with her legendary voice on September 19 at Jim Porter's Good Time Emporium. Taylor, dubbed the Queen of the Blues by her fans, was discovered by Willie Dixon. Her dynamic, authentic shows are a true blues experience. Da Mudcats open.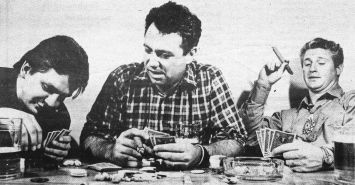 fIREHOSE performs at Tewligan's September 22
Three young men called fIREHOSE will drench the Tewligans crowd with thrashy, funky rock on September 22. It's just as well; Sundays can be too darn tranquil north of Jockamo's.
The other Can't Miss show of September (in my book) happens at Jim Porter's Good Time Emporium on September 18. Fusion guitar wizard John Scofield performs on that fine night. Scofield's band has recently included saxophonist Joe Lovano and bassist Marc Johnson, and his last album featured Jack DeJohnette and Charlie Haden. If any of those talents show up at Scofield's show, the ticket will be worth double its face value. Jim Porter's has booked some truly wonderful and diverse acts here lately.
Jim Porter's sister saloon, the Phoenix Hill Tavern, will be bringing the Beat Farmers in on September 25 for a late summer harvest of, well...Other critics have said that the Beat Farmers are a country band only on the surface. Drummer/vocalist Country Dick Montana has been called a "drunken Johnny Cash as Aqualung figure." If that doesn't pique your interest, nothing will. Stay home and watch "ET."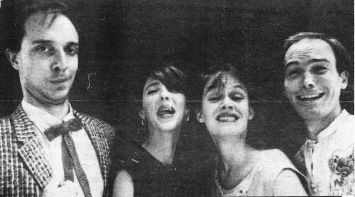 Glass Eye comes to Uncle Pleasant's
The Iroquois Amphitheater hosts a couple of shows of note next month. A solid triple bill boosts the Citizens Alternative Plan Summer Benefit '91 at the amphitheater: the lyrical Domani, singer/songwriter danny flanigan & the rain chorus, and the always fun and funky Hammerheads. Also on hand to keep the people happy will be Ginseng Sullivan, Serpent Wisdom, and Susie Wood. It all goes down Sunday, September 8 from 4:30 - 11 p.m. Tickets in advance are $4 at ear X-tacy records, day of show, $5 at the Iroquois Amphitheater. Rain date is September 22.
Thirteen days later, Ronnie McDowell will bring his radio-ready contemporary country to Iroquois Amphitheater. Shelby Lynne will open the September 21 show. For those who need their memory jogged, McDowell's the guy who sang "You're Gonna Ruin My Bad Reputation," "Older Women," and "Wandering Eyes."
Perhaps the bargain of the month will be the Stoney Lonesome concert at the Rudyard Kipling, Sunday, September 22. A mere $5 will get you in to see this fine bluegrass band. Stoney Lonesome has been featured on "A Prairie Home Companion" several times, and has played at festivals everywhere from Hill City, South Dakota to Osaka, Japan.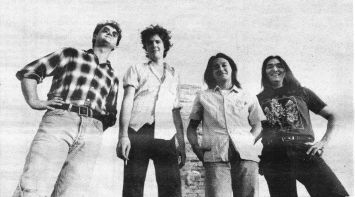 The Highwaymen ride into Uncle Pleasant's on september 20
Lively country music from Maybelle Carter's granddaughter will kick up some dust at the Louisville Motor Speedway. Carlene Carter plays there September 22. Get a mouth full of mud with Mud Mouth, Jim Porter's Good Time Emporium, September 12.
Uncle P's has an intriguing triple bill on September 14, with the eclectic Glass Eye finishing up a good night started by Robert Shannon Meitus & the Dorkestra and the Vulgar Boatmen. Uncle Pleasant's completes a combination punch of rock & roll the next night with Eugene Chadbourne and Ut Gret. Tinnitus quicksand.
A new band that has recently got me smiling is Trout Fishing in America, a most strange duo from Houston, Texas. There is a considerable amount of silliness in TFIA's music, and best of all, it hides behind excellent musicianship. Keith Grimwood is a tremendous upright bass player, even when he is playing it with the head down (that's upside down, mind you). Wander down to the Stuart Robinson Auditorium at 6th and Magnolia for this most promising Homefront bluegrass special. Dan Gediman and Nick Reifsteck join the bill for a $5 show.
The Derby Dinner Playhouse will let the Glenn Miller Orchestra play on the 16th of September. Big Band fans will want to check that out. If WRKA plays oldies, what does this group play? Good stuff, that's what I'd call it.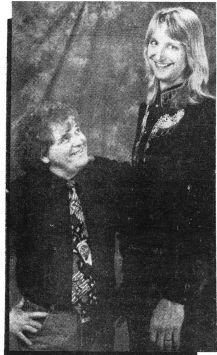 Trout Fishing in America's Homefront perfomrance is scheduled for Sept. 14
The Highwaymen ride into town on September 20, riding a horse of unknown color. Take a chance on this Austin, Texas quartet. They are at Uncle Pleasant's, and they're changing their name to Loose Diamonds. I just thought I'd tell you that.
The Louisville Orchestra opens its season with "Fanfara," an entire evening of music and entertainment climaxed by a performance by pianist Alexei Sultanov. The young winner of the 1989 Van Cliburn International Piano Competition will play Dvorak's "Husitska: Overture, Opus 67;" Strauss' "The Merry Pranks of Till Eulenspeigel;" and Tchaikovsky's "Piano Concerto No. 1 in B-flat minor, Opus 23." Wrapped around the concert will be cocktails and dinner across the street in the Humana Building plus a champagne reception before Sultanov takes the stage, followed by a post-concert hors d'oeuvres and dancing reception. That's quite an elegant night.
Actually, the word "season" is really a misnomer. The LO always has something going on. As part of their New Dimensions series, the Louisville Orchestra and violinist Peter McHugh will present five contemporary works on September 11. The five pieces include the world premiere of Frederick Spear's "Fanfare;" Schoenberg's "Five Pieces for Orchestra, Opus 16;" Harbison's "Remembering Gatsby;" Dzubay's "Snake Alley;" and Harbison's "Violin Concerto."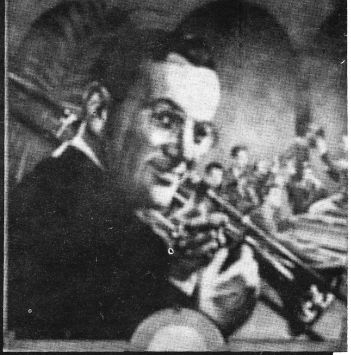 The Glenn Miller Orchestra will play at the Derby Dinner September 16
The celebrated Midori will play with the Louisville Orchestra on September 26. The 19-year-old violinist will play Schumann's Overture, Scherzo and Finale; Berg's Concerto for Violin and Orchestra; and Tchaikovsky's Symphony No.3, "." For more information, call the Kentucky Center for the Arts box office at 584-7777 and touch-tone your way through their info recording maze.
The Rosine 18th Annual Bluegrass Festival is the real McCoy. No highfalutin', big-city bluegrass festival would give a ticket order address like the following: The Rosine Volunteer Fire Department, P.O. Box 336, Rosine, KY, 42370. You can do some free rough camping when you pay your ticket to see Charlie Sizemore, Bill Harrell & the Virginians, Ralph Stanley & the Clinch Mountain Boys, and the Bluegrass Cardinals. The Rosine Bluegrass Festival will be held September 13, 14, and 15. $15 gets you in for all three days. For more information, call 502-274-4700 or 502-274-7269.