Troubadour at the Rud
By Jean Metcalfe
Global Pacific recording artist Michael Johnathon, a New Yorker who moved to Mousie, Ky., in 1985 to learn how to be a folksinger, brought his Dylan-, Chapin- and Guthrie-inspired music to Louisville's Rudyard Kipling on July 19.
Johnathon covered several folk classics and introduced to the nearly full house a good sampling of his own songs. Prominently featured were selections from his Dreams of Fire album, which is touted as "an album written and performed by a folksinger with a rock band of Grammy winners and a 61-piece symphony section."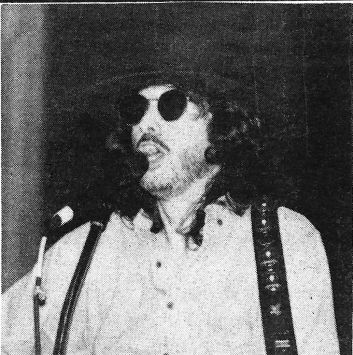 Michael Jonathon at the Rudyard. Photo by Jean Metcalfe
Apartheid and homelessness are but two of society's ills that the self-descrbed troubadour addressed and his group's likableness and skillful playing of an interesting combination of instruments provided the little bit of sugar that helped the medicine go down.
But it was his performance of classics such as Dylan's "Like a Rolling Stone" that generated the loudest whistles and applause from Johnathon's audience this evening.
Skillful press and a knack for getting the attention of corporate sponsors and others in high places has brought national attention Johnathon's way. (He received a nice write-up in Billboard magazine early last year.) Doubtless his heart is in the right place, but one wonders whether it is wise to so closely copy Duluth/Hibbing, Minnesota's famous son. Especially if he seeks the status of "his own person" and not merely that of Dylan imitator.