John Hart/Chris Potter in Concert
By Jeanette Kays
The John Hart/Chris Potter Quartet appeared in Louisville at Luckett's, Downstairs at Actors on Monday, March 9. This concert was part of their promotional tour to tout John Hart's new Blue Note recording, Trust, and was sponsored by the Louisville Jazz Society. John and Chris have been declared the "flamekeepers of tomorrow" and they certainly lived up to this vivid description.
They began the evening with a swinging version of the standard "It Could Happen to You," which appeared on Hart's first album. Then it was on to original material, including Potter's Latin- influenced "The Distant Present," and the very uptempo Hart composition, "The Arrival." The latter tune was played at breakneck speed and with great precision. Hart then took the stage alone and held the audience in rapt attention with an unusual version of "Body and Soul." The audience seemed particularly to enjoy this selection.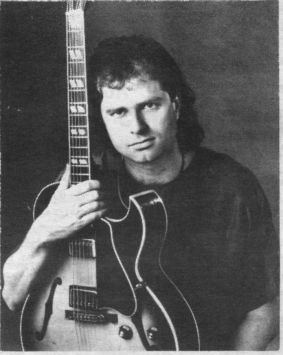 John Hart
The second set showed a more bluesy side with Hart's tune, "Dressin' Up the Johnson." (Where do they get these titles?) Indianapolis native Bill Moring provided the very solid bass lines and throughout the evening proved his prowess as a perfect time-keeper. Andy Watson, on percussion, took advantage of his solo time in this set to "show his stuff." This Greenville, SC, musician, now living in New York City, displayed fiery inventiveness while also maintaining remarkable taste, a trait not always apparent in one so young.
This is the thirty-two-year-old John Hart's first tour as a leader and he seemed to be enjoying it immensely. The group has played to packed houses in Milwaukee and Chicago and were scheduled to appear in Indianapolis the next evening.
Hart's total command of his Gibson 335 guitar was evident throughout the evening. He said that his early influences were Wes Montgomery, Jim Hall, Grant Green and John Scofield. He commented that in the future, he would like to record with an organ player, mentioning Jack McDuff in particular.
Jack Brengle, one of Louisville's finest guitar players and a renowned instructor, commented particularly on Hart's original tunes and on his overall sound. Another noted Louisville guitarist. Greg Walker, remarked that he was fond of Hart's chordal approach.
Sharing the stage equally was 21-year-old saxophonist Chris Potter, who demonstrated how he has been able to win so many awards. (He received the Down Beat Student Award and was a semi-finalist in the Thelonius Monk competition) Potter has been turning heads since the age of eleven with performances showing maturity way beyond his years. Close your eyes and you would think you were listening to Charlie Parker or John Coltrane.
The near-capacity audience was comprised of students, musicians and just plain jazz lovers and they seemed very pleased with this concert. Many comments were overheard about the fine musicianship of this group. Let's hope they return to Louisville in the not-too-distant future.