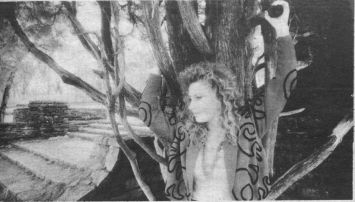 Margaret Becker in Concert
Wednesday, March 11
By Allen Howie
Anyone who arrived at the Margaret Becker concert at Graceland University in New Albany last Wednesday night expecting a cozy evening of mellow music was in for a surprise, as Becker proved that "Christian rock" does not have to be a contradiction in terms.
Becker galvanized the restless audience from the first notes of her opening number, the pulsing title song from her most recent album, "Simple House." Building on the momentum, she and her band locked into the infectious groove of the radio-ready "Talk To Me." By now the copper-tressed Becker, who couldn't stand still if she wanted to, had the crowd in the palm of her hand, where they remained all night long.
The musical treats continued, as Becker and band worked through a sturdy set built around her current album, including a riveting "This Is My Passion" and a soaring version of her latest single, "Look Me In The Eye" that had the audience swaying and singing along, and that gave Becker's guitarist the chance to offer up the first of several blistering solos.
Throughout the evening, Becker's four-man band (bass, guitar, keyboard and drums) did a superb job, her rhythm section laying down one rock-solid groove after another, while the rest of the band filled in without ever overdoing things. But above it all was Margaret Becker's voice, a stunning instrument that could take the paint off a wall one minute and drop to a sultry near-whisper in the next, with a range at which her singles only hint. (Radio programmers, are you getting this?)
Becker and band charged through a pair of rockers, including the Memphis-soul rave-up "The Strangest Things," then slowed the pace for "All I Ever Wanted," a graceful ballad which she introduced with a story about her father, and the stately "You Remain Unchanged," which is her latest smash hit. Next, the group tore into an impassioned "I Will Not Lay Down," followed by the propulsive and ethereal "Innocence" and a straightforward "Steps of Faith." The enthusiastic crowd brought her back for a two-song encore, finishing her show with a quiet, pleading "Never For Nothing."
Becker had two opening acts. Peter Shambrook, an Australian singer, was the better of the two, offering an all-too-short four-song set that conjured up comparisons to Crowded House, while Rick Elias and his band, though obviously sincere, tried too hard to sound like INXS. The exception was their last and most melodic number, which featured Elias by himself on harmonica and acoustic guitar. Displays in the lobby offered information about Compassion International and Habitat for Humanity, two groups which these artists support.
All in all, nearly six hundred people who braved the cold were rewarded with an evening of wonderful, heartfelt music that was inspiring in every sense of the word.