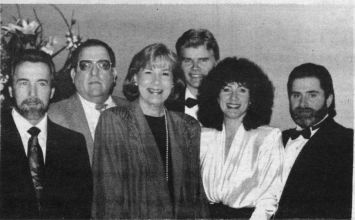 LASC crew who made it to the NSAI Seminar and were still upright for the photo session are: Sammy Reid, Gardner Barger, Jean Metcalfe, Earl Meyers, Diana Black, and Charlie Walls. Earl and Charlie went to a lot of trouble to get so dressed up and were frequently mistaken for waiters. Earl got the best tlps. Photo by Sid Crosswhite
A contingent of LASCers made the pilgrimage to Nashville for the Nashville Songwriters Association, International's 14th Annual Spring Seminar and 25th Annual Songwriter Achievement Awards Ceremony. According to them, it was quite the glitzy affair, with much hobnobbing, networking and all-purpose shmoozing.
The mid-March event was useful and informative and all who attended had positive comments.
The Songwriter of the Year award went to Pat Alger, who has written numerous hit songs.
Demonstrating that songwriting can be hazardous to your health, our secretary Diana Black stands too close to the crazy Sid Crosswhlte. Photo By Jean Metcalfe.