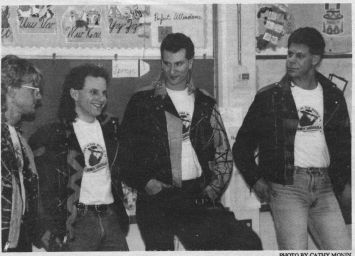 Rockapella at Indian Trail Elementary School: L to r, Scott Leonard, Elliott Kerman, Sean Altman, and Barry Carl
D0 It Rockapella!
(See names of students at end of story.)
One day Ms. McCauley said that we were going to watch a show called "Where in the World is Carmen Sandiego" on K.E.T. At the end of the show there was a rock group called Rockapella who sang. We liked them very much. We watched the show for months.
In December, Ms. McCauley found out that Rockapella was coming to Louisville, Ky., to perform at the Center for the Arts. The class wrote letters to the group asking them if they would come to our school, Indian Trail.
After a while, their agent, Laura Nelson, called and told us that Rockapella was coming to our school and then told us that we could get free tickets to the concert Friday, the l3th of March.
Then they sent us a copy of their tape. We lmmed the words of the song. We looked for the places they refer to in the song on the map. We also used some of the words for our weekly spelling test. Then one day Ms. Atkins, a teacher, made a computer poster that said:
DO IT ROCKAPELLA!
We could not wait until Friday, March 13th.
• It's Friday the 13th! We're really excited! The newscast just came in and are setting up their cameras. Cheryl O'Bryan and Steve Porter are waiting at the front entrance. Rockapella will be there any moment. Cheryl and Steve nervously answer questions to the newspaper reporter. Meanwhile the class is waiting anxiously in Ms. McCauley's classroom.
A big silver limo just pulled into the parking lot! There were lots of fans waiting at the door taking lots of pictures.
Cheryl and Steve greeted Rockapella at the front door of Indian Trail Elementary School. Cheryl and Steve led Rockapella to the classroom. The room was full of excitement!
When Rockapella was coming in the noom everyone cheered for them. They are getting ready to sing "Pretty Woman." The class asked many questions. One of the questions is: "Do you have to have an education?" After everyone asked questions Ms. McCauley's class went down to the auditorium and Rockapella followed. We got front-row seats!
They answered a few questions. They are getting ready to sing "Where in the World is Carmen Sandiego."
Tonight our whole class is going to the "Lonesome Pine Specials." I know we are going to have a ball (the time of our life).
The class was waiting patiently for everyone to get in their seats. Some people went to go get refreshments. When Rockapella came onto the smge everyone cheered! They started to sing. They sang many new songs. They were magnificent. They mentioned Indian Trail many times.
(Our thanks go to Gloria McCauley and her students Steven Aken, Shannon Barnore, Jamie Blain, Cassundra Breeding, Brian Geiser, Frankqueta Gentry, Amanda Gilpin, Kevin Kinsella, Cory Massey, Candice McDonald, Vernita Nelson, Joel Norton, Cheryl 0'Bryan, Steve Porter, Karyn Reams, Lauren Roos, Jessica Scott, Michael A. Shelton Jr., Conskznce Shoulders, Carol Smith, Mandy Southern and Diamond Tokuda. — Editor.)