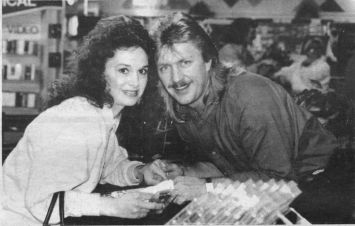 Is It Warm In Here Or Is It Just Joe?
By Jean Metcalfe
No, it wasn't just my imagination. The faces of the ladies waiting in line to have Joe Diffie autograph an 8x10 for them were definitely flushed.
And yes, it was a little warm at the Camelot Super Store on Friday, March 20.
But it was more than the bright lights illuminating the blue-eyed country hunk that put color in the cheeks of Diffie fans.
The bank of monitors, all displaying Joe Diffie videos, helped pass ime until they could experience him up close and personal.
A long line of fans moved slowly to the spot where the pink-shirted singer sat, pen in hand. If he was concerned that the line would never end, or wondering if he would be able to greet all those waiting in line before his allotted hour was up, it wasn't apparent as he graciously stood and posed for snapshots with individual fans.
No recession at Camelot on this afternoon, as store personnel rang up sales of Diffie's Regular Joe album and admonished the buyers to hold on to their receipts.
Diffie would open for Ricky Van Shelton and Alabama later that evening at Freedom Hall, and WAMZ deejay "Road Hog" passed out buttons bearing his station's logo and reminded recipients to wear them to the concert. Perhaps the "WAMZ Spotter" might smile upon them and award them a prize courtesy of the award-winning country radio station. Rumor had it that the spotter would be popular deejay Bobby Jack Murphy.
Perhaps I'd better not repeat the Road Hog's description of Bobby Jack.
Yes, I had my picture taken with Joe Diffie and got my CD insert and an 8x10 autographed by him and maybe my face was feeling just a little warm as I walked past the seemingly endless line of fans and out into the fresh air.
Since I hadn't won those famous WAMZ "front-row seats and backstage passes" for the evening concen, I slipped the newly acquired disk into the car CD player and enjoyed the company of Joe Diffie all the way home. I remained in the car after I had parked on the driveway to hear the final chorus of "Is It Cold In Here Or Is It Just You."
The guy can sing, too.