Lost Depot
By Bob Bahr
To an old codger of 25 like myself the Lost Depot experience is quite strange For Louisville teenagers, this band consisting of high school juniors and seniors is their own personal alternative-music group These young musicians provoke Beatlemania-like response to their sweaty live shows They play college music and they don t even know where they're going to college yet Get away from the issue of their youth and Lost Depot is like a lot of local bands, playing a lot of covers and three or four original songs a night. Vocalist Brian Cronin, guitarist Joey Sutton, bassist Sam Shaheen and drummer Jason Lindholm set up their stage in the usual place in the the front window in Jockamo's Pizza on Bardstown Road, just like any other band. Then the first clue to Lost Depot's unique phenomenon emerges. Long cafeteria-style tables are set up around the band to keep them from getting crushed. Lost Depot crowds are enthusiastic.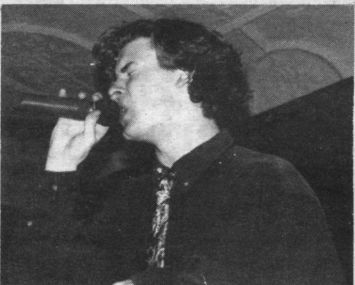 Brian Cronin
Perhaps the novelty of seeing a band at a bar has something to do with the almost rabid enthusiasm demonstrated by Lost Depot fans. One starts to think of adult bar-goers as almost melodramatic in their ennui and calmness after witnessing an underage crowd climb each other's shoulders, race back and forth across the room and generally make a big noise and fuss. For the band's part, Lost Depot seems as intoxicated as the crowd, happy to be playing in front of an audience in a bar.
"We consider it a good night if we sound good, the crowd's having fun and we're having fun," singer Cronin said in a recent interview. "We aren't doing our job if people are sitting down."
At a show last month at Jockamo's, there were a few fans sitting down, half of them in chairs and the other half in the first half's laps. Kissing in a bar — that's another scarce scene in most nightclubs. There was a lot of running back and forth between camps too love orchestrations too openly exuberant for typical bars.
And throughout all the drama, comedy and fun was the music Lost Depot was making at the front of the room, a dependable list of covers ranging from Steppenwolf to Jane's Addiction. The quartet more than satisfied the crowd, as the sing-alongs, loud squeals and screams proved, punctuating "Pink Houses," "Take the Money and Run," "Hard to Handle," and Jane's Addiction's "Mountain Song." The blues "Steamroller," made famous by James Taylor, was dedicated to a buddy who was grounded "for about a month."
The sound of the band is anchored by Sutton, a promising guitarist with a good grasp of vocal harmonies. The crowd obviously appreciated Sutton's fine guitar solos and knowledgeable execution of riffs and fills, cheering every notable run and lick. Behind the kit, Lindholm boosted the rhythm section with restrained but forceful drumming. Sutton explained that he came up with the name Lost Depot because "a depot is a place where you end up and none of us know where we are going to end up." Lindholm and Sutton undoubtedly have their ideas where they are going though, and they probably involve record labels, Marshall amps and giving more interviews like this one.
Their dream — a hopeful one in a discouraging music world — is a longshot. But they have one advantage: an early start. The most heartening thing about this young band is their eager explorations into songwriting.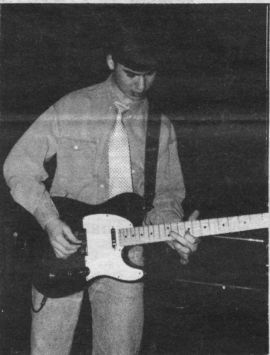 Joey Sutton
"We're starting to get into original music more because we realize that if we want to do anything, we can't keep playing cover stuff the rest of our lives," Sutton said sagely. "And it's kind of cool to get out there and do our original stuff when we're 16, because it will be interesting to see what we'll do when we're older."
Energy is the name of the game at Lost Depot's live shows; but a recently finished cassette of original material more accurately defines the quartet's present abilities and future prospects.
From the five original tunes, the alternative feel of Lost Depot's music becomes apparent. While not sounding derivative, comparisons to R.E.M. are natural. Like the late-model R.E.M., the vocals are more defined, a blessing given Cronin's honest and exploratory lyrics.
The band explores varying tempos successful with "Dreams So Real," then puts some veteran Louisville bands to shame with the well-written "Blind Man."
These early steps into writing music have impressed Sutton's and Shaheen's teacher, musician Danny Flanigan.
"What's great about those guys is that they are that young and they're already thinking about original music," Flanigan said. "I think it's amazing for those guys to be doing that."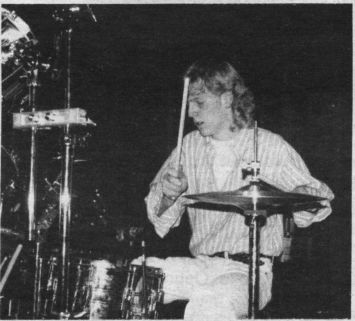 Jasson Lindholm
Flanigan's influence is much deeper than teaching the technical aspects of guitar playing. The members of Lost Depot cite Flanigan and Domani as their main inspiration and influence. Flanigan was a rock musician when he was a teenager, making him an ideal role model for the players in Lost Depot. Flanigan said he supports their efforts and realizes that many people are telling the young musicians that music isn't a legitimate way to make a living. "I tell them to follow their heart," Flanigan said.
Their hearts were very much with Domani, a wonderful Louisville band that recently went belly up. The members had only seen Domani once or twice, but tapes of their live shows were circulating around the band and Domani's spiritual approach to music and songwriting made a strong impression. The band's demise taught Lost Depot a little bit about the hardships of maintaining a band.
"I was really bummed, because I loved them since the first time that I heard them," Cronin said. "It's really a downer. It's kind of funny, because I told Joe and he about s"'** in his pants and then I told Jason and Sam and it was kind of like an ordeal for the band. It was like, 'Guys I have something to tell you. Sit down."' Adds Sutton, "We feel like kicking one of them in the a**, because they had such a good thing going. It's like, yeah, I'd give my left nut to write some songs like that."
They are off to a good start. At Jockamo's, the band presented "Blind Man," an original with an alternative music feel and a pleasant melody. "Blind Man" got only a fair reception from the fans, perhaps understandably, considering the unknown song was preceded by the Violent Femmes' urgent ode to teenage angst "Blister in the Sunday" Nevertheless, the original tune was tighter than some of Lost Depot's cover treatments and the band seemed very comfortable tackling it.
Flanigan would attribute this early success to the band's discipline, although he acknowledges that some of Lost Depot's fast rise in popularity among the high school set comes from god-given talent. "They are naturally good musicians, really together musically," Flanigan said. "And they are serious about practice and they bought good equipment. At the stage they are in, that's where you learn all your mistakes. It's just cutting your teeth," he said.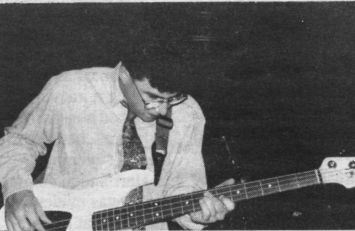 Sam Shaheen
Lost Depot bought good equipment by making money playing gigs at places like Sacred Heart, Atherton, Trinity and St. Xavier — dances and mixers. The high school jobs earn them four times as much as a night at Jockamo's. Every penny of the earnings go into a Lost Depot fund, one that buys equipment and pays expenses. They can do this undoubtedly because their parents refuse to charge rent to these musicians. A musician's dream come true.
So Joey, Sam, Brian and Jason are free to chase their dream. Taking a tip from Domani, Lindholm leaves his drum set and joins the line in the front of the stage, bluegrass/gospel style, delving into a harmony-drenched version of the Grateful Dead's "Friend of the Devil." Then it's back to the kit for a rendition of R.E.M.'s "Radio Song." The crowd dances wildly, the guys in the band are smiling. Their four faces scream, "This is fun!" This is one after-school job from which the teenagers in Lost Depot may ever recover.