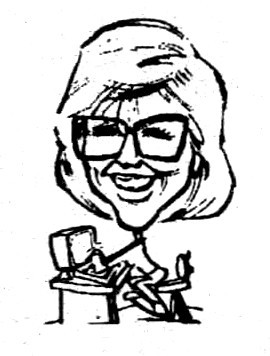 Newsical Notes
Congratulations are in order for Honorary Member Debbie Hupp. John Anderson took her "Straight Tequila Night" to No. 1 on the charts and a party was held in Nashville to celebrate that happy event. We hear that more good things are to come. Write on, Debbie! (I know that's corny and overused, but it expresses what I wanted to say.)
Le Van called from Nashville on March 19 to tell us about some of the interesting people she has met in Music City. She's busily engaged in looking for a job and there have been some nice leads.
Thanks for the ... um ... interesting post card from Florida, Karen. And, yes, I did spot you in the picture. Nice tan.
Good luck, Karen. Sorry we couldn't be in Nashville tor your "Movin' In Party."
Actually, several Co-opers were in Music City that weekend, but it was for an earlier planned NSAI 14th Annual Spring Symposium and 25th Annual Songwriter Achievement Awards Ceremony & Dinner. It was my first opportunity to take part and I had a great time. The NSAI is a very active and prestigious organization that is dedicated to improving the lot of songwriters.
Other LASCers attending part or all of the event were Diana Black and Earl Meyers (Co-cordinators of the Louisville Workshop of NSAI) and Gardner Barger, Ted Gibbs, Alan Morris, Sally Mudd (who now lives in Nashville and hobnobs with the likes of John Prine), Sammy Reid and Charlie Walls.