Pick a Show. Any Show.
By Bob Bahr
With all the widely different shows available in April, it's pretty easy to put together a good handful for your listening pleasure. Trade in a fistful of dollars and get a sampling of music from boogie woogie to "Down in the Boondocks."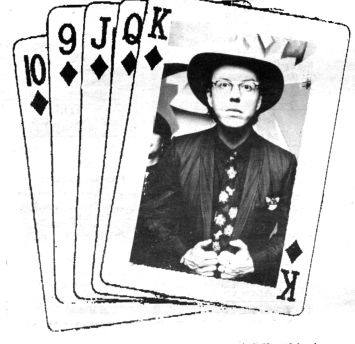 Webb Wilder come to Flaherty's Food-Fun-Spirits on April 1
The Louisville Jazz Society has an intriguing show on March 30. Bob Seeley, billed in the publicity material as the "Detroit Whiz," plays ragtime, boogie woogie and Harlem stride piano. The tickets are a reasonable $5 and the show is at Luckett' s Downstairs at Actors. Seeley can choose from his repertoire of Jelly Roll Morton, Duke Ellington, Scott Joplin, Fats Waller and contemporary tunes to construct his songlist. Be at 316 West Main by 5:30 to catch the show.
YEEEEEEEE' HOWDY! It's the Marshall Tucker Band at Flaherty's Food-Fun-Spirits, March 31. Take the highway over to Dupont Square and hear classic Southem rock from the boys who brought you "Heard It in a Love Song." Hang around on April 1 for the last of the full-grown men, Webb Wilder. The women will swoon and the men will tap their feet to Wilder's brand of roll 'n' rock. Once again, the venue is Flaherty's for that Wednesday night gig.
PDQBach is non-living proof that there's a thin line between genius and madness. The Louisville Chorus, under the direction of Daniel Spurlock, will perform pieces from the fictional fractured composer at the 3rd Last Annual PDQ Bach Festival, held April l at the Vogue Theater, 3727 Lexington Road. Bach's unique blend of silliness and true musical brilliance will be on display for all to behold at 8 p.m.
Blues crossover legend Lonnie Mack comes to Jim Porter's Good Time Emporium on April 2. Mack is the man who played the dirty blues electric guitar solo on the Doors' hit "Roadhouse Blues" (right after Jim Morrison growls, "Do it, Lonnie! Do it!"). Should be a hot show.
The University of Louisville Opera Theatre depanment teams up with U of L's Department of Theatre Arts for "Candide," the musical/theatrical event by Leonard Bernstein, based on Voltaire's satire of men, morals and politics. The biting political parody will skewer current political targets in three performances: Friday and Saturday evenings, April 3 and 4, at *p.m. and Sunday afternoon, April 5, at 2 p.m. The place? The North Recital Hall of the Music Building on U of L's downtown campus. Senior citizens and students get to see "Candide" for $5, the rest of us pay $10.
After church on Sunday, April 5, make your way over to Macauley Theatre for The Boys Choir of Harlem. The celebrated choir mixes choral technique with choreographed moves. Tickets range from $12.50 to $19.50 and the show starts at 3. Amen, brother.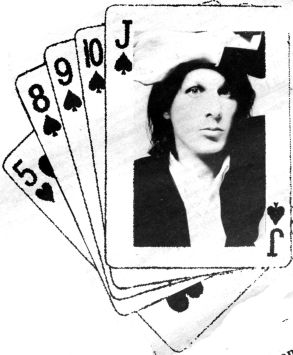 Guitar wizard/pop maven Adrian Belew plays Phoenix Hill Tavern April 16
Maybe you like jazz, but you don't like bars. U of L's School of Music has the answer. Drop in and hear the up-and-coming jazz students perform in combos and ensembles — for free — in the Music School at the downtown campus. On April 7, Mike Tracy and Steve Crews lead some jazz combos through a set of tunes starting at 7:30 in the South Recital Hall. April 14, Mike Tracy heads the Jazz Ensemble II at 8 in the North Recital Hall, then John La Barbera leads the Jazz Ensemble I for an April 28 show, also at 8 2 0 0 , also in the North Recital Hall. Free jazz in anice auditcrium? You can't beat that with a bat.
Elsewhere in U of L's School of Music, the University Singers and UniVoice will perform on campus on Wednesday April 8, at 8 p.m. UniVoice is a new vocal jazz ensemble and t h e University Singers is an ensemble of 28 singers performing a wide range of choral styles from classical to spirituals to jazz. If voice is your thing, this may be the gig of the month.
Violinist Pamela Frank will join the Louisville Orchestra for a Masterworks performance on April 10 and a Cumberland Coffee Concert on April 9. I'd tell you more, if the LO had told me more.
After a very profitable and artistically accomplished partnership with her mother Naomi, Wynonna Judd is on her own. She'll bring her solo country act to Louisville Gardens on April 10, with the hunky Billy Dean opening.
Also on the 10th, the boys of Tesla plays Louisville Gardens. One of the better power ballad/ metalhead bands around, Tesla gained fame for their surprisingly good acoustic album, featuring a cover of the Five Man Electrical Band's 1971 hit "Signs." Pop-metal rockers Firehouse open the April 10 show.
The Homefront Show for April features Liz Masterson & Sean Blackburn, a western swing duet from out West. The Great Midwestern String Orchestra, a stellar collection of local players picking and strumming everything from a mandolin to an upright bass, will open the show in an interesting fashion. The show is at the same bat time, same bat place, 7:30 at the Stuart Robinson Auditorium. The April 11 show costs Homefront members $2.50, everyone else $5.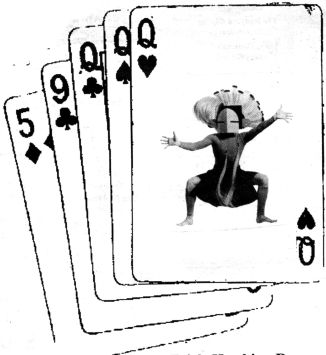 Watch the dance of the Erick Hawkins Dance Company at the Kentucky Center for the Arts on April 24
Adrian Belew swings violently from the most experimental guitar rock you'll ever hear to the most retro Beatlesque sounds around. When all is said and done (and played), it sifts out very much in the guitarist's favor and that means Belew's show at Phoenix Hill T avem on April 16 a must-see show, especially for pop musicians. Belew was an integral part of the second incarnation of King Crimson in the early 1980s and he has also contributed tasty, forward-looking guitar work to the music of David Bowie, Frank Zappa and the Talking Heads. His recent solo material has been extremely poppy, but the avant guitar edge remains intact. Check him out on Thursday the 16th.
Are The Texas Rubies making fun of country music, or making country music fun? See for yourself when the Chicago duet rattles into the Rudyard Kipling on April 21. The band skewers country's traditionally sexist lyrical content with songs such as "He's No Cowboy, He's My Spouse" and "Now I Know Why Hank Drank." By the way, the ladies took their name from the small town of Texas, Kentucky, not the Lone Star state.
Mark Smalley of Uncle Pleasant's offered a tip recently about a local band called Rawhide. They look to be a short-lived but legendary grouping of musicians. Check them out when they open for Evil Twin Theory on April 2 and Poor Girls II on April 17. Also at Uncle P's, Harm Farm from San Francisco brings their Camper-crossed music to Louisville on April 5 and Thum & Taxis, a melodic, harmonic folk rock thing from Nashville play a free get-acquainted show on April 22. Also, Uncle Pleasant's has an incredible night of music planned for Derby Eve, May 1. Yer Girlfriend, Antietam, Eleventh Dream Day and the wacky, wild New Duncan Imperials bounce in for the "Anita Madden Won't Be Here" show. Call for times and cover charges, please.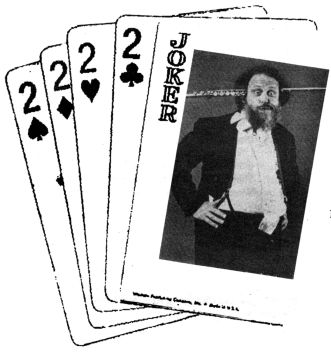 PDQ BVach's composition will be performed by the Louisville Chorus at the Vogue Theater on -- what else? -- April Fool's Day, April 1
The Erick Hawkins Dance Company is one of the pioneer revolutionaries of American modern dance and the KCA commissioned them to perform the piece "Killer of Enemies: Divine Hero." They will be performing that and some classic Hawkins pieces in the April 24 show at the Bomhard Theater. The performance is part of the New Directions Series and tickets cost $15.
Break out the bubbly! The Derby Dinner Playhouse, in a daunting dash of derring-do, is presenting "The Stars of the Lawrence Welk Show Featuring Dick Dale, Ava Barber & Joe Feeney" on April 27 in Clarksville, Indiana. The last time this show came through Kentuckiana, it sold out T'ain't so surprising, considering the eternity that the TV show was on the air. Here's the lowdown for you fans out there:
For the matinee/brunch, the doors open at 11:30 a.m., the buffet is from 11:30 12:30 and the performance kicks into gear at 1 p.m. For the evening/dinner performance, the doors open at 5:30 p.m., the buffet runs from 6-7 and the performance kicks the jams out at 7:30 p.m. The matinee will set you back $16, the evening performance will leave you with 21 less simoleons in your vest pocket. Join them, won't you, for beautiful music and fun-filled sing-a-longs. Reservations are highly recommended. (812) 288-8281.
Meanwhile, across the river (and across the world, musically), the Fabulous Thunderbirds will lay down mean blues rock at Flaherty's Food-Fun-Spirits. You know these guys, the ones that sang "Tuff Enuff' a few years back? Hear local boy Duke Robillard on guitar, dueling it out with Jimmie Ray Vaughan on April 27th. Da Mudcats open.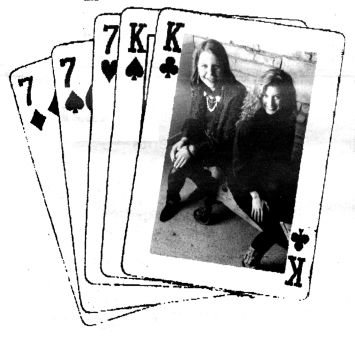 Sparkling in the dark depths of the Rudyard Kipling, it's the Texas Rubies. April 21 is the showdate.
Bluegrass fans, get toned up for the rigorous festival season by catching one of the shows at Shepherdsville's Country Music Place. The Reno Brothers, whose papa Don Reno you may know from Reno & Smiley, ramble in for a show on April 3. On April 17, Randall Hylton will play for you in Shepherdsville, then the celebrated Jim and Jesse & the Virginia Boys come in for some hot pickin' on April 24.
Good clean fun done bluegrass style. The Shepherdsville Country Music Shows are easily found — just two miles west from I-65 on Highway 44. That's closer than Fort Knox, folks, so don't get wimpy on me.
A bit farther away and a bit more in the mainstream, country music comes to Owensboro in a big way for several nights in April. The Executive Inn in Owensboro snags some of the biggest names in country, month after month. You want proof? How about Charlie Daniels Band on April 10 and ll.
Friday night, they'1l play one show at 8:30, Saturday they'll play two shows, one at 8 and one at 10:30. VIP tickets cost $18.90 and general admission is $15.90.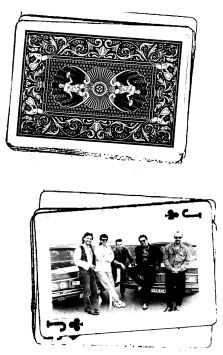 The Fabulous Thunderbirds drive in to Flaherty's on April 27.
On April 18, Vern Gosdin brings his pipes and his country sensibility to the Executive Inn for two shows, same times and prices. Finally, none other that Tammy Wynette will play one show each night, April 24 ant 25. Maybe she'll sing "Justified and Ancient," her hit with The KLF. Not.
For information about Owensboro Executive Inn shows and directions, call 502-926-8000 On April 30, the Cherokee Blues Club has a very promising date booked. From Chicago, Howard & the White Boys come into town with one extremely heavy credential: they are the house band at Buddy Guy's bar, Legends. I don't doubt Guy's taste, so 1 don't doubt that I'll be at Cherokee at the end of the month for that show.
And finally, from down in the boondocks it's Billy Joe Royal at Flaherty's Food-Fun~ Spirits. The country-flavored show will take you on a joumey through pop, country and rock, all the way to Cherry Hill Park. Royal rolls in on Sunday, April 12.
DQ Bach's compositions will be performed by the Louisville Chorus at the Vogue Theater on – what else? -April Fool's Day, April 1.