The Gospel According to Steve Camp
By Paul Turner
"The show must go on" was the underlying theme of the evening at Evangel Temple recently.
After Steve's previous show in St. Louis was cancelled due to his illness — as was a scheduled appearance at Berean Bookstore earlier the day of the concert (which he thoughtfully apologized for) we got not one, but two, good performances.
Due to Steve's illness, Rob Frazier, also popular in Contemporary Christian music circles, was flown in to "lend Steve a hand." He contributed a seven-song set (the "perfect" number for those anxious to see Steve) comprised mainly of songs from his latest album, Heartland.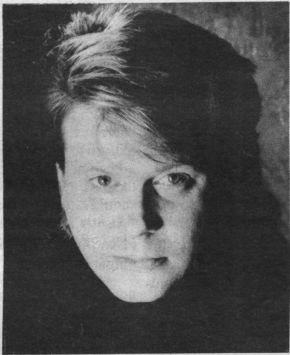 Steve Camp
Rob, like Steve Camp, proved to be very versatile, performing from behind a white baby grand which inspired his comment about playing a "Dino piano."as well as a Kurzweil and an acoustic guitar.
Opening his set with the title track from Heartland, Rob also had the opportunity to play electric guitar handling the solo and fills very adequately.
A good mix of tunes, the strength of the set included his popular single "Got Your Word On It" Heartland's first release, "Why, Why, Why" and "This Town" — a re-release that was BIG for Rob in the early '80s. The last two he performed on accoustic guitar and were strongly reminiscent of John Mellencamp in both vocally and in terms of musical instrumentation.
The audience of 1,100 otherwise attentive, was very appreciative of "Heartland" and "This Town."
To illustrate how last-minute Rob's fillin was, after his set I happened to catch Rob in the foyer on the phone. He was letting his dad know he was "passing through Louisville via St. Louis to help Steve out." in Louisville and on the way to St. Louis ("Hey, Dad, guess where I am . . . "During the break between Rob's set and Steve's set, Steve Butler, manager of radio station WJIE, took the opportunity to introduce his staff. It was a nice opportunity for many to put faces to the names (and voices).
Personally I had Jim Gallipeau pegged for being six feet tall and 225 pounds. . .
WRONG!
The stage came alive as the opening strains of "The Gospel According to Jesus" filtered through the auditorium from the white grand piano.
At the time, I thought it a bit unusual that Steve would open with his current hit. Most entertainers would use their "power song" to keep their show alive later in their set. It was almost as it Steve were saying "let me get the ear tickling out of the way so we can get to more important things."
A bit o' blues with the title track "Justice" continued to build on that foundation. With the audience doubling as a LARGE choir the first of many times, we provided the vocal background for Steve's counterpoint. (Not a shabby choir, by any standard).
Steve was obviously not ' feeling well during his performance. Many a lesser performer would have cancelled. And although he struggled vocally at times, he never waned in spirit.
"Don't Tell Them Jesus Loves Them Until You're Ready to Love Them Too" was convicting. I kept glancing up to a few empty bleachers on the end of the balcony in an otherwise packed house, wishing they were occupied. "There are some ears I know personally that would have benefit from this concert," I remember thinking.
Steve asked us to join in again on "Revive Us O Lord," the Carmen hit that the two had co-written some time ago.
As well as being musically entertaining, Steve shared throughout the concert not only his healthy sense of humor and wit, but also some funny experiences he has had while on the road — which has been more often than not since 1972.
Being diagnosed clinically co-dependent on Jesus by some "real psychologists" (one of his stories) as he himself will readily admit to being — he reminded us that we do live in a strange age — one that wants to believe that Elvis is alive but God is dead.
A strong testimonial song with a promise: "But For Now He Covers Me" also included that 1,100-voice choir throughout its powerful chorus:
And though the trials never end
I learn to take them as my friend
For each day He covers me.
Especially toward the end of Steve's set I kept remembering Steve Butler's introduction of him as carrying on Keith Green's mantle.
"The Cross is a Radical Thing" and "Run to the Battle" both brought everyone to their feet, which they were anxiously waiting for an opportunity to do.
Toward the end of the evening Steve revealed a more serious side of his life from which he shared some especially touching experiences from his ministries to AIDS patients, the homeless,the hungry, and many others whom he has had an opportunity to reach through his music and travels.
With 10 albums to his credit, constantly touring, a new father again (Congrats, again, Steve), slated participation in upcoming Billy Graham Crusade events, having organized CAUSE, (a coalition of Christian artists that recorded the popular song "Do Something Now" to provide famine relief funds), teaching Sunday School and in general Steve keeps holding the microphone in one hand while he reaches out to all of those within reach of the other — to encourage and equip .. . . And that's why the show has to go on.
In addition to his new release Consider the Cost, which features the hit "For Every Time," Steve also has two unique collections of his classic cuts entitled Best Loved Ballads (Vol. 1) and Pop/Rock Favorites (Vol. 2) which are available at Christian Book Stores and record stores all over town.
•
P.S. Steve: We thank you for the show you gave us — at your expense. Hope you re feeling better.