Travis Trltt
"No Hats" (And No Quarters On age Please) Tour
By Diana Black
The scuttlebutt had been that Travis Tritt would not be performing "Here's A Quarter (Call Someone Who Cares) during his March 15 concert at Louisville Gardens. The reason being fans have been showing how much they care by throwing quarters on the stage.
It doesn't take a physicist or an odds maker to figure out that when objects are propelled through the air in the direction of another larger, fairly stationary object, chances are good they will come in contact with one another. A few weeks ago that very thing happened: Tritt was struck in the head and required stitches. During his following concerts he chose not to sing the song fearing the next time something more serious might happen. Apparently in view of recent awards for this former number one song, he decided to include it without any wanting other than shaking his finger when coins were tossed on the stage.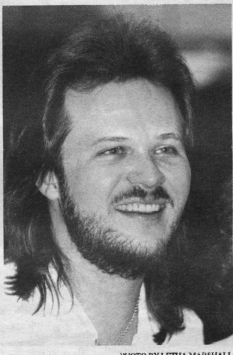 Travis Tritt. Photo by Letha Marshall.
Tritt spent the rest of his nearly ninety-minute set giving fans their money's worth. The pushing thirty, Marietta, Georgia boy, dressed in a white peasant shirt, tight faded jeans and boots, had the house on its feet most of the evening with songs such as the rocking "I'm Gonna Be Somebody," the driving "Put Some Drive In Your Country," the tender "Help Me Hold On" and "Drift Off To Dream."
At one point during the frenzy,Tritt asked the crowd to sit down, sit back and relax while he himself sat on a stool and performed on acoustic guitar without his band, songs of his music idols: Hank Williams' "I'm So Lonesome I Could Cry," Merle Haggards' "Mamma Tried," and The Possum's "I Stay Stoned On Your Love."
If the crowd was any indicator, perhaps a young artist in the future will sing Tritt's hit "Anymore" with the same adoration. Viewed on a screen suspended above the stage, this song's touching video portraying a disabled veteran's physical and emotional struggle in a VA hospital was shown during a warm and touching delivery of the song.
Tritt is great with a ballad, but it's those rocking, honk tonk songs that seem to bring the house down. "The Whiskey Ain't Workin"' and "Can't You See," performed with tour buddies, Marty Stuart and Mark O'Connor, were no exception. While Tritt and Stuart burned licks on guitar, Grammy winner O'Connnor left no doubt why he is considered one of the best musicians in the world.
O'Connor opened the concert by playing a set filled with fiddle, mandolin and guitar. His bow moving like a laser, he put his own personal eclectic style into a version of the "Orange Blossom" and followed it with a rendition of the "Star Spangled Banner" that would have had Jimi Hendrix taking notes.
Marty Stuart was perfect to set the stage for Tritt The energy from his own brand of honky tonk such as "Back To The Country, ""Hillbilly Rock," "Burn Me Down," and "Tempted," had the crowd hopping. An occasional ballad like his wonderful "Till I Found You" showed fans the more sensitive side of Stuart.
Only three years ago Travis Tritt was playing bars and clubs to crowds of 20 to 25; just him and his guitar. Probably hoping someone would throw a little money his way. Well, if so, he got his wish/