A Blast in the Past
Where were you in 1964? Let me help jump start your thinking: Muhammad Ali took the heavyweight boxing title from Sonny Liston.
Dr. Martin Luther King, Jr received the Nobel peace prize.
Barry Goldwater tried to sit in Lyndon Johnson's Oval Office chair, but it was too big.
I don't know whether those highlights come alive for you or not, but they still seem part of the distant past for me.
1964 was when the Fab Four crossed the sea from Liverpool, England and started shaking the music industry boat here in America. It still hasn't stopped rocking. It all came back to me — and many others the night that the Beatlemania re-creation by 1964 came to the Derby Dinner Playhouse. For some strange reason, I keep wanting to call it the Derby Dinner Cavern Club.
During this fast-paced, ninety-minute performance, the boys truly captured the essence of both the sight and sound of the musical performances that swept our nation almost thirty years ago.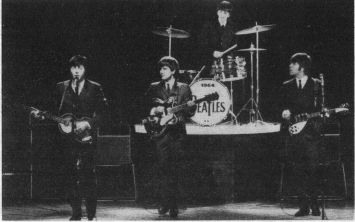 1964 as the Beatles
A great deal of attention has been paid to detail, audibly as well as visually, to pull off such an authentic act —far beyond the Beatle boots and Vox amps and the trademark mop-top hair cuts.
The show by 1964 was a rock 'n' roll history lesson right off the record. "George's" stiff, by the book guitar solos, "Ringo's" sparse but tasteful bass drum patterns, "Paul's" subtle vocal nuances and "John's" characteristic "Boss Beatle" attitude were among the factors that made things come alive.
The group has been together nine years — plenty of time to capture the essence of their respective characters and, in so doing, they certainly capture the spirit of the Beatles as a whole.
Mark Benson, who portrays John Lennon, is, of course, the spokesman for the group during the performance. It is he who introduces most of the numbers and gets the audience to participate a number of times during the evening: Even with that "Teddy Boy" appearance and demeanor, he still wants to make sure "we're enjoying the show."
Paul McCartney is characterized by Gary Grimes. His vocal parts were also very believable (or unbelievable), but it was his "I'm too cute, I'm gonna make the girls scream, but I'm just having fun," very charismatic presence that made it work so well.
Tom Work pulled off George Harrison, as he had George's "my mind's somewhere else, but I have something up my sleeve" facial expressions. He did a good job musically throughout the sets."
Ringo Starr was epitomized by Terry Manfredi as he played, sang and again overall captured that lost-puppy-dog look of Ringo's. Terry's portrayal of Ringo was also especially well done and I remember that I kept hoping that his head wouldn't fall off his shoulders!
The two sets played contained not only the legendary smashes, including "All My Loving," "A Hard Day's Night," "Day Tripper," and "Twist and Shout," to name a few, but also other, lesser well-known tunes, such as "I Don't Want to Spoil the Party," "Bad Boy," and "Slow Down," to round things out.
After the Fab Four's final bow, the audience worked hard to bring the group back for an encore of "Rock And Roll Music" and "Long Tall Sally" - obvious crowd pleasers.
During the performance, "George" and "John" would change guitars to further enhance the authenticity of sight and sound for a particular song. "John" also added the appropriate harmonica parts.
Born a bit late — and in the wrong comer of the world I thought I had forever missed an opportunity to actually see what I'd always heard from the guys who wrote the book on rock 'n' roll. I guess you could say I just had to wait until it came out from the paperback writers in 1964.