Big Hat is a Big Deal
By William Brents
Big Hat's July 23 show at Tewligans Tavern was graceful, forceful and by all means transcendental.
Covered with candles, rose petals and other eccentric trinkets, the stage was candy for the human eye, perfectly designed to create a mysterious atmosphere.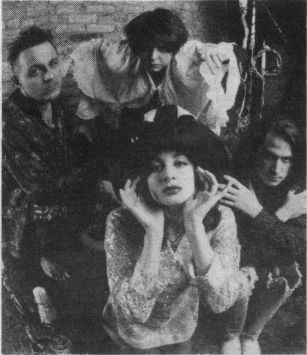 Big Hat
Dressed like a pack of hip Gypsies, Big Hat jumped and danced upon the stage with enthusiastic regularity. Especially Preston Klik, who let out a haunting laugh during one song and was constantly playing different gadgets and changing hats, to everyone's delight.
Taking a stab at describing Big Hat's sound is a challenge of mammoth proportions, so I'll just borrow one fan's clever analysis of "Middle-Eastern Psychedelic Opera." They arrive at this dreamy sound by incorporating various instruments. Klik handled the trumpet, melodica and keyboard samples, Char-Malloy Baum the five string electric violin and Jim Stallman provided the percussion. Yvonne Bruner's savory vocals were warm and uplifting when the music implored for them to be, as well as anxiety ridden when the moody music became somewhat maddening.
The fifteen-song set included some true gems off their Shimmer CD (which, by the way, were snatched up by more than a few new fans after the show) such as the second tune, "Limousine," "Jesus," "You Lied" and "(Leaning Into) Western Skies."
What you hear on the CD is what you hear live. Everything from rattling keys to a moan was precisely captured on the songs I was familiar with.
This show marked Big Hat's second visit to Louisville and served as a warm-up for an appearance at the Lollapalooza Festival in their hometown of Chicago that will take place soon.
The good-size crowd was receptive and Big Hat was grateful, treating us to several encores and promising their return in the near future.