Long Time
By Paul Turner
It's been such a long time, I think! should be going.
Time doesn't wait for me — it keeps on rolling.
Those lines from Boston's "Long Time" from their debut album in the late Seventies suggest time isn't the only thing that keeps on rolling. So does the band, as well as the tape to Boston's upcoming album.
In a recent interview, Boston's bass player, David Sikes, talked about Boston's music, their future and his own personal projects. Sikes is currently living in the San Francisco area, a somewhat surprising location for a member of an East Coast band.
"[Boston's leader] Tom Scholz encouraged me to stay on the West Coast since it was home." David explained. "Our schedule has been such that it works out fine that way. I will get a call three or four days before I fly out to his studio and work a few days together. Then I'll come back home — trying not to have to adjust to time changes from east to west. Tom works at night a lot, so that's not always easy. And when we tour — which is for months at a time when we do — it obviously doesn't matter where I live."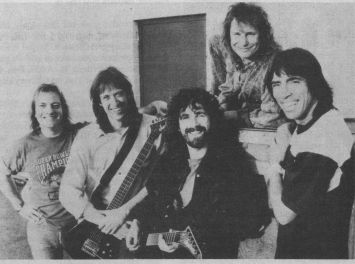 Boston
Sikes spoke freely about the band, its future and their upcoming album.
"Currently I guess the album is about half done. It was originally to be completed this fall, but Tom works when he feels good and he takes his time to get things just right on a track before moving on to the next. There really is no hurry and the final product is too important to rush through things.
"Tom has a lot of irons in the fire but he is a real workhorse. There are times when he'll get so wrapped up in something — a certain track for instance — that he won't answer his phone or even get his mail.
"Also," Sikes continued, "Tom works song by song as opposed to laying down an album's worth of rhythm tracks and then the guitar tracks for everything. One or two songs get fairly polished off at least instrumentally before we move on to the next.
"Then Tom will work on the tunes as far as his guitar tracks. It's a real treat for me to watch him work. He'll play a part and it will sound great, then he'll try something relatively different to see if he can find something that can possibly sound better.
"He pushes me to do the same thing with the bass lines. I'll play something that feels great and after it's down on tape, he will come out and let me know that it sounds great to him. Then he'll say 'Great track, now try something else there. ' Then I'll do a couple more versions.
"It's a challenge.
"What's ironic is that as much as the parts are planned, Tom loves it when (musical) accidents happen. I'll play a take and think 'Oops, I made a mistake,' but Tom will play it back and say 'Oh, that's great, let's keep it. ' Somehow it's the element of spontaneity, perhaps."
Besides playing bass, Sikes will have a couple of songwriting credits on the new album as it stands now, as well as background vocal duties.
"Because the group does everything "live" on stage.when they perform (even though they are falsely accused otherwise), they will be able to capture more of the actual album sound vocally," he affirmed.
"This album is at bit different," Sikes says, "in that Brad (Delp) doesn't do all the vocals like in past projects. Before, he'd use different mikes and various EQ settings to simulate other voices for the background. This time Doug Huffman and I carry more of the background vocal load."
When asked about any involvement of players from outside the group, Sikes said that as yet there aren't any, but he didn't rule out the possibility.
Concerning the musical direction of the anxiously awaited album: "The album in progress is faster paced and more rock 'n' roll than Third Stage (their most recent album). It's actually more like our first album.
"Tom has some great sounds going again. On one tune, 'I Need Your Love,' Tom gets an incredible twelve-string sound that is just hellacious [through engineering and producing]."
What about a tour to coincide with the album's release? "We'll schedule a world tour hopefully by next spring, but I wouldn't be shocked if it's later," he added.
"Even though we have other things going on separately, we are itching to play as a band. Our last tour in '87 and '88 was seven months long. That was a long time, but it's time to hit the road again. We want people to know that Boston is still together."
When Sikes isn't doing East Coast sessions, he stays busy with a number of his own projects. He is working with Peavey Electronics on 5-string basses, writing scores for television, songwriting for various groups and working in his own studio. He's also presently looking for a new house to fit it all into.
Special thanks to Jim Vigor of Contagious for making this interview possible.