Remembering . . .
Elvis Aaron Presley 1935-1977
By Jean Metcalfe
I don't remember what he sang on that November day in 1956 at the Armory. Probably "Heartbreak Hotel," "I Want You, I Need You, I Love You," "Don't Be Cruel" and "Hound Dog," all No. 1 country and pop hits. And perhaps he sang my favorite, "Love Me Tender," from his first movie. It had recently hit No. 1 on the pop charts and No. 3 on the country charts.
I do recall that Elvis was lean and sexy and that he wore a sport coat and that I didn't have the best seats in the house. But my most vivid recollection was that the rock 'n' roll idol waved to me as he departed the lower level of the Annory (new Louisville Gardens) in the back seat of a limo.
A friend and I had correctly guessed the point at which Elvis would leave the building and had been rewarded with a wave meant only for us. Interestingly, only a few fans had employed our method and that accounted for the personal nature of the salutation.
Years later my young sons and their friends would use a single of "Hound Dog" as a timer for one of their games. Sometimes they sang along, never getting all the words right: "You ain't nothin' buta hound dog, cracking all the time . . . ."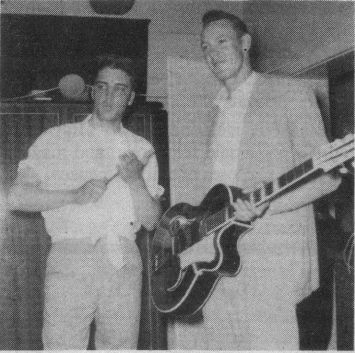 Bernie Morgan holds Elvis Presley's guitar as the 'Guitar Man' stands by. Circa 1959. Photo by Mary Morgan
Maybe it's just as well that I didn't go to Elvis' later performance in Louisville in May of 1977. I never did like the white polyester bell bottoms and the cape, or the fancy belts and designer sunglasses.
I never bought a velvet painting of The King nor did I tour Graceland, even though I gawked at the famous iron gates while returning from a family vacation trip that took us through Memphis. The gaudy tourist attractions made me feel sad.
I didn't try to influence the United States Postal Service's decision on which version of Elvis to put on their postage stamp, but I was quietly glad that they chose the young Elvis. I'll probably buy some of the stamps.
I will always believe that Elvis was a wonderful singer and I choose to think that it was the pressures of his fame that caused him to seek peace in drugs. Elvis was devoted to his mother, Gladys and she wouldn't have approved.
My favorite Elvis album is His Hand In Mine, with The Jordanaires and my favorite cut is "In My Father's House (Are Many Mansions)," written by Aileene Hanks.
My husband attended that same Elvis concert in '56. He wasn't my husband at the time — I hadn't even met him yet — but I have since asked him why he paid money to see Elvis. His reply: "He had made the news so much and the 'chicks' were appreciating him so much, I thought I ought to check him out."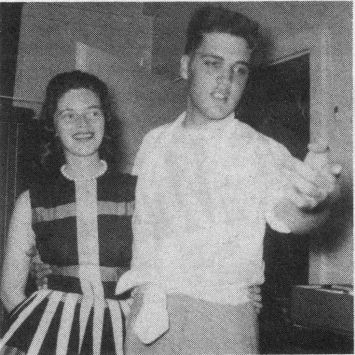 Elvis asks his father for a piece of gum while embracking Mary Morgan. Circa 1959. Photo by Bernie Morgan
He remembers Elvis as a youthful, energetic young man. He recalls that Elvis was wearing a sport coat, but couldn't remember whether or not Elvis played a guitar.
My sister-in-law's aunt and uncle, Mary and Bernard Morgan, had the good fortune to be invited guests in Elvis Presley's home while the two men were in the Army. They were stationed in Germany, in a little town outside of Frankfurt. The year was 1959.
The visit came about while MP Wallace Hoover, a soldier from Memphis who had been in basic training with Elvis, was stationed on the same base as Bernie. The Hoovers took the Morgans to meet Elvis' at his home.
Bernie recalls that fans were gathered outside the house when they arrived but that only a few people were welcomed inside: the Morgans, the Hoovers, one of Elvis' friends, his German secretary (perhaps girlfriend), his father Vernon Presley and probably his cherished grandmother, although they do not now recall meeting her.
They remember that Elvis was very shy and that his father, who Mary described as "fantastic" and "very friendly," did most of the talking.
"Elvis didn't say much at all," Mary told me.
She said that Elvis was not supposed to play music during his Army days, so he didn't sing for his guests. And although Elvis allowed Bernie Morgan to be photographed holding his guitar, Elvis himself would not be photographed with the guitar lest it appear that he was performing.
"He had a crew cut and his hair was light brown," Mary said. "I thought he was going to have darker hair and it was going to be wavy, but of course when you go in the service you have to wear your hair short."
The visit lasted about an hour or an hour and a half.
Mary and Bemie are Louisville natives who now live in a small town just south of the city.
A guitar player, Bernie played music most of his life. His last gig was some years ago at the Churchill Downs VFW Post with a group called The Countrymen.
•
Bill Porter, President of Allen-Martin Productions in Jeffersontown, was "devastated" when he leamed of Elvis Presley's death.
From 1959 until 1964, Porter had engineered Elvis' recording sessions for RCA. And in 1969 Elvis hired Porter to mix the sound for his live performances, beginning with Las Vegas. The association would continue until Elvis' death.
In a conversation with Porter on July 24 he recalled for me some of his impressions of The King.
"The most unusual thing about working with Elvis was that his ability to do anything he wanted to do wasn't seen by most people.
When I say 'anything he wanted to I'm speaking from a singing/performing standpoint. To a certain extent he kinda sheltered that and only let a few people ever see it. And the few people that ever saw it were ones he seemed to identify with when he was much, much younger.
"Here's a good example: We did a concert in Lubbock, Texas — I couldn't remember the year to save my life, probably '75 or '76.
Lubbock, Texas, is a small town. The auditorium was about 8,000 seats. He put on a performance that had the people on stage applauding. Now, I mean it blew me away, some of the things he was doing.
"The very next day, we were at The Forum in L.A. Hollywood. Now these are people that are in the entertainment business in a different level and if you were to compare the shows, you would think he threw the L.A. show away. He didn't. But to compare the performance in Lubbock, Texas and the one in Hollywood, was like daylight and dark."
"He could give more of himself to the common man than the people he thought were in the entertainment business, or his peers, so to speak."
"I was to start another concert tour in Portland, Maine, the very next day when he died. I was changing planes in Boston when I heard about it."
How did Porter feel'? "Devastated. I mean literally devastated."
Besides the personal sadness he felt at Elvis' death, Porter was affected in other ways.
"It did a whole lifestyle change. In fact, one example was [that] my income took a 60% cut ovemight."
"When you make that kind of a transition you don't recover quickly."
For Porter, who was teaching professional recording at the University of Miami, mixing sound for Elvis was part-time work time-wise, but not income-wise.
Porter confirmed that Elvis was shy and that when they worked together in the studio Elvis didn't interact with him. But after he started mixing sound for Elvis' live performances, the two would sometimes have conversations alone.
What did they talk about? "Sometimes business, sometimes trivial, sometimes serious, about life.
Did Elvis seem happy then, or is it hard to say?
"It is hard to say, but, trying to reflect on it, deep down I don't think he was."
August 16 will mark the fifteenth anniversary of Elvis Presley's death at age 42.
Perhaps not coincidentally, RCA has just released a five-CD set of Elvis recordings covering the years from 1953 until his 1958 induction into the Army. Included is "My Happiness," the acetate he cut (for $4) in the studio of the Memphis Recording Service (which doubled as the home of Sun Records) in '53 as a birthday present for his mother.
Titled The King of Rock 'N' Roll: The Complete 50's Masters, the collection has been described by Rolling Stone as "a box set fit for the King," and Time magazine dubbed it a "hefty, have-to-have-it compilation."