How I Spent My Three-Day Fourth
Text and Photos By Jean Metcalfe
It was music and fireworks, not the weather that made the Fourth of July weekend red hot.
Soaring temperatures have been almost synonymous with the red-white-and-blue weekend, but not so for Kentucky's 200th anniversary year. The predicted rain was a nagging worry, but it seemed to be considerate in its appearances, allowing most of the outdoor activities to go forward.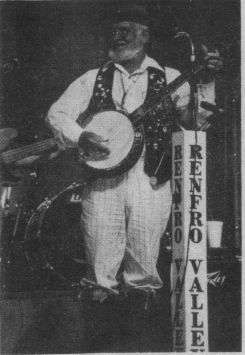 Old Joe Clark performs at his very own bluegrass festival.e
This reporter's three-day working weekend began with a jaunt to Renfro Valley on Friday, the third, for an evening of bluegrass. The Eighth Annual Old Joe Clark Bluegrass Festival had been moved to the mechanically air-conditioned comfort of the big barn because the previous day's rain had turned the outdoor site into what my bluegrass buddy Berk Bryant described as a "near-pigpen" state.
Sonny Osborne, the costume conservative of the two Osborne Brothers, would later ask the audience if they preferred indoor or outdoor festivals. (He liked the indoors. ) The applause indicated mixed reactions. (I personally love outdoor festivals when the weather is not inclement. ) Renfro Valley is in the enviable position of being able to provide both indoor and outdoor settings.
Old Joe Clark himself, clad in his trademark costume decorated with scads of doodads, made a brief appearance. With his youngest son, Terry, playing straight man, the white-bearded "around 75"-year-old banjo player joked with the audience for a bit. After accompanying himself on one number and admitting that a few years ago they thought they were going to lose him (due to failing health), Old Joe said, "I'm gonna go over here and sit down before I fall down. "
But before he headed to the bench at the back of the stage (set up Grand Ole Opry style), Old Joe told a wonderful fishing story that I had heard on Johnny Carson's Tonight Show some years ago.
The Osborne Brothers must surely be two of the most contrastingly costumed and physically different entertainers in all of bluegrass. Portly Sonny sported a snowy beard and a dark sport coat and looked very much like the stereotypical college professor, only with a banjo instead of a pipe. He was hatless. Brother Bobby wore a ruffled shirt with jeweled cuff links, fancy dark shades and a spotless white cowboy hat that featured a two-inch-wide band of expensive-looking rhinestones. What's that got to do with music? Perhaps nothing. But when a performer dresses in the manner of Bobby Osborne, it's incomplete reporting to not mention it.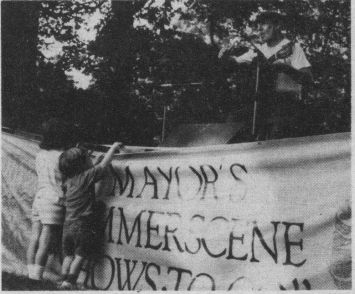 Folksinger Bob Rosenthal had the audience on their feet at the Crescent Hill Old-Fahsioned Fourth
Preceding the Osborne Brothers. another pair of brothers, Jim & Jesse, also performed.
To help those who can't tell them apart — their facial features are very similar —Jim is very tall and Jesse is considerably shorter. Both are talented musicians, but a showdown between Jesse and the fiddle player provided ample proof that the younger brother is an excellent mandolin player, without regard for his 63 years.
The evening's other performers entertained well, but special mention must be made of the talented quartet New Tradition. The four young men worked hard to get the crowd involved and succeeded. They ended with a stirring rendition of "America the Beautiful, " during which the audience rose to its feet as if an American flag had been brought onstage. New Tradition lead singer Daryl Mosley rose to the difficult encore situation with an excellent performance of the Vince Gill award-winner, "When I Call Your Name. "
•
On Saturday afternoon — the actual, real Fourth of July — my arrival at the Crescent Hill Old-Fashioned Fourth was greeted with a captivating performance by Louisville's favorite folk singer, Bob Rosenthal. One of several members of Mayor Jerry Abramson's SummerScene program, Bob encouraged those who didn't like any part of what they heard to write a letter of complaint to the mayor-— of Lexington.
Crafts, bratwurst and games of chance dotted the grounds of the Peterson-Dumesnil house and a booth to benefit the library offered split-the-pot chances at a dollar per. The winner and the library took home $469 apiece. I had hoped to win the cash. I had also hoped — successfully, in this instance — not to win a huge calorie-laden, patriotically iced sheet cake that I was personally solicited to take a chance on to "pay for the fireworks" that would come later.
The weather was perfect From my picnic table I watched as darkness descended and red-bulbed deely-boppers appeared on the heads of kids and adults alike. A woman wearing a pair of the glowing red orbs wended her way through the large crowd, pulled along by a canine companion wearing, yes, red deely-boppers.
The musical entertainment concluded with the crowd-pleasing bluegrass foursome New Horizon.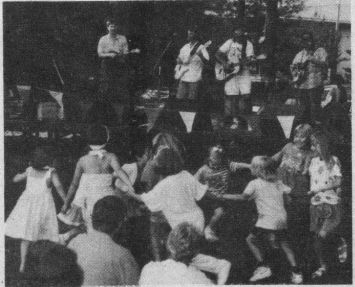 "All Join In" as New Horizon plays at an old-fashioned celebration.
During the quartet's early set, a circle of young children held hands and danced around the front of the stage. A charming sight.
Members of New Horizon, who were by that time wearing — you guessed it — red deely-boppers. promised they would yield to the fireworks when it got dark. Mark Rosenthal, wearing dark shades, asked if it was dark yet. In a little-boy voice, Larry Raley answered: "It's dark — I can't tell if it's dark. " He made me laugh.
Q. Did I experience an old-fashioned, neighborly/family kind of feeling from the day's events?
Did the onlookers reward each of the colorful fireworks with an "Ooooo"?
• Sunday afternoon found me heading for the Waterside Arts & Blues Festival with my yellow lawn chair and an appetite for the blues with a corn dog and fresh-squeezed lemonade on the side. (Look ma, no umbrella.) A disappointment was that the blues history exhibit located in the Water Tower's Grand Hall had closed just before I arrived. I understand the display of photographs, vintage instruments and memorabilia was excellent; I hope they will provide it again next year.
Relaxing at second row center, I soaked up some sun, along with the blues according to da Mudcats (thanks for those woman songs, Susan), the Metropolitan Blues AllStars, Big Shoulders (whose sound level made me move back a ways) and Lonnie Brooks. All were very enjoyable.
Not wanting to mar an otherwise perfect weekend, I headed for the car when raindrops kept falling on my head late in Brooks' set.
With the aid of windshield wipers that actually worked, I arrived safely home from a fantastic three-day Fourth.