Lee Greenwood By Jean Metcalfe
Three balloons — one red one, one white and one blue — bobbed from a patriotic centerpiece, marking the table at Hawley-Cooke Booksellers where Lee Greenwood was autographing his new book, "God Bless the U.S.A."
Greenwood said Pelican, his publisher, had "generously offered to publish my full text which will be out in the spring as well. "It's a biography of the song," he added.
"It's kinda interesting how we're in a different setting here between music and books. I'm an author now as well as a writer and that's kinda different," Greenwood told me between autographs.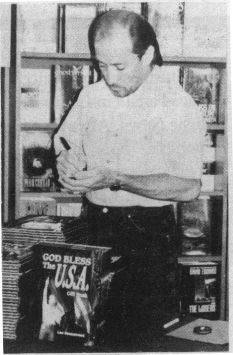 Lee Greenwood
Sandwiched between a chin-high stack of his books on the right and a variety of his albums on the left, Greenwood munched chocolate cookies and sipped from a coffee mug as he signed his name with a flourish. One gentleman had a shopping bag of the volumes to be signed.
The Gardiner Lane Shopping Center location of Louisville's favorite bookstore hosted the signing party on July 16, prior to Greenwood's evening performance at the national convention of D.A.R.E., a police officers organization whose slogan is "Committed to a Drug Free America."
"It's been our focus since I joined the Drug Abuse Council of the President,"Greenwood said, adding that it was his first time to be asked to sing for the D.A.R.E. national convention.
"Of course it (the convention) is a lot of good economy for the city and a good image, too, to know that the police of Louisville support that . . . as well as good for kids."
Greenwood's next recording project "will be on television," he said. "It'll be 'As the World Turns,'" he said.
Greenwood will be making appearances to promote a new duet project with Rita Coolidge entitled "Heart Don't Fail Me Now." And he was due to film a video during the upcoming week for VH1.
"It will not be country," he said matter of factly, adding, "unless country chooses to play it. And I don't think they will."
His next country release, on Liberty Records, is called Love's On the Way, which contains his newly charted single, "Before I'm Ever Over You."
The summer is basically a lot of tours through the fair season in the United States and Canada. "Through the late fall we'll be doing a press tour in Asia, Australia, New Zealand and Japan and then doing our full tour there starting in late February."
Greenwood is not scheduled for a public performance in Louisville this year, he told me, but added that it is a possibility.
Christiana Clifford, promotions and publicity coordinator for Hawley-Cooke, said that Greenwood personalized 75 copies of "God Bless the U.S.A."