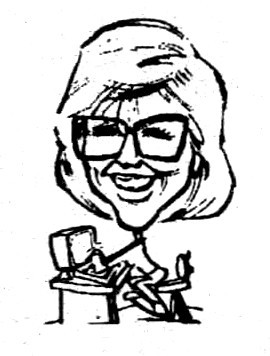 Newsical Notes
A nice note was received recently from Shelbyville member Marian Maxwell.
Sadly, Marian won't be renewing her membership with us because she is concentrating on her handbell music and choir and the choir meets on Monday nights.
In August Marian will be attending a directors conference in Massachusetts and taking classes in advanced composition, advanced conducting and solo ringing skills. She will also be taking along her new composition for handbells and upright bass and will attend a concert at Tanglewood.
Marian wrote:
I have enjoyed being with you all in LASC and have thoroughly enjoyed hearing everyone's music as we/I as trying my hand at vocal compositions. I still write, of course. I do special songs for special people at the nursing homes where I play. Wrote "Five Foot Ten" for an activities director last week cause she envied the gal in "Five Foot Two. "
(Marian, I'm sure Wally Stewart would especially enjoy the song, as he is especially fond of tall women and once wrote and performed a song called "Taller Women" which he sang to the tune of "Older Women.")
We will miss Marian and her sunny outlook, her clever songs and her positive acceptance of critiques of her originals. She has provided us with wonderful photographs that she has taken at Co-op events and she has lent many a helping hand to our group.
I personally hope she'll drop in now and again and sing her songs for us, most especially the one about getting all dressed up and looking for Mr. Right.
Marian will keep herself abreast of what's happening in the area music scene, as she sent along a subscription renewal to Louisville Music News.
Thanks for everything, Marian. Ring them bells.
A recent telephone call from Karen Le Van brought us up to date on her recent activities. She is currently working two jobs — in the sales department of a Ramada Inn and at a Nashville area country club. She has met a number of stars at the club, including Vince Gill, shortly before he came to Louisville for the Country Music Association bash at Jim Porter's.
Karen is currently promoting the career of Robert Allen Sparks, a promising young singer-songwriter she met in Nashville. (A review of his performance at Uncle P's open stage appears elsewhere in this newspaper.) Be aware that Karen predicted the success of both Garth Brooks and Billy Ray Cyrus.
Karen and former member Bev Sunner recently took advantage of Fan Fair week in Nashville to stage their "first Annual Independent Music Festival Fun Fair" just outside the gates of the popular event. Bev fronted a band with Louisville natives Jessie and Rick Early and Karen did her imitation of Dolly Parton ("5 to 9"), which got the attention of a television crew and landed them a spot on the evening news.
Congratulations to Scott Furlong on his Honorable Mention (top ten percent) placement in the recent KFC songwriting contest for "Best Friend." Scott had the song critiqued at an LASC meeting a while back and did some rewriting before entering it in the competition.
The gentleman who gave us "1943 Copper Penny," "Brother's Keeper" and other excellent originals, the guy who crusades against the slaying of potatoes (I will resist making one of those Dan Quayle remarks here) — Bill Ede — has a gig lined up at Nashville's renowned Bluebird Cafe on August 5. He's been booked to do a one-hour set, the middle of three acts that evening. Beth Neilson Chapman will close out the evening.
Now, Bill, I'm gonna do a little preaching.
When Bill related to me the details of his gig as we talked at The Rud on Monday night, the 20th, I asked him to drop me a postcard so his news wouldn't get lost in the deadline shuffle. Well, had it not been for a phone call from Wally Stewart in which he coincidentally mentioned the Bluebird, I wouldn't be sitting at my keyboard on Saturday morning trying to recall the particulars of Bill's gig.
I had already wrapped up this column on Friday.
Guess the postcard is "in the mail," huh, Bill? Or maybe you don't often get to the post office? But we still love you, Bill and feel confident in saying that you'd probably enjoy having some of your Louisville friends in the audience on August 5.
Hope l can make it. As you already know, l am one of your most avid fans.
Break a leg, Bill! (But not mine!) The article featuring Earl Meyers as Songwriter of the Month in the July LASC Letter contained information that was somewhat misleading concerning the formation of the Louisville NSAI Workshop. Earl joined that group three months after it was formed and he joined the LASC one month after it was formed. Richard Leigh (whose last name was misspelled in the article) attended a Louisville NSAI Seminar for the first time in 1983, two years after the group originated. Dot Elpers and Tony Lindauer were the original coordinators olthe local workshop.
It was in 1988, not 1987, that Earl won the country category in the LASC's songwriting contest.
And, although Earl is attending a summer class at Southern High School, he is a teacher at Churchill Park School during the regular school year.
(Note to LASC members: Send us your news, preferably in black and white.
Our readers want to know what's going on with YOU.)