On Stage With the Allman Brothers By Paul Turner
WQMF had a contest when the Allman Brothers came to town. "Be the right caller and win two tickets to the Allman's show at the Gardens."
Sam Holt was listening. He called -— and won.
So did other listeners. Then those winning names were put into a hat for the final win: to sit on the stage during the Allman Brothers show — in a director's chair that the band autographed.
Seeing Sammy at the show, I told him I wanted to have LMN see the Allman Brothers show from the best seat in the house —— his.
Sam recapped the events in his own words.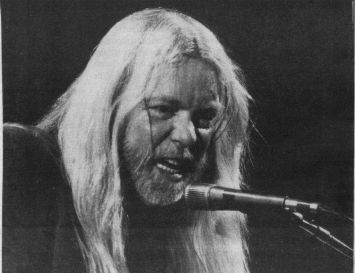 Gregg Allman. Photo by Craig D. Davis
"When I first learned that I had won the grand prize I had just got home from work. When the guy from WQMF called, I thought it was a practical joke from somebody who knows me and knows how mush I love the Allmans and he's pullin' my chair."
He was so excited he forgot who at 'QMF it was who called (He apologized at least twice).
"I just kinda stood there. You could have knocked me down with a feather. I felt like I had just won the lottery."
Visiting Sammy a couple of days after the show he was still buzzing at the opportunity of a lifetime to sit onstage and watch his favorite band.
As it turns out, Sammy not only has a listener's ear -— he has a player's respect for the music as well. He has also been in the music industry as was his father and his father's father. It does run in the family, to include brother Larry, who plays bass for da Mudcats.
Sammy continues his story: "In talking to Curt West of the Allman road crew, when they set up, he said, 'We do this in every town but most of the time we get somebody who really doesn't appreciate the win — it's just someone who got lucky but not that big a fan.' But he sure learned how big a fan I am and he thought that was great.
"He went way above the call of duty. He was great. He made sure we could see and were comfortable — got us Cokes — he was tremendous.
"I didn't get to meet Gregg or Dickey, but I talked to just about everybody else in the band. But Curt w as able to get all their autographs on the chairs. (One chair was later given to Sammy's brother Larry.)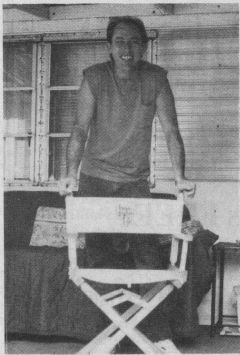 Sam Holt shows off his prized Allman Brothers Band director's chair
"Warren came over and we talked awhile. He was a really nice, down-home kind of guy. He asked if I enjoyed the show and hoped they weren't too loud. I said no, I played for years so I'm kind of used to it. You know how it is in the club when you're too loud it's always the guitar player's fault and he laughed and said, 'Yeah, I remember that"'
Over the years Sammy has followed the Allmans closely and has seen changes in players as well as some of the material, but the band still holds that same sense of Southern rock/blues direct from the Peach State.
You might say Sammy got a great taste of peach jam that is still well preserved.
Sammy recalls, "About five years ago I saw Dickey Betts' band open for the Gregg Allman band on the Belvedere for FREE! Then at the end both bands got together and played and it was great. That was the last time I saw them. It wasn't the Allmans, but it was in a way.
"One thing I like about the Allmans is that they create. Good players. It's like "Elizabeth Reed." You've got your licks in your intro and your licks in the build but in between they've got a spontaneous combustion that's more than hot.
"Their music is a mix of country, blues and a lot of Grateful Dead influence. I think the Allmans drew a lot from Jerry Garcia.
Then Duane put a lot of drive into it to give it its own feel. Like a madman when he played. There was no stoppin' him.
"Duane played with so many people and had such a musically diversified background. He and Gregg were into soul and the blues — and that was hard for two white guys to really get into that long ago.
"I think Dickey's country influence made it a great mix.
"I love their music and I hope they play forever. I hope they play 'til they have to come out and sit in chairs and play. I'll be there to listen. Now I can take my own autographed chair! "