Red Bird to Host Benefit for Burned-Out Band By Jean Metcalfe
In the wee hours of June 29 a fine destroyed Annie's, a club in Mitchell, Indiana. Sad, yes, but it gets worse: The members of Louisville's rock 'n' roll band Easy Money had their equipment (drum set, keyboards, all amps, a borrowed PA —roughly $40,000 worth) set up for their two-week engagement.
With the loss of the equipment, it was necessary to cancel bookings that were on the calendar through August. One such booking was at the Red Bird Inn.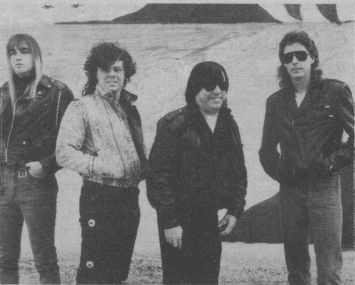 Easy Money: L to R. Nick LaRosa, Darren Garriott, Mark Winburn, Mark Coogle. Photo By Darrin Garriott
Jim Tino to the rescue. Tino has scheduled a benefit on Sunday, August 16, at his place at 8021 Preston to help out.
According to Easy Money's keyboardist, Mark Winburn, who has been in the business for about 20 years, proceeds from the benefit will help to meet the more immediate need — paying the bills. Equipment replacement will have to come later and Winburn said he is not sure when they will be able to resume playing.
Performers scheduled to play for the benefit include The Wulfe Brothers, Bobby Lanz, The George Tomes Band, Lois Ann Davis and Anxiety.
Despite the devastating loss, which caused him to put his wedding plans on the back burner, Winburn sounded resigned when he summed up their plight: "We're just a rock 'n' roll band that got caught up in a fire."