Robert Allen Sparks Sparks Heats Up Uncle P's
By Tom Van Meter
"Sparks is gonna fly," Karen Le Van said in her introduction of Robert Allen Sparks as he made his Kentucky debut at Uncle Pleasant's on Wednesday, June 24. Le Van, a Louisville native now living in Nashville, is Sparks' manager-promoter and she had brought the young performer to Louisville for the Country Music Association reception and guitar pull at Jim Porter's earlier in the evening.
The college-age crowd departed as Sparks took his turn on the stage but they were immediately replaced by enthusiastic members of the Louisville Area Songwriters' Cooperative, who had come by especially to hear Sparks.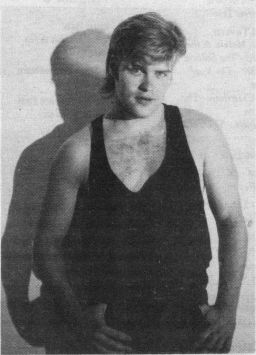 Robert Allen Sparks
Sounding very much like Garth Brooks, Sparks opened his set with a tune called "Some Folks Call Me An Outlaw" and followed up with another image number, "OneCowboy," which promised that "This is one cowboy that knows how to ride."
Along the route, he proved that he is also one cowboy who knows how to sing.
"The only thing I'l1 leave behind is a trail of broken hearts," he warned in "Goodtime Girls," before throwing in a hit-potential original called "Hell Must Be Frozen Over."
"I Hope 'That Heaven Gets FM." a touching song about the singer's father, brought tears to this writer's eyes. After drying the tears I learned that the writer's father is very much alive.
A Le Van's prediction could well come true: "Sparks is gonna fly."