Songwriter of the Month
By Michael Layman
This month the LASC is proud to honor Ray Yates as Songwriter of the Month. Ray has only been a member for six months, yet he has wasted no time in jumping into the thick of LASC activities. He is the chair of the membership committee, the usual writer of this column and writes a good bit of the LASC Letter in the Louisville Music News. Ray is also acting secretary tor the Board, replacing Diana Black and is doing a great job. In short, the guy's a "doer."
Pay is a technology "freak" and the president and owner of PDQ Services, a computer programming and CAD design company.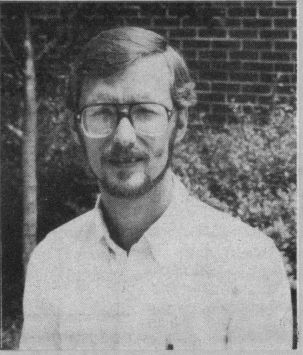 Ray Yates
Ray, who is from Louisville, became involved in music at age 14 when he began playing organ in his church. While everyone else was listening to the Beatles and the rest of the British invasion groups, Ray was listening to classical music. He started writing his own material at age 14, after he and a few friends formed the group Bold Rogue. The band played all original tunes and Ray wrote about a third of the music. At that time, his music was influenced by groups like Kansas, Yes and Emerson, Lake & Palmer (who have just put out a new release, Ray).
Ray likes complicated music because to him, the music is as powerful as the lyrics or the vocal. Since joining the LASC, he has been told that the lyrics are the most important element in a song.
For five years Ray was out of music but gradually began to get back into it, renting every new "gadget" the Doo Wop Shop had. As a result, he got seriously bitten by the "MlDl bug." Ray's tunes sound as if they were recorded at a major studio with a full band and orchestra, when in reality they were done in his home. It's a terrific sound.
He has written and co-written in virtually every style, but he loves jazz, pop and rock and his music leans to those styles. He has a "ton of tunes" and recently received a bit of radio (WDJX) airplay on a tune he co-wrote with Joey Weyler called "Life in a Song," a tribute to John Lennon. The song was recently accepted by John's son Julian. Pressed to name a couple of others he felt had great potential, Ray mentioned two songs, "Morning Star," a jazz/pop number and "If You Do," a solid rock tune.
Ray writes from the sound up. He spends a lot of time with the drum machine and feels the drums really set the entire mood (as well as changing the mood) of the song. He loves to experiment with different styles and sounds.
Ray would like to encourage former members and in-active members to get involved. Ray feels (and I concur) there is blessing in diversity. We all benefit and learn from different types of music. Ray believes the LASC is a great organization and he hopes to learn more about the business of music through the Co-op. To date he hasn't been disappointed. Ray believes that the more you put into the LASC, the more you'll get out of it. He especially enjoys and learns a great deal from our bimonthly critique sessions. Through these sessions, Ray says, his music has grown.
The Co-op is very fortunate to have Ray as a member. He's open minded, extremely active, a great musician and one heck of a writer. Glad you're with us, Ray.