The Beat Daddys: Red Hot and True To the Blues
By Katherine Dougan Greenfield
If you've got a case of the blues that just won't quit, the Cherokee Blues Pub will deliver the cure when The Beat Daddys come to town August 21-22. The Beat Daddys, a blues band from Evansville, Indiana, return to Louisville after performing at the Waterside Arts & Blues Festival, to pump out "house rocking rhythm and blues, soulful and powerful, the way it should be," according to lead vocalist, harmonica and rhythm guitarist Larry Grisham.
The Beat Daddys deliver an emotionally charged performance, with a sound rooted in the 22-year musical relationship between Grisham and lead guitarist Tommy Stillwell. Grisham growls, sings and whispers the blues from deep in his soul and delivers a fine rendition of the B.B. King classic, "The Thrill Is Gone."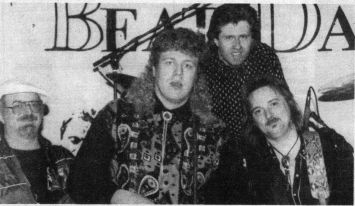 L to R, Alan Rigg, Larry Grisham, Kenny Vogelsang and Tommy Stillwell. Photo by Katherine Dougan Greenfield
Stillwell's guitar playing is incomparable, whether he's playing hard rockin' R&B, some dynamite slide, or a rewed-up version of Jimi Hendrix's "Red House," with melodic dialogue between lead guitar and blues harp, played with expertise by Grisham.
Grisham and Stillwell have played music since their high-school days in Cloverport, Ky. "Basically we were the only two kids in town who played music. We used to play for dances at the teen center – we were a two-man band – Tommy would play drums and sing while I played guitar, then we'd switch places. It was a lot of fun," said Grisham, laughing.
Grisham, bassist Alan Rigg and Stillwell played with different groups after high school. Stillwell did the "hotel lounge" scene and Grisham worked in club and restaurant management until he got tired of wearing a tie. Rigg traveled the music circuit on keyboards, playing in backup groups for Little Anthony, Sam and Dave, the Shirelles, Chuck Berry, the Memphis Horns and Jerry Lee Lewis. Kenny Vogelsang, drummer for The Beat Daddys, started playing music with Stillwell and Grisham twelve years ago in a band called "The Phonz," playing hard-rocking, high-energy.
But Grisham and Stillwell always wanted to play the blues. "Then one day we decided we weren't gonna play that 60s pop anymore. We stuck to our guns — we started playing the blues," said Stillwell.
The Beat Daddys headed south and felt right at home from the start, according to Stillwell. "We really felt at home in Mississippi and Texas both. That whole area to us is like the Holy Lands," said Stillwell.
After the international release of their debut album, The Beat Daddys are set to release their second album in September with Waldoxy Records, a subsidiary of Malaco, a major blues and gospel producer based in Jackson, Mississippi.
"The album, No We Ain't From Clarksdale, contains some new songs and some remixed versions of songs from "our first album," Grisham said. "It just has a real southern sound to it — it's a true southern record," said Tommy Couch Jr., president of Waldoxy Records.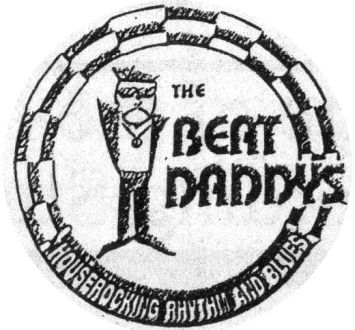 L to R, Alan Rigg, Larry Grisham, Kenny Vogelsang and Tommy Stillwell. Photo by Katherine Dougan Greenfield
Grisham and Stillwell are writing songs for Waldoxy, working with George Jackson, who penned "Old Time Rock 'n' Roll" for Bob Seger. Jackson helped Stillwell and Grisham write a song for the new album, Bad News, and The Beat Daddys recorded a song written by Jackson, "Tear the House Down," that is just "killer," according to Couch.
In addition to "Tear the House Down" and "Bad News," the new album features eight songs written by Grisham and Stillwell, including "Tick of the Clock," "She Knocks Me Out," "This is Gonna Change Your Mind," and "I'll Always Love You."
The Beat Daddys have opened for some of the greatest names in blues, including B. B. King, Johnny Winter, Lonnie Mack, Elvin Bishop, Little Milton, The Fabulous Thunderbirds, Marcia Ball and Junior Wells. They performed at the Medgar Evers Homecoming and the Sonny Boy Williamson Blues Benefit.
They've played from Indianapolis, Indiana, to Osan South Korea, where they played for grateful American soldiers and confused Korean nationals. "We did a 45-day tour in Korea, before the Gulf War broke out," said Grisham, adding that The Beat Daddys were the house band for the tour, playing every night at American bases. "The American soldiers, especially those from down south, were really into our music, but the Koreans didn't know what to think," said Grisham. "You have to keep in mind the Koreans were just starting to hear disco music at that time, so they didn't know what to think of the blues," said Stillwell.
The Beat Daddys credit their success to early influences of blues legends such as Jimi Hendrix and the "Three Kings" — Albert King, Freddie King and B.B. King. "Basically, we know the difference between right and wrong; that's why we play the blues," said Grisham.
"Even though the blues are about hard times, the blues are not depressing. The blues are a celebration of the hard times you've made it through. I heard a blues singer say that once and it's true. It's what it's all about," said Stillwell.