For: John Q. Musikphan
1433 Treble Way
Louisville, Ky
For period starting August 1, 1992 and ending August 31, 1992.
Date: August 1
Place: Uncle Pleasant's
Program: Johnny Socko, a horn band playing wacky covers and bubbling dance/college music from Bloomington, entertains the faithful at Mark Smalley's place.
Date: August 5
Place: Phoenix Hill Tavern
Program: Squeeze, masters of pop songwriting, present their lauded live show in the Saloon. Their last album, "Play, " had bandleaders Difford & Tilbrook near the top of their craft.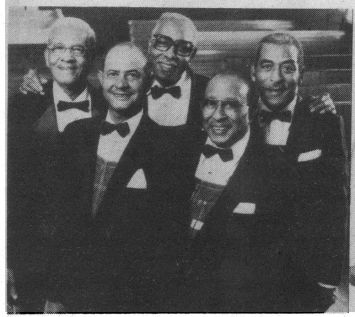 Fairfield Four
Date: August 6
Place: Executive Inn in Owensboro
Program: A second chance for Wayne Newton fans, the boy wonder with a touch of grey will sing "Danke Schoen" for anyone in the audience who has ever sneezed.
Date: August 6
Place: Uncle Pleasant's.
Program: Out of the smoldering embers of Serpent Wisdom comes ube, Jak Son Renfro's newest band.with African sensibilities and percussion. Their shows are a dizzying' blend of African/ Caribbean rhythms, repetitive guitar figures and effective electronic treatments.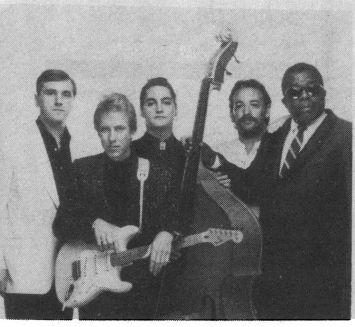 Anson Funderburgh & The Rockets featuring Sam Myers
Date: August 8
Place: Uncle Pleasant's
Program: The Riverrunt Spook Floaters, a Grateful Dead—admiring band, will play their loosey-goosey blend of blues, folk and rock for the patchouli-laced and improvisation-bent. If you miss this program you can catch then at Butchertown.Pub later in the month (August 19).
Date August 9
Place: Uncle Pleasant's
Program: A Benefit for the Gospel Showcase Diner, one of the only truly altruistic endeavors to help the poor, has area bands offering a hand with this event. The Diner serves food to anybody who is hungry; and merely asks for a donation. The demand (and the very real need) for this service has put the diner in debt.
Scheduled to perform at this benefit are danny flanigan & rain chorus, Kelly Wilkinson, Serpent Wisdom, Rick Lucas, Rick Wagner, Kitty, Meet the Lawnmower and About Us.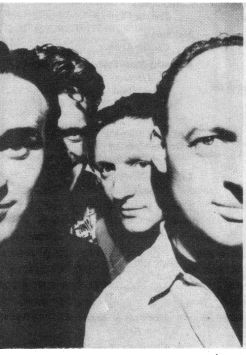 Squeeze
Date: August 11
Place: Phoenix Hill Tavern
Program: Wicked blues from Edgar Winter, Johnny Winter's younger brother who stormed the country with the instrumental hit "Frankenstein" in the early '70s, is scheduled for this stop.
Date: August 12
Place: Louisville Gardens
Program: If Lyle Lovett and His Large Band aren't reason enough to attend this program, the Fairfield Four certainly are. The quintet (yes, quintet) make the most glorious a cappella gospel sound this side of the Mason-Dixon line and this is the side of that line that counts. These fine gentlemen from Nashville will wonderfully complement Lovett's stew of country, jazz, blues and folk.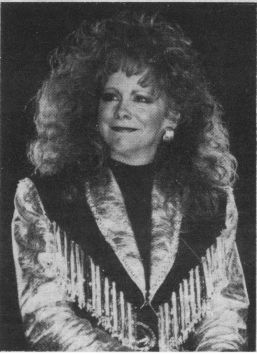 Rita McEntire
Date: August 12
Place: Butchertown Pub
Program: Big Wheel, Louisville's own pop band with a rock edge, will perform their moody originals on a bill with Vanilla Train Wreck. Vocalist Peter Searcy is the draw for this show.
Date: August 20
Place: Freedom Hall
Program: Talented and pretty. Talented and pretty. The two adjectives are overused, but they are tailor-made for Reba McEntire, the first lady of country music. Her show at the Kentucky State Fair will be buttressed by the winning ways of Vince Gill.
Date: August 21 through 23
Place: Central Park
Program: Thanks to the Kentucky Center for the Arts, Kentucky Fried Chicken and the Musicians Performance Trust Fund — and the considerable financial clout of the Lila Wallace Reader's Digest Fund — a star-studded series called Jazz in Central Park will mix local jazz favorites with national names. Held in Central Park, the middle ground for jazz fans of all backgrounds, this series is meant to connect America's only indigenous music with the people. Performers include Billy Madison—Eggie Brooks Quartet, Sherrill Skinner, Ray Johnson Quartet, Soundchaser, Walker & Kays, U of L Jazz Ensemble, Formula, the Bellarmine College Jazz Ensemble, Johnny Lytle, Ramon Howard & the Wisemen, Toni Cole and last, but not least, organist Jimmy McGriff. The Kentucky Expatriots, a collection of jazz players who moved out of the area and are returning for this event, will play on Saturday. McGriff is scheduled for Sunday.
Date: August 20 through August 30
Place: Kentucky Fair and Exposition Center
Program: Anson Funderburgh and.the Rockets featuring Sam Meyers return to the Miller Tent for some Texas-style blues as sparse as the land it comes from. Sam Meyers' work on the harmonica and Anson's exacting blues cry make the smell from the wing with the pigs and cows all worthwhile.
Date: August 21
Place: Freedom Hall
Program: Lend an ear and Ringo Starr and his All-Starr Band will sing you a song. They'll even promise to try not to sing it out of key. Rock's first minimalist drummer and some of his friends, who include Dave Edmunds, Burton Cummings and.Timothy B. Schmit, are getting good reviews on what could have been a sorry nostalgia tour.
Date: August 21
Place: Cardinal Stadium
Program: Chaka Khan, an estimable talent who enjoys enormous respect within and without her R&B genre, shares a bill with the equally notable El DeBarge.
Date: August 22
Place: Freedom Hall.
Program: Randy Travis is a country singer and songwriter who can put heart in his music without adding drippy melodrama. Travis' voice is one of the best of the twangers, so this show should be mighty pleasin'. Opening the show is the formidable duo of Brooks & Dunn.
Date: August 24
Place: Cardinal Stadium
Program: Hard rocking Petra lets you bang your head for the Lord; if you feel that a sore head is a small price to pay for a good time, this program is for you. Kathy Troccoli opens.
Date: August 25
Place: Butchertown Pub
Program: Strictly Wet is a Lexington group with an outstanding blend of rap, funk and hard rock. This stop will convince you that even in Kentucky, there is excellent musical talent and innovation.
Date: August 25
Place: Cardinal Stadium
Program: Dion, The Drifters, The Crystals and Andy Childs will play oldies for you in this nostalgia act at the Kentucky State Fair. Between all these groups, there are dozens of hits from the 50s and 605; this show should slide by on the strength of those old songs.
Date: August 27
Place: Cardinal Stadium
Program: The Fifth Dimension and Bobby Goldsboro are the level-headed answer to that raucous and dangerous Motown show planned the day before at the Fair (see above). Goldsboro revels in sentimentality; The fifth Dimension, whose hits included "Up, Up and Away," "(Last Night) I Didn't Get to Sleep at All," and "Aquarius/Let the Sunshine In," once played in the Nixon White House.
Date: August 28
Place: Cardinal Stadium
Program: The Fair's country music theme continues with the straightforward singing of Clint Black. Aaron Tippin is a country newcomer with muscles like Arnold Schwarzenegger and a voice like Hank Sr.
Date: August 28
Place: Uncle Pleasant's
Program: The psychodots challenge you with progressive rock that is emotionally and.physically engaging as well. These top-notch musicians acted as Adrian Belew's band for a time.
Date: August 29
Place: Cardinal Stadium
Program: Color Me Badd is a vocal group enjoying huge popularity. They have scaled the charts with bland hits. Their Fair concert will undoubtedly be a success. Them are the facts.
Date: August 30
Place Cardinal Stadium
Program: Sharon, Lois & Bram entertain the kiddies like no one else and their songs are quite palatable for adult tastes as well.
Date: August 30
Place: Freedom Hall
Program: A.guy named Garth Brooks will play vanilla country with artificial sweeteners in the last of the Fair concerts. Martina McBride has what is simultaneously the best and the worst opening slot in music today. This show sold out in the time it takes some people to shave.