Warren Zevon at Hurricane O'Malley's
By Allen Howie
In a show marred by a late start and sound that moved progressively from listenable to horrendous, Warren Zevon offered two hours of acoustic rock and roll, recording the proceedings for possible inclusion on an upcoming live album.
Alternating between piano and guitar, Zevon pulled material from all his albums. Strangely enough, the evening's highlights came from unexpected numbers, most notably a soulful, stately "Carmelita" and a tender, surprisingly pretty "Hasten Down the Wind."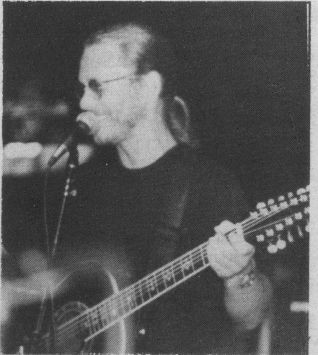 Warren Zevon at Hurricane O\'Malleys. Photo by Allen Howie
The crowd-pleasers, though, were all drawn from the singer's first album: the cheerfully sadistic barrelhouse piano of "Excitable Boy," a hard-edged "Lawyers, Guns and Money," a straightforward rendition of "Mohammed Radio" sprinkled with references to Bill Clinton and Ross Perot, a version of "Roland the Headless Thompson Gunner" that was derailed by a long, monotonous bridge and a sluggish "Werewolves of London," which one onlooker described as "Zevon's 'Margaritaville,' the song that pays the bills."
But the singer served up his share of new material as well, including the title track of his most recent album, Mr. Bad Example, performed hoedown style and "Searching for a Heart" from the films "Love at Large" and "Grand Canyon," which Zevon described as "My easy-listening song."
Chatting amiably with the crowd, Zevon played nineteen songs over the course of the evening, including a spiky "Summertime Blues" as part of his encore. The show was not without its distractions, however, including sound with a painfully brittle high-end and a crew that began removing equipment from the stage while the singer was still performing his last song.
And once again, the show's late start should be mentioned. Advertised to begin at 8 p.m., it was past 9:30 by the time Zevon took the stage. This is the third show in a row at Hurricane O'Malley's to start this late, which shows a lack of respect for the audience as well as poor marketing. The simple fact is that more people will attend a mid-week show if they think it will start on time.
But in spite of poor sound and delays, Zevon mostly gave fans their money's worth . . . and that's really the bottom line.